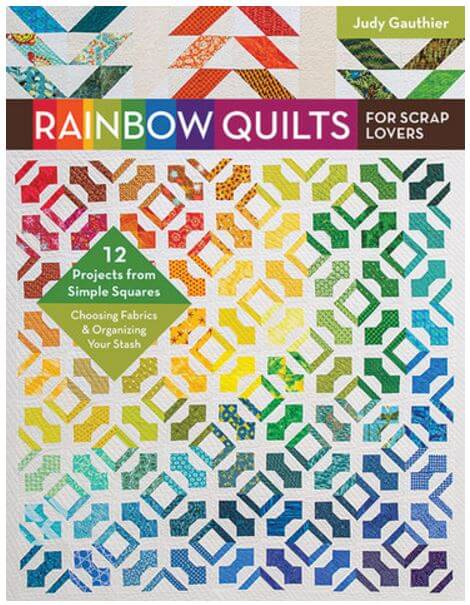 Use Fabric Scraps For Rainbow Quilts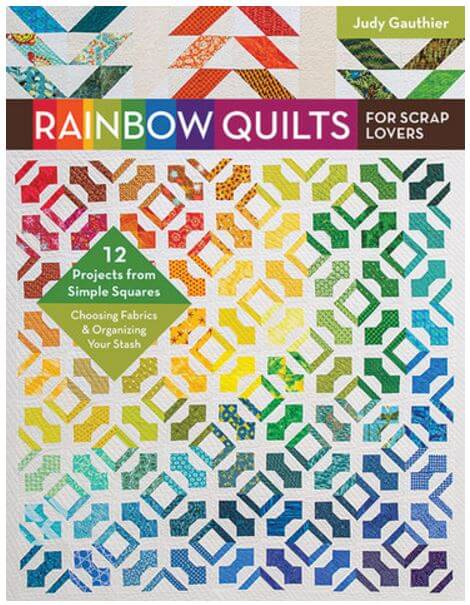 Do you have volumes of fabric scraps?  Today you're going to learn how to sort your fabric stash into usable pieces. You might be surprised to find the fabrics you need to create scrap quilts at your fingertips. Nancy welcomed Judy Gauthier, scrap-quilting aficionado, on this episode of Sewing With Nancy.
Rainbow Quilts for Scrap Lovers is the title of Judy Gauthier's book with C&T Publishing; it's also the focus of this two-part series, of the same title, on Sewing With Nancy.
Packages, Boxes, and Bows Quilt
Judy shows us how to separate odd-shaped scraps by color, then create quilts with the scraps. Her quilt, Packages, Boxes, and Bows shows us why it's important to separate fabrics by color. While revisiting scraps of fabrics, Judy was able to divide Nancy's stash into a rainbow of color. Once the fabrics were chosen, the piecing was a joy!  
Color Brick Road
If you have leftovers from making Packages, Boxes, and Bows, consider creating yet another quilt from your stash, entitled Color Brick Road. Small rectangles are cut in two sizes and the colors are sorted using the rainbow gradation as your guide. Just like Judy, you might find yourself chanting "Follow the color brick road, follow the color brick road." Watch as w this quilt is made on Sewing With Nancy.
Fretwork Quilt
On Sewing With Nancy, learn how to make fretwork designs. This quilt style was originally carved from wood to adorn furniture or musical instruments using a fretsaw. The same geometric style can be translated into a quilt pattern, using a rotary cutter and fabric scraps. The technique is reversible appliqué. Learn how to sort your fabrics into 5-1/2″ and 4-1/2″ squares, and then let the fun quilt-making process begin!
Rainbow Quilts for Scrap Lovers Starter Kit
You'll feel like you've taken a trip over the rainbow with scrap-friendly quilt designs, using techniques Nancy called remarkable because, "Not a scrap goes to waste." Book includes clever tips for organizing your scraps and assembling quilts, along with 12 colorful patterns. Kit includes book, Fast2Cut Simple Squares Template, and Sewing With Nancy DVD.
For a chance to win a copy of the Rainbow Quilts for Scrap Lovers Book/DVD from Nancy's Notions, leave a comment sharing the most predominate color in your fabric stash.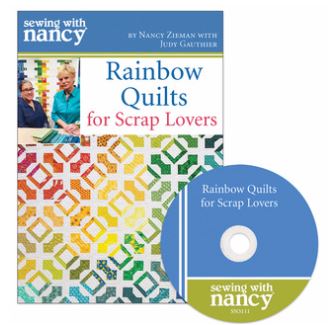 The randomly selected winner of  a copy of the Rope Sewing Reinvented Book and DVD from Nancy's Notions is Carolyn Borst.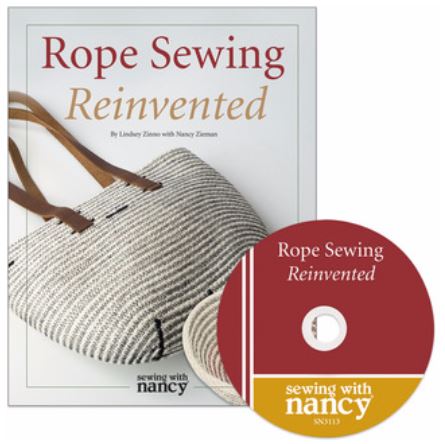 Her comment is: When I was reading and checking out the tote bag, I thought, "How would that look with leather straps, and scrolled down to see the everyday tote. "Now THAT'S my bag!" Fun. Love the added strengthening stitches on the bottom of both bags…
Save
Happy Quilting,
Team Nancy Zieman
Nancy Zieman Productions, LLC.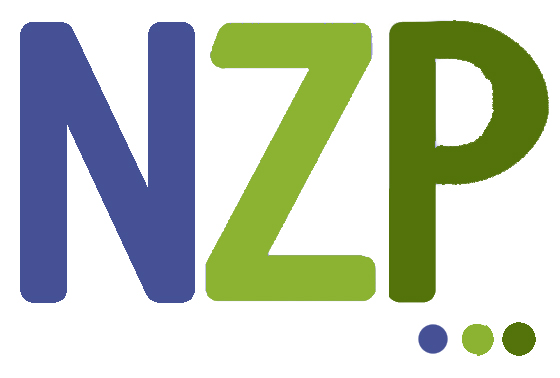 Content in this feed is © copyright 2018 by Nancy Zieman Productions, LLC and may not be republished without written permission. You're welcome to forward the email to a friend or colleague but it's not okay to add the RSS feed automatically as content on a blog or other website.
The FTC requires us to tell you that Nancy Zieman Productions, LLC has provided products by other companies in the course of doing business. The FTC requires us to advise you to take this information into consideration when reading this posting.
Make sure you are subscribed to Nancy Zieman Productions, LLC enews mailing list so you won't miss a thing. Sign up here. Join us on Facebook, plus a host of other social media channels. Connect With Nancy and Friends today!