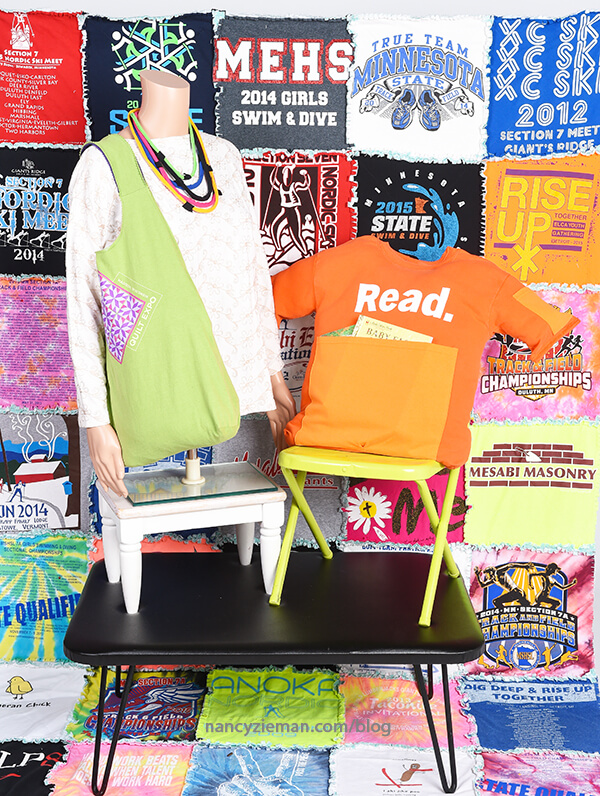 Fun Gifts Made With Your T-Shirt Stash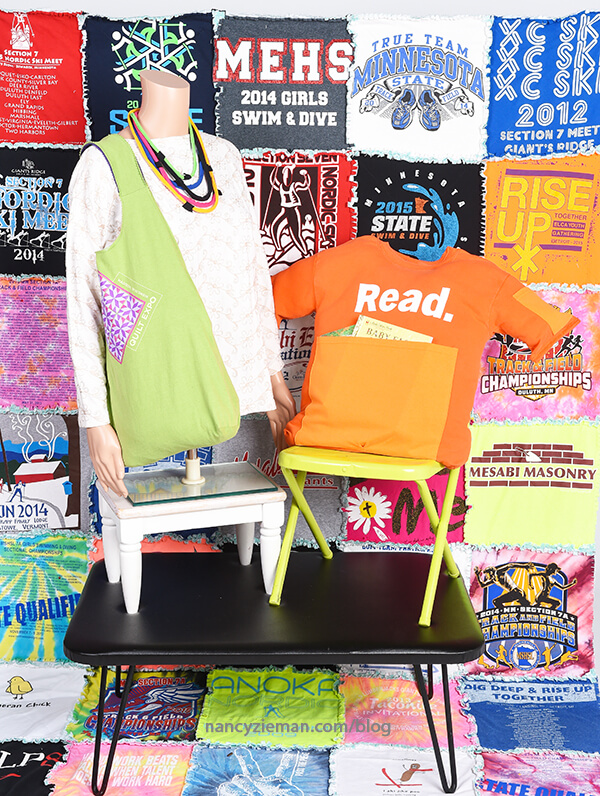 Make T-shirts into a quilt, pillow, scarf, and more! We can say with confidence that most families have a collection of T-shirts. Some may be meaningful, so they're difficult to give away. To give these memory-making shirts a second chance is Mary Mulari, our makeover specialist.
On this episode of Sewing With Nancy, Mary will share some fantastic projects that preserve memories and recycle treasured souvenirs. Watch part one of Second Chance T-Shirt Gifts online today or purchase Mary's Second Chance T-Shirt Gifts pattern and DVD at Nancy's Notions.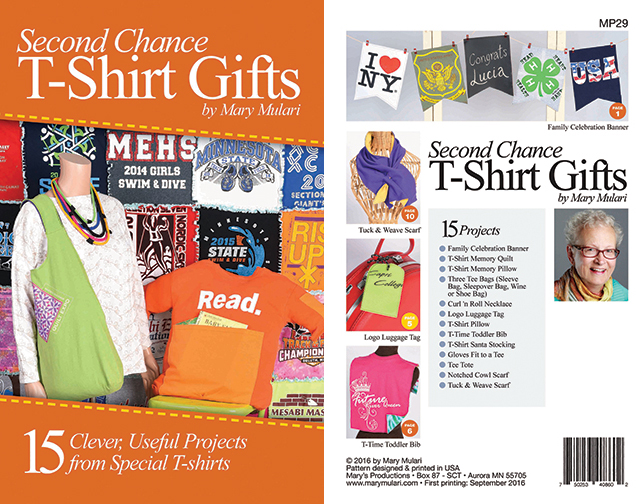 Rag-Style Memory Quilt
During this two-part series, we'll share ideas from Mary's new pattern that make clever, personalized gifts. Beginning with the T-Shirt Memory Quilt, you'll soon see it's an economical and streamline way to sew a commemorative graduation or life-achievement gift. This rag-style T-Shirt Quilt Patternis perfect for a dormitory bed cover or blanket.
Sleeve-Bag Style
After making a T-shirt Memory quilt, you'll have leftovers from the shirts that are just begging to be sewn into other gift projects. Create a collection of Tee Bags from the sleeve areas of T-shirt remnants. Watch how easy they are to create on this first episode of Second Chance T-Shirt Gifts on Sewing With Nancy.
Sleepover Bag
Combine scraps from two or more T-shirts to create a Sleepover Bag. The unique fringe accents and drawcord closure make this a welcome gift for tweens.
Curl 'n Roll Necklace
Take advantage of the nature of knit fabrics to curl and roll. Cut T-shirts into strips, then pull. Create a fabric necklace from one or more T-shirts. Add extra pieces of wrapped trim for interesting dimension. Watch it online.
Reversible T-Scarves
Notched Cowl Scarf
Take advantage of the tubular construction of T-shirts to make a reversible cowl scarf. The notched accents provide an ingenious detail allowing both sides of the fabric to be showcased.
Tuck and Weave Scarf
Use two T-shirt backs to create another reversible scarf that tucks and weaves unto itself for a cool weather accessory. Watch as Mary shares her fast and easy sewing tips on this first episode of Second Chance T-Shirt Gifts 
Logo Luggage Tags
Here's a great way to use the small chest logos found on many T-shirts, and turn them into decorated luggage tags. The bag owner identification is hidden inside the tag. Learn how to create this personal gift on this episode of Second Chance T-Shirt Gifts and all of Mary's projects are included in her new Second Chance T-Shirt Gifts Pattern, too!
Happy Sewing and Quilting,
Team Nancy Zieman
Nancy Zieman Productions, LLC.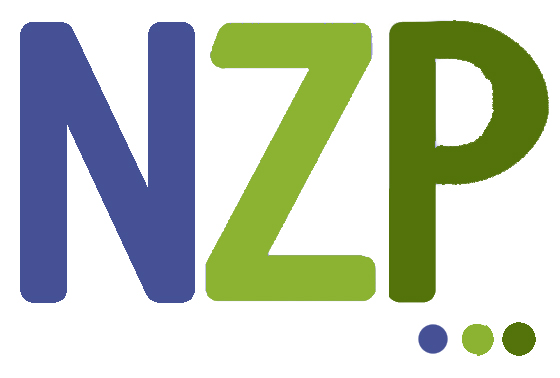 Content in this feed is © copyright 2018 by Nancy Zieman Productions, LLC and may not be republished without written permission. You're welcome to forward the email to a friend or colleague but it's not okay to add the RSS feed automatically as content on a blog or other website.
The FTC requires us to tell you that Nancy Zieman Productions, LLC has provided products by other companies in the course of doing business. The FTC requires us to advise you to take this information into consideration when reading this posting.
Make sure you are subscribed to Nancy Zieman Productions, LLC enews mailing list so you won't miss a thing. Sign up here. Join us on Facebook, plus a host of other social media channels. Connect With Nancy and Friends today!