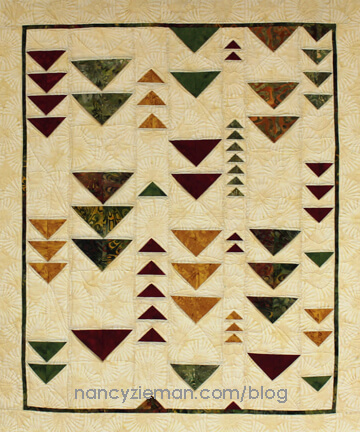 Quilting Simplified—Folded Flying Geese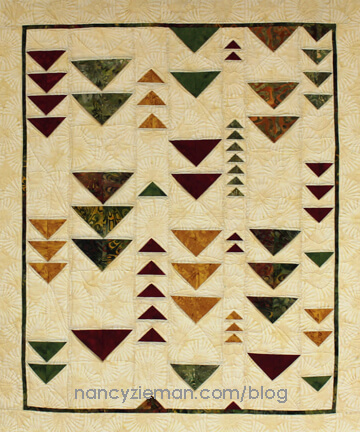 Half-square triangles and bias edges are not needed to make the Flying Geese quilt pattern. Use folded triangles or Prairie Points to create this traditional design. Using squares, folds, clever pressing, and columns, quilting couldn't be simpler.
In this blog post, I'll show you the basic technique for assembly so that you may incorporate this easy Flying Geese design in your quilts. For directions to create the quilt pictured above, see Folded Flying Geese in my book, Quick Column Quilts.

For a streaming video demonstration on how to create the Flying Geese design with three easy folds, watch Sewing With Nancy Quick Column Quilts (Part Three).
Cutting Directions:
Background or columns: Cut 2-1/2″ wide to 6-1/2″ strips from beige background fabric
Flying Geese: Cut 2″ to 6″ squares from five to six different colors of fabric.
Fold and Stitch Techniques
Press all cut squares in half matching wrong sides.
Meet the folded corners to the cut edge at the center. Press.
Stitch Flying Geese to Columns
Use a Folded Flying Geese unit that is 1/2″ narrower than the corresponding column width.
Mark the placement on the column.
Align the cut edge of the Folded Flying Geese unit to the placement mark.
Fold the column strip, right sides together, at each marked placement line. The Folded Flying Geese unit is sandwiched between the fabrics.
Press.
 Stitch 1/4″ from the fold.
Measure and trim each column to a uniform length.
Join the columns together using 1/4″ seam allowances.
Stitch down the center of the Flying Geese units with monofilament thread to secure them to the column.
Note from Nancy: When quilting this Folded Flying Geese project, make certain to choose a quilting design that will maintain the integrity of the dimensional fold.
 To watch on your iPad, iPod Touch, or iPhone, download the app.
I'm giving away a copy of Quick Column Quilts! Post a comment telling me if you've ever used any or wanted to try dimensional quilting techniques. A random winner will be drawn on February 24, 2015.
Bye for now,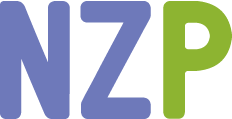 Nancy Zieman—author, pattern designer, businesswoman, producer, and national sewing authority—is the host of the popular show Sewing With Nancy®, which appears exclusively on public television stations across the United States and Canada. Follow Nancy's blog at NancyZieman.com/blog and sign up to receive Nancy's E-News for the latest news in sewing, quilting, & creating.
Content in this feed is © copyright 2015 by Nancy Zieman and may not be republished without written permission. You're welcome to forward the email to a friend or colleague but it's not okay to add the RSS feed automatically as content on a blog or other website.