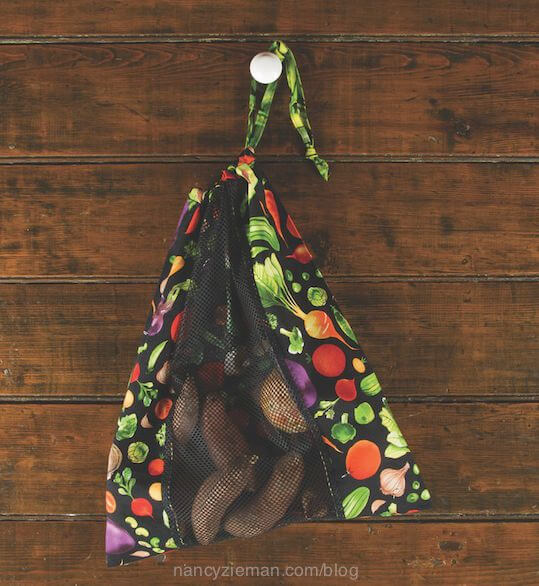 Green Sewing Ideas for Your Kitchen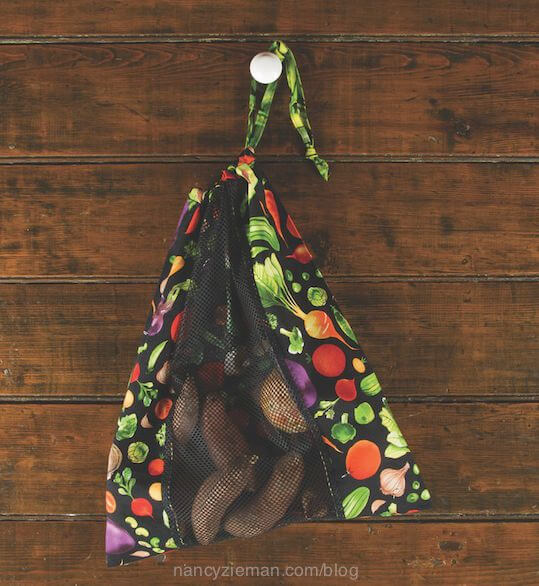 By Emily Jansson, Nancy's Notions Guest Blogger
Cut down on your disposable plastic bag use by sewing breathable bags that prolong the life of produce. The creative green projects make perfect gifts, and they're a fun fashion statement at farmers' markets, too!
Porthole Mesh Bag
Make this pretty bag with a fat-quarter and Porthole Mesh.
These mesh bags are super-duper EASY to make. It's just a drawstring bag made out of mini mesh fabric, with 3/8″ double-fold bias pulls. Add a pretty label or a touch of embroidery to make it your own. Trust me, everyone will be totally jealous of your fashionable "eco-prowess."
I made a couple bags with French seams and the new Garden of Plenty embroidery designs, just for fun.
Place a bunch of veggies and fruits in your mesh bag, and you're ready to go.
Want to crisp up your greens? Try soaking the cotton mesh bag in water, wringing it out, and stuffing it with some lettuce or kale. Place it in the fridge an hour or two before you eat and watch it crisp up as if it were freshly picked. No kidding!
Generally, vegetables stored in a breathable bag, such as a cotton bag, will keep fresh longer in the refrigerator. Washing your produce only as you use it also prolongs its freshness and quality.
Vegetable Drying Mat
Speaking of washing your veggies, how about sewing a fruit and vegetable drying mat? Use preshrunk waffle cloth and cotton batting for the mat. It's a tree-saving alternative to paper towels, which also saves produce from bruising as it dries.
Simply stack a sandwich of fabrics like this:
Waffle cloth
Cotton batting
Waffle cloth
Baste fabrics together, bind the edge with a pretty cotton fabric, and you've got a machine-washable, eco-friendly drying mat. It's great for drying hand-washed dishes, too!
Plastic Wrap Alternative
Use a nontoxic alternative to plastic wrap—try wrapping your sandwiches in a natural cotton that has been waterproofed in all-natural beeswax. It's very easy to make!
These water-resistant wraps work well to wrap over bowls, fold around sandwiches, or roll up cheese and bread in. The heat from your hands helps to conform them to any shape—and they are seriously fun to make!
Wash cotton fabric on hot (dry hot) to preshrink and remove sizing/fabric treatments.
Press fabric flat and cut out squares that are 14″ x 14″ (or any size you choose) with a pinking shears or pinking rotary blade.
Cover a large, flat baking sheet (must be larger than your fabric square) with parchment paper, and lay the fabric on it.
Sprinkle beeswax pellets sparingly on top of the fabric. You don't need to cover the fabric completely with beeswax—the pellets will spread out quite a bit as they melt. Place the baking sheet in the oven at 175 degrees. Bake fabric for approximately 5 minutes, until the wax pellets have melted.
Use a clean piece of cardboard to spread the melted wax around so that the whole piece of cotton is covered. If the wax cools too quickly, place it back in the oven for another minute or two, and repeat process.
Keep your waxed fabric sheets clean by sponging them off with mild dish soap, and rinsing in lukewarm water. Hang or towel dry the wraps, and they can be used over and over again.
That's it!
Reusable Snack Bags
Stitch up a few reusable snack bags, too. I used a layer of PUL fabric for the inside of the bag, and then a fun, colorful cotton for the outside.
You can find a tutorial for snack bags at this link.
To clean, turn them inside out and place them on the top rack in the dishwasher (gentle cycle is best).
Handy-Dandy Bowl Covers
Store your meals (and spare them from flies for an outdoor table) with these handy-dandy bowl covers.
Use a compass (like the

Yardstick Compass

) to draw a circle with a radius that's 2-1/2″ wider than half the diameter of your bowl onto a piece of pattern paper. Example: 10″ bowl: 1/2 diameter= 5″ + 2-1/2″= 7-1/2″ radius to set on the compass.
Follow this simple formula to determine the amount of elastic needed: (Diameter of your bowl) x 2.25 = the length of elastic to cut.
Cut one circle from a cotton print, and the other from 

PUL fabric

.  Match right sides together, and stitch ¼″ from the edge—leaving a hole to turn right side out. Turn to the right side.
Stitch a scant 3/8″ casing around the edge of the circle.  Thread elastic through the casing with a safety pin or bodkin. Stitch ends of elastic together, and topstitch the casing closed. Voila! Perfect for fridge storage, picnics, and barbecues.
For more green ideas for your kitchen, check out this Pinterest board.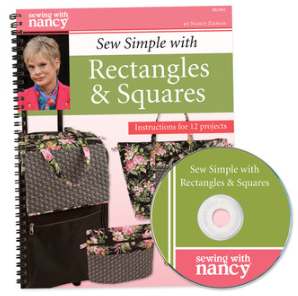 The random winner, from last week's blog, that will receive a copy of the Sew Simple with Rectangles & Squares book is Karen B. Her comment was: The closet organizer. It would help to organize a lot of things in my closet, but also, I would make one for my sewing room to put stabilizers in. Thanks so much.
Bye for now,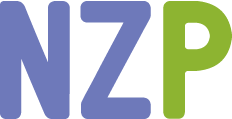 Content in this feed is © copyright 2015 by Nancy Zieman and may not be republished without written permission. You're welcome to forward the email to a friend or colleague but it's not okay to add the RSS feed automatically as content on a blog or other website.