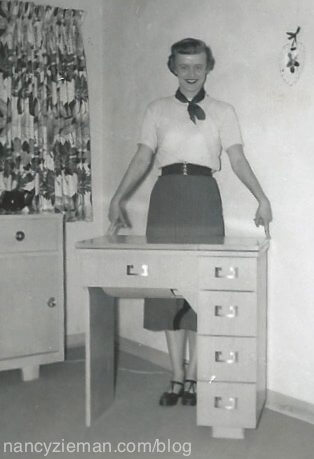 What's the Best Sewing or Quilting Advice You Ever Received?

What's the best sewing or quilting advice you ever received? The advice that I use every time I sew, came from my mom. "Sew, press, sew, press." I can hear her say those four words to me over and over as I was sewing my 4-H projects. That phrase has stuck with me over the years, and I rarely sew a seam without the next step being to press it. If I don't follow that advice, I feel guilty!
I learned to sew on the sewing machine that my dad gave to my mom in 1953. Last Christmas, mom surprised me by having the cabinet refinished to the original blonde tone and the Pfaff 130 tuned up! The cabinet looks almost as new as it did in this great photo of my mom with her gift.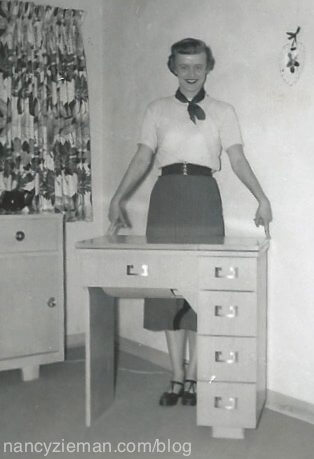 So in honor of you, Mom, I'll always, "Sew, press, sew, press!"
The photo features a princess-style seam. I always stitch with the longer layer next to the feed dogs. This mechanism "bites" or eases the longer layer to meet the shorter area. Magic!
I probably should have had an iron in the photo, but this way you can see that I pressed over a

seam roll

. Pressing over this curved surface prevents the edges of the seams from leaving an imprint on the right side of the fabric. A bonus, more sewing advice!
Share the best sewing and quilting advice you ever received!
Post the advice that you often follow when sewing or quilting. We'll choose a random winner and they'll receive one of my favorite notions, the Seams Right!
Bye for now,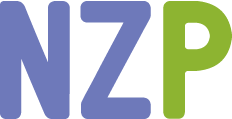 Content in this feed is © copyright 2013 by Nancy Zieman and may not be republished without written permission. You're welcome to forward the email to a friend or colleague but it's not okay to add the RSS feed automatically as content on a blog or other website.