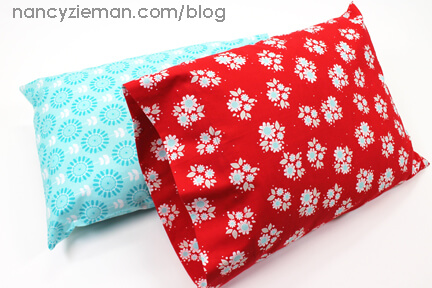 Sew and Donate a Travel Pillowcase
When my team recently approached our local cancer treatment center to inquire about their sewn item needs, the response was immediate: "Super-soft travel pillows with washable pillowcases". We were happy to oblige. I encourage you to reach out to your local hospitals and treatment centers to ask if they may have similar needs. Here's a free tutorial on sewing travel pillowcases.
Sewing Tutorial
Here's a quick sewing tutorial for a super-easy travel-sized pillowcase, which is designed to fit over smaller pillow forms (14″ x 20″); available at most big box retailers. Or, you can sew your own 14″ x 20″ pillow forms (below).

Supplies
2/3 yard washable cotton fabric
Cutting
Cut a fabric rectangle 24″ x 30″.
Create the Travel Pillowcase
Along one 30″ edge, press under 1/4″ towards the fabric's wrong side.
Along the same edge, press under 3″ hem.
Fold or "wrap" the seam allowance forward and serge the remaining seam at the end of the pillowcase.

 Press the pillowcase flat.
Turn right side out and insert travel pillow.

How to sew a travel pillow insert:
Cut a fabric rectangle 20-1/4″ x 28-1/2.
Fold the fabric in half, matching right sides and matching the 20-1/4″ cut edges. Pin.


Fold or "wrap" the seam allowance forward and serge the long edge of the pillow.

Stuff the pillow with super-soft fiber fill and serge the opening closed. 
Ta-da! These are so fun, fast and easy to make! Plus these pillows are such a comfort to those undergoing medical treatments.  
For more ideas for charitable outreach sewing in your local community, nationwide or internationally, visit the Sew To Give page here on my blog.
Bye for now,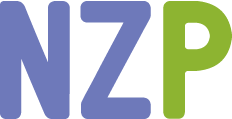 Content in this feed is © copyright 2015 by Nancy Zieman and may not be republished without written permission. You're welcome to forward the email to a friend or colleague but it's not okay to add the RSS feed automatically as content on a blog or other website.
Make sure you are subscribed to my enews mailing list so you won't miss a thing. 

Sign up here

. Join us on 

Facebook

, plus a host of other social media channels.

Connect With Nancy

today!