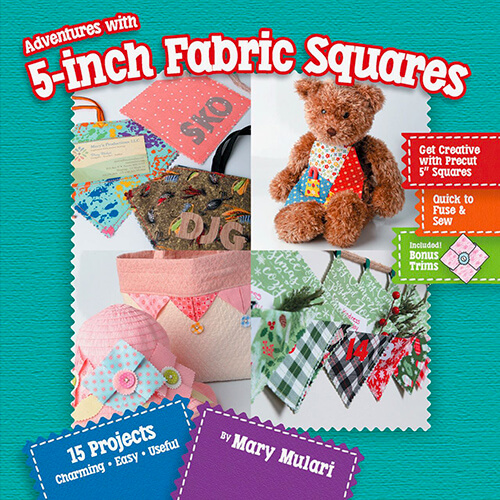 NEW! Adventures with 5-Inch Fabric Squares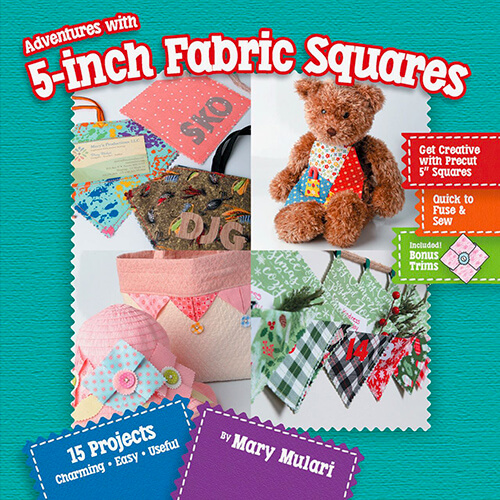 It's just a guess, but we think you may have a stash of 5-inch fabric squares, charm squares, or stackers. The NEW! Adventures with 5-inch Fabric Squares book by Mary Mulari includes lots of ideas for turning the fabric squares into nifty projects that are both useful and clever AND easy to sew.
For each of these quick projects. Mary chose Farmhouse Florals, Nancy Zieman's new fabric collection from Penny Rose for Riley Blake Designs. When the fabrics are pre-cut and ready to use, it doesn't take a lot of time to complete any of the fifteen projects.
For projects requiring paper-backed fusible web, batting, or interfacing, Mary cuts 4-3/4″ squares of these materials so the edges aren't visible along the pinked edges of the fabric squares. Mary shares all her techniques in Adventures with 5-inch Fabric Squares now available at Nancy's Notions.
Charming Cones
Fuse two squares together and sew two short seams to create fabric cones. Fill with silk flowers, small gifts, or holiday trims. These eye-catching ornaments can be hung on a doorknob, Christmas tree, or used as place markers on a festive dinner table. Coordinating ribbons add a special touch to the cones. (Note: the featured ribbons were also designed by Nancy.)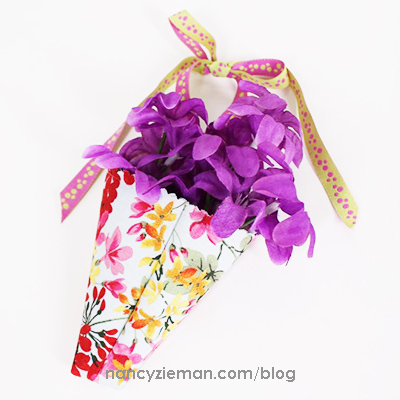 Monogram Bookmark
In just a few minutes, you can turn two squares into two personalized bookmarks. Trace the alphabet letters provided in the book on paper-backed fusible web, fuse to the wrong side of another fabric square, cut out and fuse to the bookmarks. A ribbon extending from the top edge adds an easy-to-spot feature to the bookmark.
Corner Bookmark
We like this bookmark style for cookbooks to keep track of favorite recipes, but it also works to mark your progress in a novel or sewing book. One fabric square and one layer of interfacing makes two corner bookmarks. Make one for yourself and share one with a friend in a birthday card.
Luggage Tag
Tie this shapely tag to your travel bag and insert your identification in the vinyl pocket on one side. The other side of the tag is a perfect place for your initials. You'll find the alphabet and numbers to use in the book. It's always a good idea to sew extra stitches over the area where the ties extend from the tag.
Mini Apron
Pick four fabric squares for this charming apron just right for an 18″ doll, a teddy bear, or a dish detergent bottle. It's fun to sew the squares together and angle the pattern shape to cut the apron from the new, larger piece of fabric. Add a tiny pocket too. Sew ribbon ties to the neck edge and waist sides, and the apron is ready to wear. (Mary can't resist sewing aprons for humans or special toys!)
Treasure Pocket
There are so many possibilities for this pocket that you'll see many more versions in the book. Use two squares to make the pocket base and a third square, folded in half diagonally, to form the pocket. Then, insert a gift card, holiday trims, or money from the Tooth Fairy. Mary has also created a version with 25 Treasure Pockets making an Advent Kindness Calendar for December. You'll be pleased to see how quickly you can fuse and sew these pockets.
Scissors Pocket
Protect small scissors (up to 3″ blades) in this compact holder. Extra fabric layers at the bottom keep sharp points safe. Small Velcro pieces secure the scissors inside the pocket. This little accessory will be a welcome gift for a "seamster" who travels with her scissors.
We hope you have enjoyed seeing a sample of the projects in Mary's newest book. Here's a gift-giving hint: The book is 7″ square, so a 5-inch fabric pack sits conveniently over the center of the book. Tie it up with a pretty ribbon and present it to your friend with the largest collection of 5-inch fabric packs. She'll think you're the greatest!
For a chance to win a copy of Adventures with 5-inch Fabric Squares from Mary Mulari, leave a comment sharing which 5-inch project you'd make first.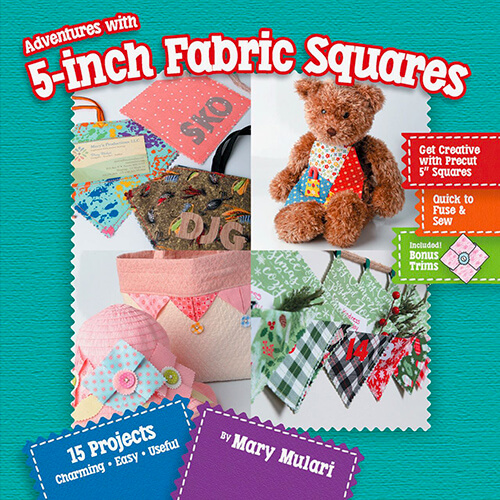 The randomly selected winner of a copy of the book, Change-Up Patchwork from Nancy's Notions is Margaret Almquist.
Her comment is, "I enjoyed watching the episodes of the 9-patch. I have a number of boxes of vintage fabric from my grandma and mom from the 1920s and 30s. These ideas inspired me to make quilts and gift them to the great- and grandchildren as part of their heritage. Thanks for the inspiration and rerun of these programs. Nancy—the best!"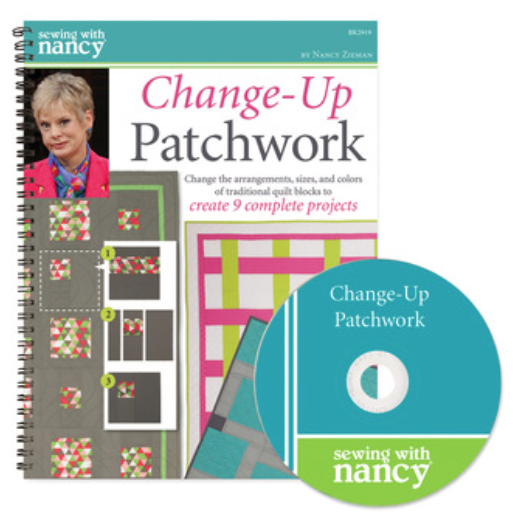 Happy Sewing,
Team Nancy Zieman
Nancy Zieman Productions, LLC.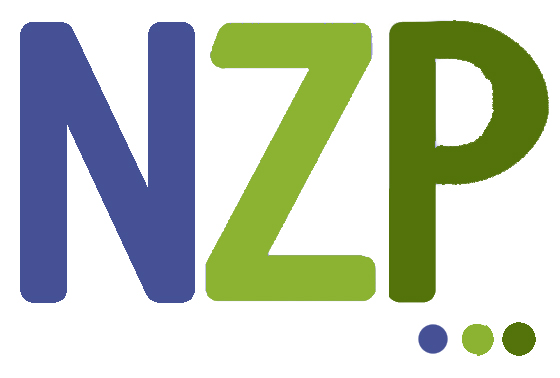 Content in this feed is © copyright 2018 by Nancy Zieman Productions, LLC and may not be republished without written permission. You're welcome to forward the email to a friend or colleague but it's not okay to add the RSS feed automatically as content on a blog or other website.
The FTC requires us to tell you that Nancy Zieman Productions, LLC has provided products by other companies in the course of doing business. The FTC requires us to advise you to take this information into consideration when reading this posting.
Make sure you are subscribed to Nancy Zieman Productions, LLC enews mailing list so you won't miss a thing. Sign up here. Join us on Facebook, plus a host of other social media channels. Connect With Nancy and Friends today!