Change Up Patchwork Part Three on The Best of Sewing With Nancy

There's more to a 9-patch block than meets the eye! Many creative quilt or craft projects start with 9-patch blocks. Nancy shows you how to change-up the strip sizes, fabrics, or block layout to expand your quilting options. Change-Up Patchwork is the name of this Sewing With Nancy three-part TV series. Watch online at NancyZieman.com.
The basic 9-patch quilt block can easily be made with two fabrics and two different fabric stratas—sew strips together, subcut into sections, then sew into a block. Watch Nancy explain the process online at your convenience and find all the instructions in her book, Change-Up Patchwork. After learning the basics, let your creativity flow!
Vintage 9-Patch
The first variation is a vintage-look table quilt. In the 1800s, quilters painstakingly cut small fabric squares from fabric scraps, then hand-pieced 9-patch designs. We'll show you how to achieve this vintage look with ease, incorporating clever strip cutting techniques.
Create the first strata unit: dark—light—dark fabric strips. Notice that partial lengths of crosswise strips are "kissed" together on each side of the middle strips. That's the magic! Watch online or read the

book

to learn the math (for the strip lengths) that allows this process to work.
Stitch a second strata unit: light—dark—light fabric strips. Again, use partial strip lengths.
Subcut the stratas into sections. The specific strip size that we recommend makes for almost no waste of fabric while giving the vintage, scrappy effect.
Stitch the sections together; presto! The finished quilt was created by alternating the 9-patch blocks with cream-colored fabric squares of the same size.
Camouflaged 9-Patch
At first glance, you might think this quilt design is a combination of several different blocks designs—perhaps a 4-patch paired with squares and rectangles. As you'll soon learn, it's a 9-patch—a camouflaged 9-patch block. The large 12″ finished block sizes are a speedy way to create a baby's tummy-time quilt.
Nancy shows how to create two strata configurations. The strip sizes are the same in each strata with the fabric colors reversed.
We find it fascinating how two fabrics can be used to create asymmetrical 9-patch blocks.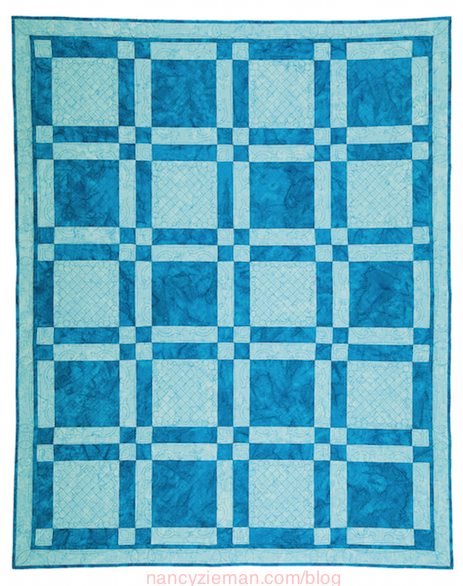 7-Patch Weave
There aren't too many hard-fast rules when it comes to patchwork, which is why Nancy chose to break with tradition. Case in point: Must the 9-patch block always have nine pieces? That may seem like a ridiculous question, yet take away part of the block and substitute a strip of fabric—presto a 7-patch block. With a clever layout the blocks intertwine, which gives the illusion of them being woven together. We call it the 7-Patch Weave.
You'll notice that these blocks have some of the components of a 9-patch. The middle section—a strip of fabric—creates an easy-to-piece block with unique design possibilities.
With a layout that alternates blocks and directions of the blocks, a woven design appears. Watch Nancy lay out the blocks online, during the third episode of Change -Up Patchwork.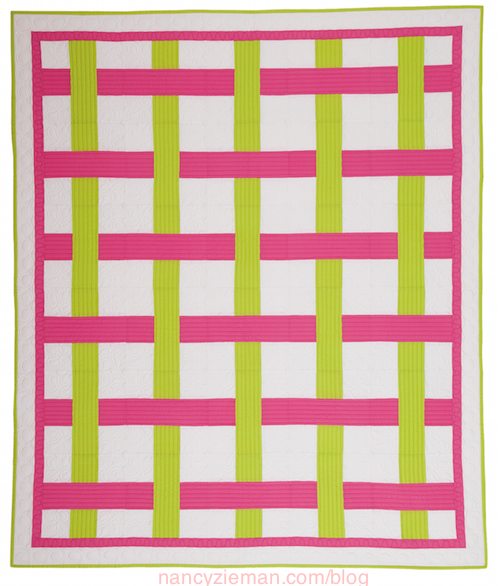 Book Features Nine Great Quilts
Find these easy 4-patch quilts, and six additional quilts, in the new Change-Up Patchwork Book and DVD.
Watch the Three-part series of Change-Up Patchwork on The Best of Sewing With Nancy online.
Change-up Patchwork part one features the versatility of a 4-patch block.
The star of Change-up Patchwork part two is the square-within-a-square quilt block.
Change-up Patchwork part three features the basics for stitching the traditional 9-patch block
Sew to Give Spotlight! Watch Nancy Zieman's 5-minute Nancy's Corner Interview on Sewing With Nancy. UPDATE – last Thursday, December 5, 2019, The Hat Ladies and Gentlemen group has now made 80,000 fleece hats and given them away to children in the Madison, WI area!
CONGRATULATIONS Hat Ladies and Gentlemen! Learn how you can set up your own "Hat Ladies & Gentlemen" group and provide comfort and warmth to children in need. You'll find our FREE! Fleece Hat Sewing Tutorial in NZP's January 19, 2016 Blog Posting.
Happy Quilting!
Team Nancy Zieman
Nancy Zieman Productions. LLC.
Stitch it! Sisters is a production of NZ Productions LLC. Content in this feed is © copyright 2019 by Nancy Zieman Productions, LLC and may not be republished without written permission. You're welcome to forward the email to a friend or colleague but it's not okay to add the RSS feed automatically as content on a blog or other website. The FTC requires us to tell you that Nancy Zieman Productions, LLC has provided products by other companies in the course of doing business. The FTC requires us to advise you to take this information into consideration when reading this posting.