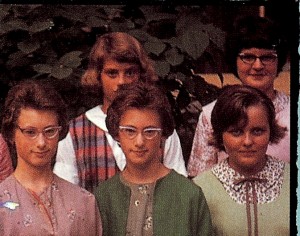 Who Taught You to Sew?

Whether you consider yourself a sewist, quilter, or embroidery enthusiast, in my mind you sew. After all, you use a sewing machine! So when I ask, "Who taught you to sew?" the field of creativity is broad.
My story is common among young girls growing up in rural mid-America during the 50's and 60's. The 4-H club was my introduction to the art of sewing, actual the 4-H project was called clothing, not sewing. The first year the projects were, hmm, a gathered skirt and a fringed scarf. Never mind that I never used the scarf and only wore the skirt to the 4-H style show, the important part was that I got bit by the sewing bug.
You might wonder if I remember the name of my 4-H leader. It would be impossible to forget, it was my mom. Starting at the age of 10, ending at age 18, mom taught 6-8 eager kids to sew. Starting in the spring, we chose our project or projects to be completed in late August in time for the county fair.
In the early years we all made the same outfit. Year two, reversible, yes reversible jumpers were the suggested project. Mom was never one to set the bar too low.
Sewing gave me confidence. Confidence that was sorely needed by a young girl with a facial paralysis and unruly blonde curls—mom also believed in Home Hair Perms at least twice a year. Even though back then I wanted to blend into the background (notice where I'm standing in the photo), these learned sewing skills were a springboard to a creative outlet and eventual career. What a great gift my mom gave me!
Who taught you to sew? Please share your story. We'll choose a random posting, sending you a trio of Sewing With Nancy videos: Sew with Confidence, Quilt with Confidence, and Machine Embroidery with Confidence. Why those videos? The answer: so you can teach someone else to sew!
Bye for now,
Content in this feed is copyrighted by Nancy Zieman and may not be republished without written permission. You're welcome to forward the email to a friend or colleague but it's not okay to add the RSS feed automatically as content on a blog or other website.