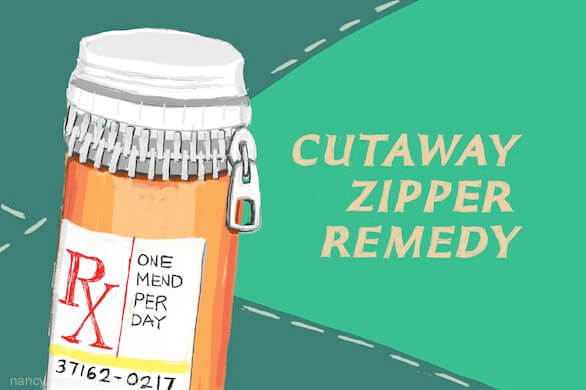 Sewing Prescription for a Broken Zipper

Replacing a broken zipper, mending jeans, sewing on buttons—those tasks get a 2-thumbs down rating in my book under the topic of
sewing entertainment
! These repairs 
are important, but they don't have to be difficult.
In this new 2-part Sewing With Nancy series, I'm taking a lighter approach to fixing what's broken, while breaking most of the sewing rules.
You'll find five common mending repairs in the second episode of Quick Stitch to Wear Again, a new Sewing With Nancy program. Watch online, on Public TV, or on DVD. Or, follow all the details in the book. Here's what you'll learn!
Cutaway-Zipper Remedy
The Cutaway-Zipper Remedy is my prescription for replacing a broken zipper in a jacket or coat. Unlike traditional solutions, this zipper cure does not involve opening seams.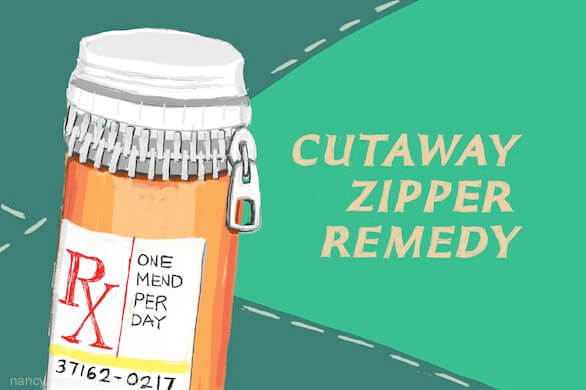 Holes to Art Patches
A tear in pants or jeans can easily turn from an unwanted hole to art. This next Quick Stitch to Wear Again technique is one way of fixing a problem with unconventional, yet clever sewing steps.
Lumberjack Patches
If you are faced with a lumberjack-sized hole in your jeans, which needs immediate attention, I'd like to show you how to take the easy way out. But don't think that this quick fix is temporary. No sir-ree, it's meant to withstand the riggers of any want-to-be logger.
Too Much Cake Fix
Indulging in an extra cookie or a piece of chocolate cake may seem like poor choices. After time those extra treats can turn into a permanent fixture around our middles. Rather than discarding or never wearing your favorite pair of jeans, I'd like to show you how to make them wearable again, using my Too Much Cake Fix.
No-Fuss Repairs
The next time someone asks you to sew on a button, suggest that they watch this Sewing With Nancy segment online! I'm a firm believer that everyone should know how to sew this basic fix. The process is a no-brainer, when using no-fuss steps.
Two-thumbs up to Philip Ashby, graphic artist at Wisconsin Public TV,  for his spot-on illustrations!
For a chance to win a copy of Quick Stitch to Wear Again, simply leave me a comment sharing which of these mending tips you need the most. A winner will be randomly selected and announced on September 10.
To watch Sewing With Nancy on your iPad, iPod Touch, or iPhone, download the app.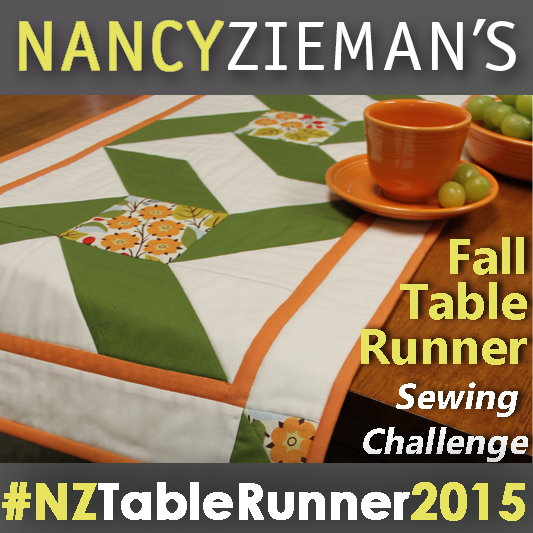 Don't forget to submit your table runner in my Fall Table Runner Challenge! Click here to see how to enter. Make sure you are subscribed to my enews mailing list so you won't miss a thing. Sign up here.
As many of you know, I recently had a hiccup on my Facebook page. I'm happy to report that the problem has been fixed! You can continue to connect with Sewing With Nancy, other fans, and myself on the page. Thank you for your patience.
Bye for now,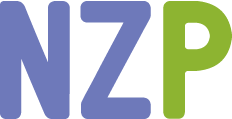 Content in this feed is © copyright 2015 by Nancy Zieman and may not be republished without written permission. You're welcome to forward the email to a friend or colleague but it's not okay to add the RSS feed automatically as content on a blog or other website.