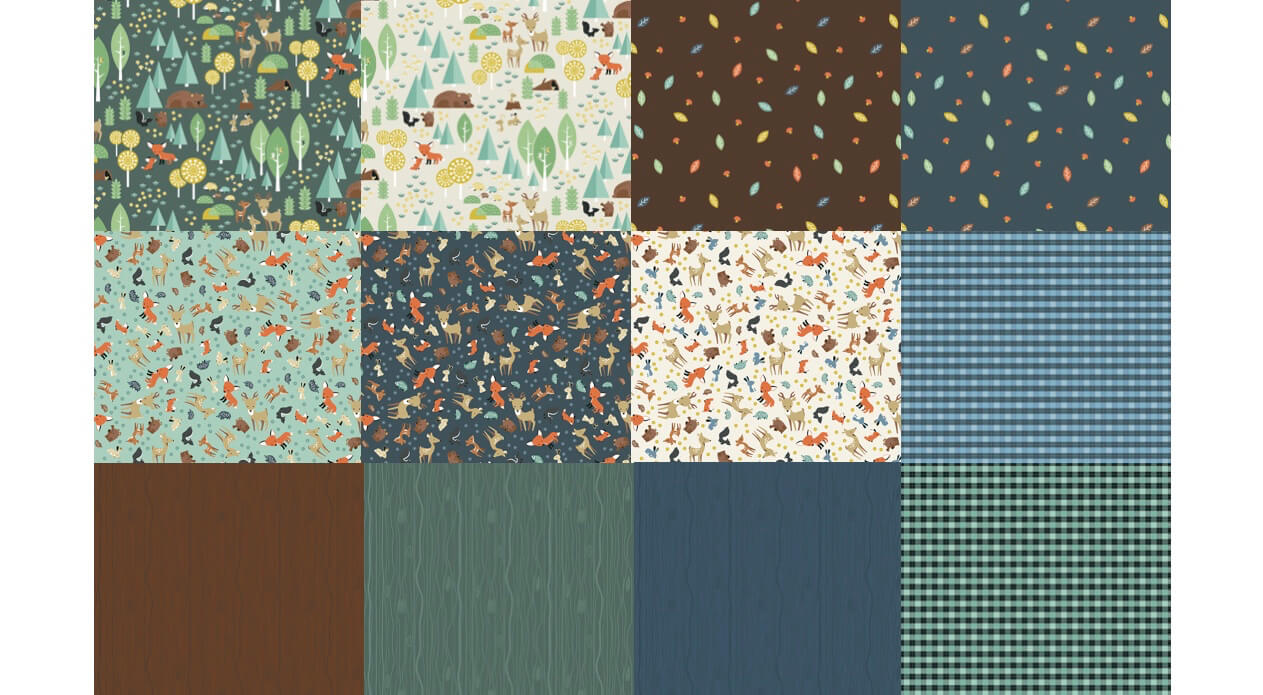 NEW! Rag Quilt Sewing Tutorial and NEW! Woodland Flannel Fabrics at ShopNZP.com


NEW! Woodland Flannel Fabric Collection by Ben Byrd for Riley Blake Designs Now Available at Nancy Zieman Productions at ShopNZP.com
New! Woodland Flannel Fabric Collection by Ben Byrd for Riley Blake Designs are now available at ShopNZP.com.
Transport yourself to the heart of the forest with Woodland Flannel from Ben Byrd. The palette of earth tones – green, orange, brown, navy and parchment – are just what you'd expect from this woodsy collection. A charming forest scene complete with deer, rabbits, bear, fox and a family of porcupines are complemented by prints of woodgrain, plaid and leaves. Be one with nature without ever leaving your home
This 100% Brushed Cotton fabric is great for quilting, sewing fabric face coverings, stitching accessories, home decor, quilts, and gift bags! We're sharing 12″ electronic fabric swatches in today's post.
Flannel Rag Quilt Throw Sewing Tutorial
Sew a quick and easy patchwork throw made with simple squares and frayed raw edges. The sewing is fun and the seaming technique is the featured technique in this rag quilt style throw – an ideal project for beginner sewists!
Supplies
Flannel Rag Quilt Throw Sewing Tutorial
Approx. Finished Size: 50″ W x 60″ L
Read all directions before beginning. All Seam Allowances 1/2″.
Determine desired throw size and patchwork layout. Today, we're showing a 50″ x 60″ flannel rag quilt throw with 5″ finished quilt blocks. Our 50″ x 60″ throw quilt features 120 blocks: 10 blocks wide and 12 blocks long.
When cutting fleecy or lofty fabrics, flip your rotary cutting mat over and cut fabrics on the reverse side of the cutting mat. Because fleece and flannel fabric fibers may stick within the rotary cutting lines on a cutting mat, using the reverse side of the mat will protect the front of the mat and extend the life of the mat. 
Determine Block Partners
Our Flannel Rag Quilt is a quilt-as-you-go project! The quilt top, quilt batting, and quilt backing will be sewn together in one easy step.
Choose block partners: One fabric will be the quilt top and the second fabric will be the quilt backing!
There's no need for quilt batting as the inner quilt squares provide a lightweight quilt padding or "batting"!
Place block partners wrong sides together with one inner quilt square inserted between outer fabrics – to create block sandwich. Pin.
If your sewing machine has dual feed, like our Bernina b 770, engage the dual feed when stitching together the three sandwich fabric layers! 
Rotate block sandwich and stitch diagonal seam from remaining corner to opposite corner.
Repeat steps above and stitch all 120 quilt sandwiches.
Patchwork Quilt Layout
Place quilt sandwiches in desired quilt layout: 10 blocks wide and 12 blocks long.
Stitch Blocks
Stitch Block Pairs
Stitch block pairs with 1/2″ seam allowance.
Keep dual feed engaged when stitching quilt blocks together!
Stitch Quilt Rows
Stitch block rows together with 1/2″ seam allowance.
Repeat steps above and assemble quilt!
Edgestitch along all four quilt edges with 1/2″ seam allowance.
Using Spring Loaded Rag Quilting Snips, "clip" quilt outer edges, and all seam allowances, with 1/2″ clips. Note: Take care to not cut stitching lines. When quilt is washed, seam allowances will ravel and create the rag quilt edges.


Happy Stitching!
Team Nancy Zieman
Nancy Zieman Productions. LLC.
Stitch it! Sisters is a production of NZ Productions LLC. Content in this feed is © copyright 2021 by Nancy Zieman Productions, LLC and may not be republished without written permission. You're welcome to forward the email to a friend or colleague but it's not okay to add the RSS feed automatically as content on a blog or other website. The FTC requires us to tell you that Nancy Zieman Productions, LLC has provided products by other companies in the course of doing business. The FTC requires us to advise you to take this information into consideration when reading this posting.