NEW! Easter Egg Hunt Table Mat Sewing Tutorial

Celebrate spring and sew a new Table Mat! This Easter-themed project is an updated version of Nancy Zieman's turned-tube technique. Today, we're stitching our Table Mat with Easter Egg Hunt 2-1/2″ fabric strips and Pellon's convenient 2-1/2″ Precut Cotton Batting Strips! The sewing is fun and the finished Table Mat provides a festive table decoration. Or, make two or more and create a set of placemats! 
NEW! Easter Egg Hunt Fat Quarter Pack by Natàlia Juan Abelló for Riley Blake Designs features 18 coordinating fabrics in pink, mint, white, yellow, mustard, and coral. Prints include rabbits and flowers; eggs with floral frames; tossed carrots and dots; bunny characters and flowers; tossed florals; and geometric stripes.

Don't you just love the start of Spring? A promise for brighter days, flowers growing everywhere and colorful gardens coming to life after a long winter. And so, it's time to play outdoors and have some fun with the Easter Egg Hunt! Let's hop through the bushes and skip over wildflowers to find our sweet treasure: Easter Eggs! Cute bunnies, tasty carrots and dainty flowers evoke the joys of Easter, with heaps of positivity through a pastel brights color palette.

Easter Egg Hunt Table Mat Sewing Tutorial
Approximate finished size: 13″ x 18″
Easter Egg Hunt Table Mat Supply Listing
Create Fabric Strips
Cut three 2-1/2″ crosswise fabric strips from each of six fat quarters. Cut a total of eighteen strips – each measuring approximately 2-1/2″ x 21″.
Place crosswise fabric strips right sides together, offsetting short ends, and stitch diagonally between right angles.
Seam fabric strips together with diagonal seams, stitching all eighteen strips in to one continuous strip.
Press seams flat, then press seams open.
Trim seam allowance to 1/4″.
Cut batting strip narrow end at a 45° angle. Fold narrow fabric strip end, wrong sides together, at a 45° angle. Press.
Layer batting strip to wrong side of fabric strip, tucking cut end of batting strip under folded fabric end.
Insert into Jellyroll Jig. 
Sandwich fabric/batting assembly between two clear plastic guide strips (included with the Jellyroll Jig), placing rough side of guides toward  batting/fabric.
With clear plastic guide extending 1″ beyond the end of fabric/batting assembly, pinch plastic guide strips and guide batting/fabric assembly into the Jellyroll Jig) wide opening.
Slide Jellyroll Jig onto fabric/batting assembly and remove plastic guide strips.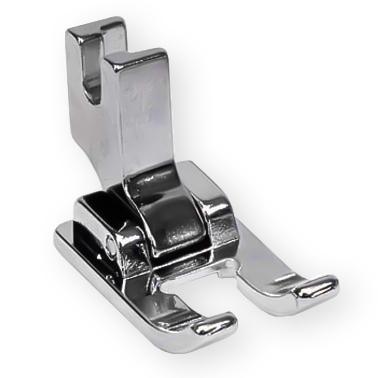 Edgestitch fabric/batting assembly, along long open edge.
Advance fabric/batting through Jellyroll Jig and continue stitching.

Fold fabric/batting assembly strip meeting long edges and Wonder Clip as need to hold layers together.

 For tangle-free fabric/batting strip folding, place seamed fabric strip and batting roll in two separate baskets. Place baskets on floor below sewing table. 
Continue advancing fabric/batting strip through Jellyroll Jig and edgestitching fabric/batting assembly along long open edge.
Stop stitching about 6″ from strip end.
Complete strip by cutting fabric strip end at a 45° angle. Cut batting strip end at 45° angle, and 1″ shorter than fabric.
Fold fabric strip end up meeting wrong sides together.
Resume stitching to end of strip. At corner, stop with needle down. Lift presser foot, pivot, and stitch across short end of fabric. Backstitch and cut threads.
Fold over about 8″ sewn fabric strip forward onto itself. Note: The stitching line on the fabric strip will be located to the right.
Set sewing machine for a wide zigzag stitch, and stitch fabric strip together.  Zig in one fabric and zag in the other, while "kissing" fabric edges together.
Stitch to the end of the 8″ strip and stop with needle down in right fabric.
Continue stitching, turning stitched table mat counter clockwise as you stitch.
Continue adding stitched fabric rows, turning stitched table mat counter clockwise as you stitch.

An Edge Joining Presser Foot also works great when seaming fabric strips.
At about 4″ from the end, tuck folded end of fabric strip under table mat edge, and continue stitching to end of strip. Backstitch.
 Steam and press finished table mat.
Our New! Easter Egg Hunt Table Mat! sewing project is so fun to sew! Make two or more and create a set of coordinating placemats!
Easter Egg Hunt Table Mat Supply Listing




For a chance to be the random winner of a 10 Pack of Wonder Clips from Clover, please leave a comment below about our NEW! Easter Egg Hunt Table Mat. Clover will give away one 10 Pack of Wonder Clips to one US resident in the 48 contiguous states. Winner must reply within 30 days to the official giveaway announcement email message – sent from Nancy Zieman Productions.
The randomly selected winners of one of our I Sew For Fun Sewing Tools from Clover, from the March 4 Blog Post, We're Celebrating National Quilting Month with a Few of our Favorite Quilting Tools! are:
Julie K – I could use the seam presser and the 2-point turning tool. I have trouble with getting the seams flat, as well as turning and getting sharp points in my sewing. Thanks for all of the tips for sewing the easy (Nancy) way!
Linda Nelson – I could really use the Protect n Grip thimble. My old hands need help!
Cynthia – Any of these notions would be a useful addition to my sewing room!
Susan – The Protect 'n Grip Thimble would be my choice as I do various needlework and this thimble looks like it would be very helpful.
Celebrate Spring Sewing!
Team Nancy Zieman
Nancy Zieman Productions. LLC.
Stitch it! Sisters is a production of NZ Productions LLC. Content in this feed is © copyright 2021 by Nancy Zieman Productions, LLC and may not be republished without written permission. You're welcome to forward the email to a friend or colleague but it's not okay to add the RSS feed automatically as content on a blog or other website. The FTC requires us to tell you that Nancy Zieman Productions, LLC has provided products by other companies in the course of doing business. The FTC requires us to advise you to take this information into consideration when reading this posting.