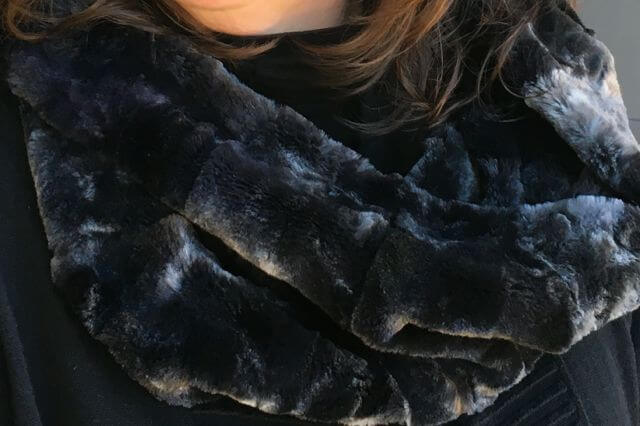 Faux Fur Infinity Scarf Sewing Tutorial by Team NZP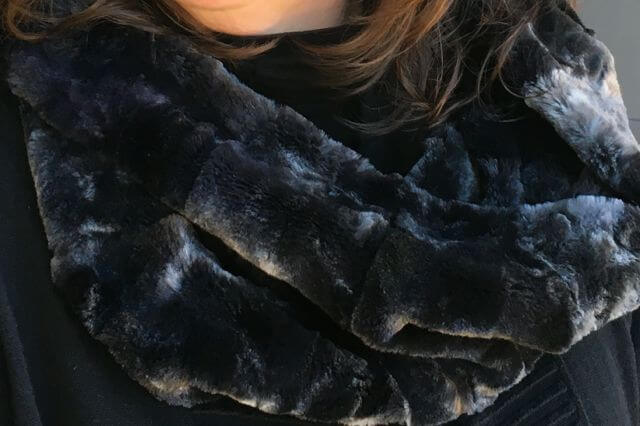 Stitch a warm and snuggly winter scarf with our Faux Fur Infinity Scarf Sewing Tutorial by Team NZP. If you're in a cold climate, like the NZP Team in Wisconsin, you're already familiar with "bundling up before heading out". Take on winter in style with our Infinity Scarf! Yes, you can make a fabulous infinity scarf from faux fur!

Deanna, from Team NZP, made this Faux Fur Infinity Scarf with 2/3 yd. faux fur. She's also successfully stitched our infinity scarf from 1/2 yd. faux fur – cutting a faux fur fabric rectangle measuring 18″ x 40″.

Faux Fur Infinity Scarf Supplies
2/3 yd. Faux Fur Fabric or Repurposed Faux Fur Cape/Coat

Cutting

     Cut on marked lines with the tip of the scissors, cutting only the backing, not the fur. Cutting faux fur in the traditional manner leaves you with a complete mess of fur! If you happen to cut the fur, simply use a vacuum with hose attachment to help with the clean up!
Faux Fur Scarf Sewing Tips
Using a

5-in-1 Sliding Gauge and Clover's Chaco Liner, measure and mark a 4″–6″ distance along one long fabric edge. Mark the 4″–6″ distance at about 6-8″ from one end. This area will later remain unstitched.
Place faux fur right sides together, matching long 40″ edges. Pin.
Using a Schmetz 90/14 Stretch Needle and 1/4″ seam allowance, stitch the long 40″ seam, backstitching on each side of the 4″-6″ opening.

Be sure to leave the 4″–6″ marked opening unstitched! This is a no-sew zone!

Using Clover's Chaco Liner, place a mark on fabric wrong side – marking the fold line at one short end. Repeat marking the fold line at opposite short end.
Through the seam opening, turn the long tube end right side out.
Give the scarf a half-twist while folding the tube onto itself, matching right sides of the short ends.
Align opposing seams and snips at the end to maintain the twist. Pin seam with long Flower Head Pins.
Faux Fur Infinity Scarf Supplies
For a chance to be the random winner of a Pen Style Chaco Liner from Clover, please leave a comment sharing what you're sewing this winter.
Clover will give away one Pen Style Chaco Liner to one US resident in the 48 contiguous states. Winner must reply within 30 days to the official giveaway announcement email message – sent from Nancy Zieman Productions. Email Team NZP at [email protected]

The randomly selected winner of a Clover's Premier Seam Ripper, from the December 29 Blog Post, Sew a Table Runner or Wall Hanging with 2-1/2" Precut Fabric Strips, is Cyndi.
Her comment is: I've been sewing reading pillows for my great nieces and nephews.
NEW! 2021 NZP Block of the Month Mystery Quilt Series at The Nancy Zieman Productions Blog! Join anytime and get ready for this all-new NZP BoM 2021 Free Block Tutorial Series by visiting our NZP BoM 2021 January 2 Kick Off Blog Posting.
Happy Sewing and Happy New Year!
Team Nancy Zieman
Nancy Zieman Productions. LLC.
Stitch it! Sisters is a production of NZ Productions LLC. Content in this feed is © copyright 2019 by Nancy Zieman Productions, LLC and may not be republished without written permission. You're welcome to forward the email to a friend or colleague but it's not okay to add the RSS feed automatically as content on a blog or other website. The FTC requires us to tell you that Nancy Zieman Productions, LLC has provided products by other companies in the course of doing business. The FTC requires us to advise you to take this information into consideration when reading this posting.