30 Minute Christmas Tree Serger Napkin Sewing Tutorial

Celebrate Holiday Sewing and make a set of Christmas Tree Napkins with your serger! We're making dinner-size napkins with Christmas Memories Plaid Fabric, Holly Berries Green Fabric, and Polyarn Serger Thread. Our super-simple circle napkins are fast and fun to make!
And, today is Day 10 of our Twelve Days of Christmas Event with Holiday Gift Favorites at Special Prices at ShopNZP.com!
30-Minute Christmas Tree Serger Napkin Supply Listing

Approx. finished size 17-1/2″ circle.
30-Minute Christmas Tree Serger Napkin Sewing Tutorial Tools & Supplies

Pre-shrink coordinating fabrics by steaming and pressing, and steaming and pressing a second time, and then spray press and starch fabric with June Tailor's Quilter's Starch Savvy — press and starch, press and starch.
30-Minute Christmas Tree Serger Napkin Sewing Serger Tutorial
Prepare Fabrics

One yard each of two coordinating fabrics makes four Christmas Tree Dinner Napkins.

Streamline the cutting process and make a paper pattern!
Make Pattern

Hold the lower part of the "Push" mark on the Supersize 5-in-1 Sliding Gauge then move the gauge cursor to the 9″ marking. Insert the point of a Frixon Marking Pen into the opening while pressing the compass pivot point with your finger(at opposite end of gauge), then rotate gauge and mark circle line.
Cut out circle pattern on marked line.

You're the designer! Choose to make Dinner Napkins with 18″ circles, Brunch Napkins with 16″ circles, or Cocktail Napkins from 12″ circles!
Cut Out Fabrics

Place circles wrong sides together. Pin.
Set serger overlock machine for a 3-thread overlock stitch.
Thread serger with

Polyarn Serger Thread

colors in upper and lower looper, and standard serger thread in needle.

Designed specifically for serger sewing, Polyarn has a "woolly-like" texture, resulting in increased stitch coverage! Polyarn is used in upper and lower loopers and is ideal for rolled hems, flatlocking, and chain stitching.

Stitch napkin edges with three-thread overlock serger stitch, trimming away 1/8″-1/4″ fabric.
Use a darning needle to bury ending threads below stitches.
Fold Napkin into Christmas Tree Shape
Fold about 1/3 napkin top towards napkin back.
Fold about 1/3 napkin left edges toward napkin front.
Fold remaining right napkin edge to napkin back.
Repeat steps above and make as many napkins as desired!

Christmas Traditions Big-Bigger Santa Bag Bundle Box






Visit ShopNZP.com December 1-12 as we reveal our 12 Christmas Gift Giving Ideas* – that also make great stocking stuffers! One reveal each day at 9 a.m. CT – *available while supplies last! Plus the first twelve orders, each day, will receive one FREE! Wonder Clip from NZP Owner, Richard Zieman, December 1-12, 2020 at ShopNZP.com.
For a chance to be the random winner of Clover's Premier Seam Ripper, please leave a comment below letting us know what you are sewing for the holidays!

Clover will give away one Premier Seam Ripper, to one US resident in the 48 contiguous states. Winner must reply within 30 days to the official giveaway announcement email message – sent from Nancy Zieman Productions.

The randomly selected winner of a 5 pack of Super Nonstick Needle size 90/14, from the December 3 Blog Post, Big Bigger Santa Bag Sewing Tutorial , is Shirley.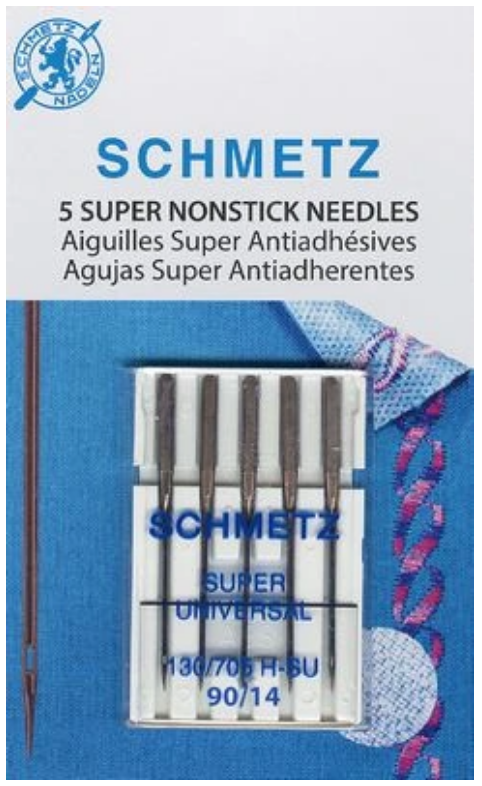 Her comment is: What a unique and wonderful idea to make a big-bigger Santa bag that can be used for laundry! I would need the bigger bag, of course, for my family.
Happy Stitching!
Team Nancy Zieman
Nancy Zieman Productions. LLC.
Stitch it! Sisters is a production of NZ Productions LLC. Content in this feed is © copyright 2020 by Nancy Zieman Productions, LLC and may not be republished without written permission. You're welcome to forward the email to a friend or colleague but it's not okay to add the RSS feed automatically as content on a blog or other website. The FTC requires us to tell you that Nancy Zieman Productions, LLC has provided products by other companies in the course of doing business. The FTC requires us to advise you to take this information into consideration when reading this posting.