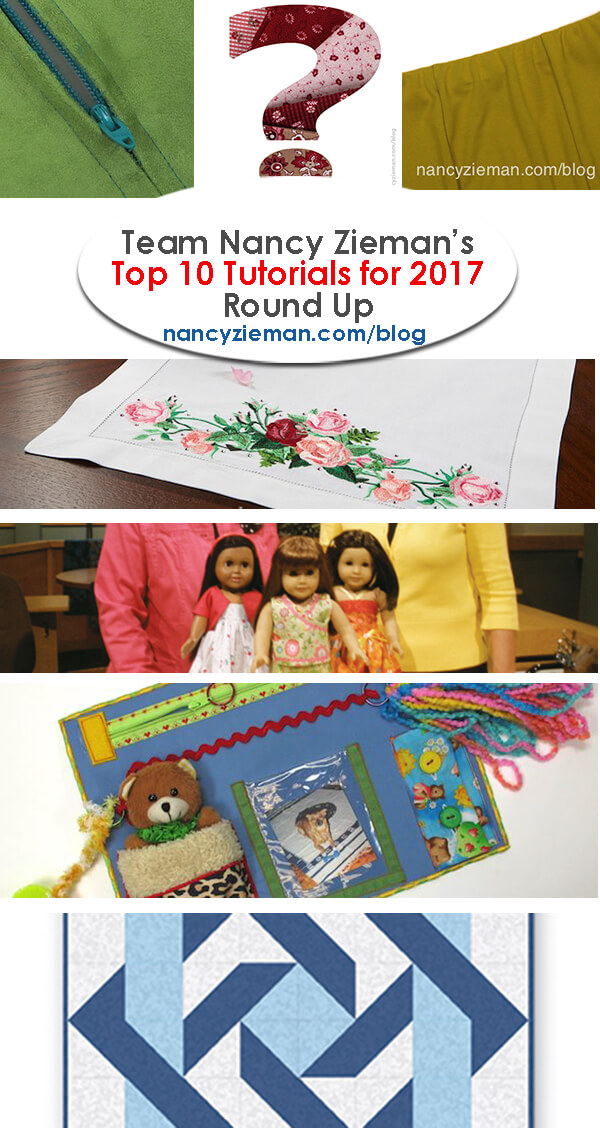 TOP 10 Tutorials of 2017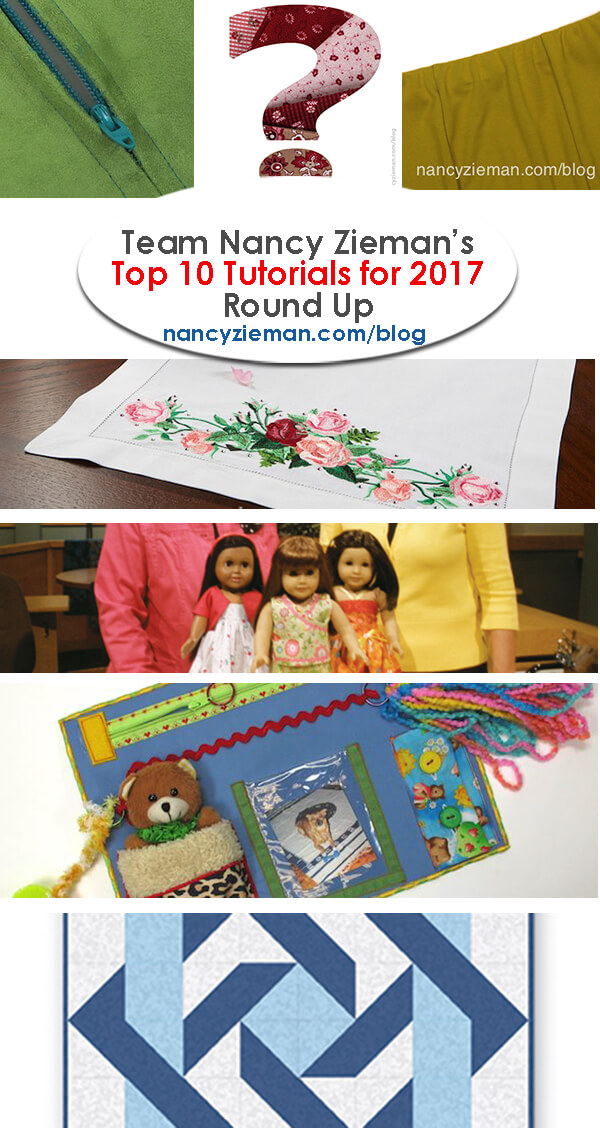 Tis the season to see our top 10 sewing, quilting, and machine embroidery tutorials from 2017.  Not only are these links some of our own personal favorites, they are yours, too. In fact, we used one-year's worth of data to determine the list. Join the NZP Team as we count down the most popular tutorials of 2017, on the Nancy Zieman Productions, LLC blog.
Machine embroidery could possibly be your passion, or maybe it's something you'd like to try. If you're a newbie or want-to-be embroiderer, Eileen Roche, friend and Sewing With Nancy guest, and Nancy Zieman show you how to learn Machine Embroidery in 6 Easy Lessons on my newest 2-part series. Watch parts ONE and TWO here.
Nancy was always a proponent of taking advantage of 10 to 30 minutes of free time to sew or quilt. Minutes spent sewing, result in finished projects. When Joan Hinds proposed the idea of 30-Minute Doll Clothes for a Sewing With Nancy program, Nancy's interest piqued. Nancy questioned Joan, asking if pieces could truly be made in just 30-minutes instead of several sewing sessions. Her answer—absolutely! Read more and watch here.
Sew a quick, easy, and reversible Crisscross Apron ideal for wearing while baking, during a garden harvest, or for next weekend's BBQ! Frequent Sewing With Nancy guest and Nancy's friend, Mary Mulari shares her all-time most requested apron style! You can sew Mary's Crisscross Apron in an evening—with no strings and no ties! Read more about Mary's aprons here.
Sew To Give is Nancy Zieman's community service commitment to sewing, quilting, and volunteering outreach programs. Over the years on Sewing With Nancy, guests have shared amazing charitable goals during the Nancy's Corner segments. Here's our grouping of many of the organizations that Nancy Zieman Productions, LLC is aware of, giving you options to sew and quilt for others. As Nancy often said on Sewing With Nancy, The gift is in the giving! 
If you are stitching, there's a good chance your project will have a hem. Nearly everything you sew has a hem—skirts, pants, sleeves, and even home décor items such as curtains and table linens. By using a few simple hints, you can turn the hemming step into a simple sewing task. Read the Hemming Round-Up here.
Find Nancy Zieman's hemming tips and more in The Absolute Easiest Way to Sew, and watch on Sewing With Nancy's three-part series on The Absolute Easiest Way to Sew (Part One, Part Two, and Part Three).
Sew an Alzheimer's Activity Mat with free sewing instructions as seen on Sewing With Nancy! Marcia Engquist, who designs Alzheimer's Activity Aids, designed these activity mats after watching residents at a care center restlessly fidget. These easy-to-sew activity mats help sooth the agitated fidgeting of people with dementia or autism. Plus, the mats help focus their attention, stimulate senses, exercise hand muscles, and entertain users. See the complete post for Alzheimer's Activity Mats here.
Nancy Zieman launched the 2017 Quilting With Nancy Block of the Month program in January. This blog post and subsequent block of the month posts are highly viewed. Each month contains a complete FREE sewing tutorial. While January's kick-off post is the most popular of the series, you can see the collection of quilt blocks here.
There's something magical about quilts. Perhaps it's the creative process of selecting color combinations, arranging the blocks to create an overall pattern, or simply enjoying the satisfaction of a well completed project. Illusions Quilts allow quilters and sewists to experiment with hues of color and arrangement of blocks to trick the beholder's eye into believing the illusion. Based on half-square triangles (HSTs), the illusion quilts are easy to sew and to enjoy. See the Slip Knot Quilt pattern and many more on the third-most-popular post of the year.
Okay, the yellow skirt's waistband picture doesn't look like much. That's the point! It's the easiest way to sew elastic to a waistline without the telltale topstitching of an elastic waistline.
Over the years, Nancy tweaked and personalized sewing techniques. Our favorites are collated in Nancy's book, The Absolute Easiest Way to Sew.  On this post, Nancy shares a bonus technique for the letter "E"—for inserting Elastic in a waistline. You'll find this technique to be the absolute easiest way to sew elastic to a waistline.
How to sew a zipper into a seam is a commonly requested sewing technique. Nancy shares with you the absolute easiest way she's found to insert a zipper. Use tape instead of pins. Curious? It's found in her book The Absolute Easiest Way to Sew. Read more about her technique here.
For a chance to win an assorted Nancy Zieman Notions prize bundle, from Clover, worth $25, please leave a comment sharing your favorite Nancy Zieman blog post, technique, or tutorial from 2017.
The randomly selected winner a copy of Amazing Designs Snack Shop Collection from Nancy's Notions is Patty Graves.
Her comment is, "My five and three year old grandchildren would love to make sandwiches for me, grandma, to eat. They love pretending to make meals and snacks—hours of fun. Thanks."
Team Nancy Zieman
Nancy Zieman Productions, LLC.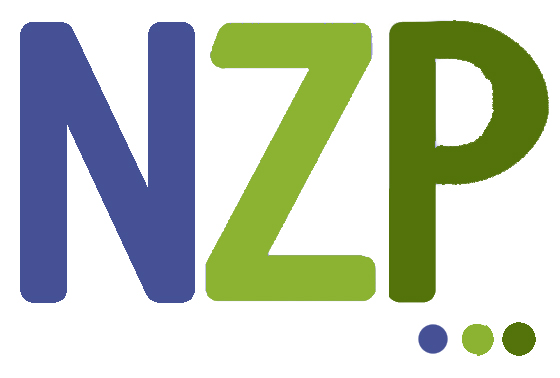 Content in this feed is © copyright 2017 by Nancy Zieman Productions, LLC and may not be republished without written permission. You're welcome to forward the email to a friend or colleague but it's not okay to add the RSS feed automatically as content on a blog or other website.
The FTC requires us to tell you that Nancy Zieman Productions, LLC has provided products by other companies in the course of doing business. The FTC requires us to advise you to take this information into consideration when reading this posting.
Make sure you are subscribed to Nancy Zieman Productions, LLC enews mailing list so you won't miss a thing. Sign up here. Join us on Facebook, plus a host of other social media channels. Connect With Nancy and Friends today!