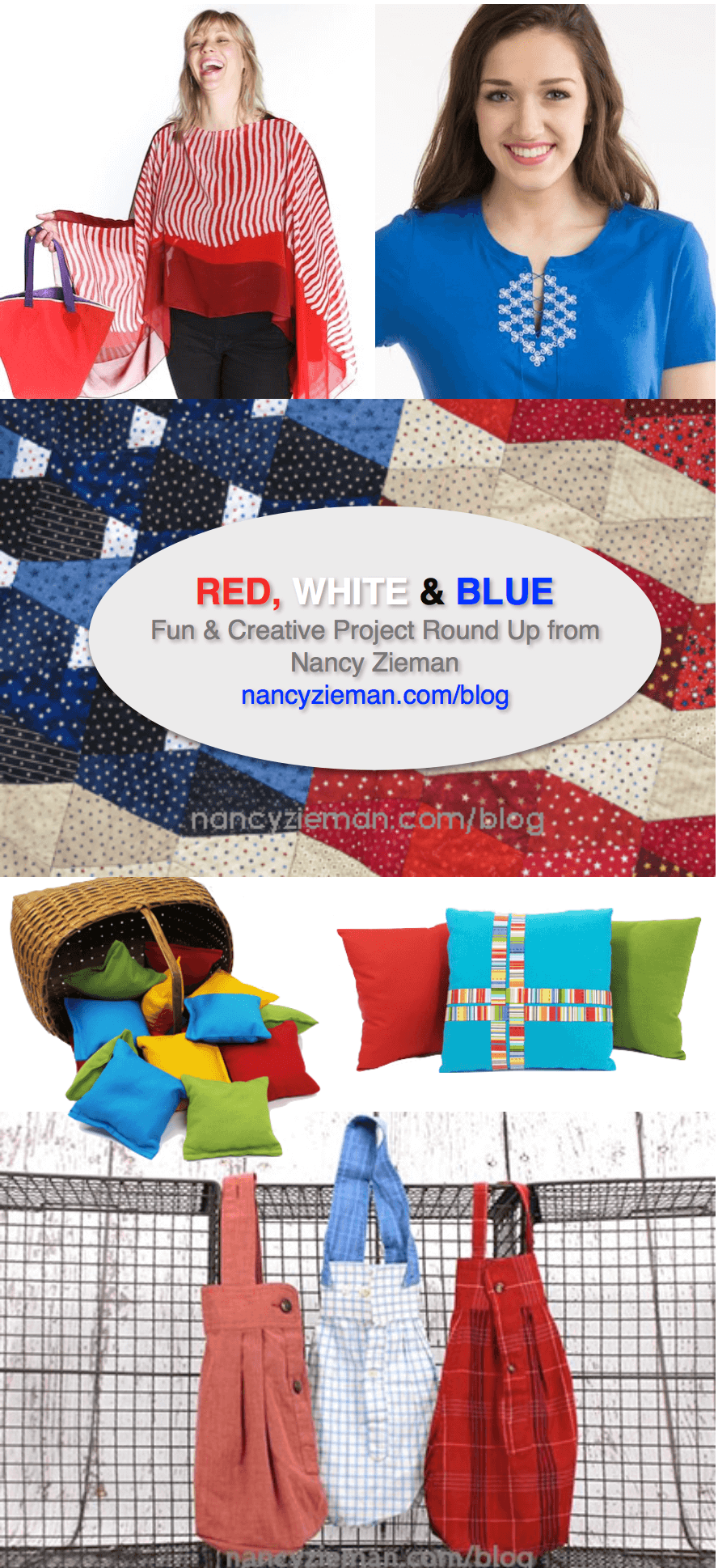 Red, White & Blue Fun and Creative Projects

Check out our June Project Round up featuring projects in Red, White, and Blue!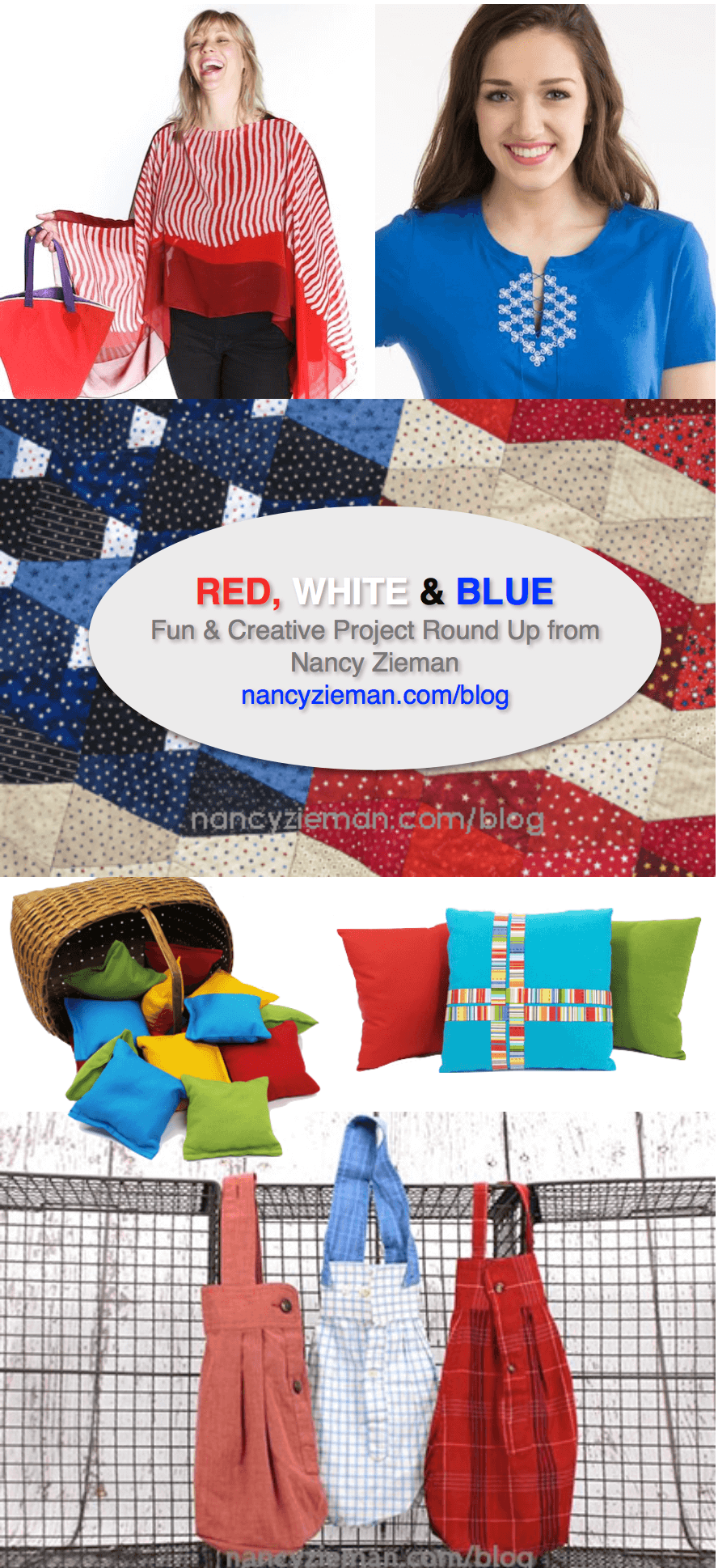 Two Scarf Wrap
Sometimes two identical scarves are just waiting for you to buy, take home, and sew only two seams. As Bobbie Jo can attest, the end wrap is delightful to wear! Watch All Occasion Fabric Wraps (Part One and Part Two) on Sewing With Nancy online.
Tumbler Flag Quilt designed by Linda Coon
Sewing With Nancy viewers often email photos of their creative works. Nancy's team loves seeing what you create! The image of the Tumbler Flag Quilt caught our attention and we knew you'd like to see it too. It was designed and made by Linda Coon from Louisiana, who caught the quilting bug a few years ago and hasn't stop quilting. Linda agreed to share her quilting tutorial. Grandmother's One Patch (Part One and Part Two) on Sewing With Nancy online.
Simple to Chic T-Shirt Remakes
Knit tops are a wardrobe basic; most of us live in them. After awhile, the style can get, well, boring! Welcome to Simple to Chic T-Shirt Remakes with Eileen Roche, a Sewing With Nancy 2-part TV series. Watch online or on PBS. During this first episode, learn how to transform the common knit shirt into a fresh and smart-looking fashion. Embroidery machine designs are the key to adding embellishment and also the neckline transformation. It's rather marvelous how it all happens. Watch Simple to Chic T-Shirt Remakes on Sewing With Nancy online.
Colorful Bean Bag Toss Project
One of American families favorite outdoor games goes by quite a few names, but in short can be called bean bag toss. What would the game be with out festive, colorful bags? This is a perfect afternoon sewing project to create with kids. Then, go have some backyard fun. Watch The Absolute Easiest Way to Sew on Sewing With Nancy online.

Absolute Easiest Way to Sew Pillow Corners
A complete sewing tutorial to create the blue lattice pillow can be found here. It includes an envelope pillow back and wrapped corners. This episode will focus on the wrapped corners, which can be easily applied to any pillow project. Watch Part Two of The Absolute Easiest Way to Sew Series on Sewing With Nancy.
Shirt Sleeve Gift Bag
They'll call you clever when you arrive with a gift in this unique bag. Make a bag handle from another piece of the shirt, or use a shirt collar for the handle. The rust colored bag handle is a piece of the shirt placket. Check your closets for potential "fabric" for Sew Green Makeovers by Mary Mulari.
Which one of the above projects are you going to make first? Leave your answer in the comments for a chance to receive a copy of the book and DVD set, The Absolute Easiest Way to Sew from Nancy's Notions.
The winner of the I Sew For Fun Click Print Stitch Software from Eileen Roche and DIME, from the June 2 post, is Bev M.
Her comment is: Wow. This would be great for beginning 4-H sewers and for my granddaughter. I would probably start with the star skirt, because it is similar to the first year 4-H elastic waist skirt project.
Happy Sewing,
Team Nancy Zieman
Nancy Zieman Productions. LLC.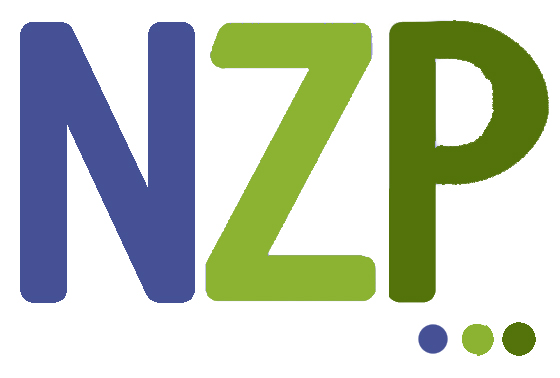 Content in this feed is © copyright 2017 by Nancy Zieman Productions, LLC and may not be republished without written permission. You're welcome to forward the email to a friend or colleague but it's not okay to add the RSS feed automatically as content on a blog or other website.
The FTC requires us to tell you that Nancy Zieman Productions, LLC has provided products by other companies in the course of doing business. The FTC requires us to advise you to take this information into consideration when reading this posting.
Make sure you are subscribed to Nancy Zieman Productions, LLC enews mailing list so you won't miss a thing. Sign up here. Join us on Facebook, plus a host of other social media channels. Connect With Nancy and Friends today!