Nine Modern 9-Patch Quilts

There's more to a 9-patch block than meets the eye! Many creative quilt projects start with 9-patch blocks. Nancy shows how to change-up the strip sizes, fabrics, or block layout to expand your quilting options. Change-Up Patchwork is the name of today's Sewing With Nancy three-part TV series. Watch online to see all the details.
The basic 9-patch quilt block can easily be made with two fabrics and two different fabric stratas—sew strips together, subcut into sections, then sew into a block. Watch the process online at your convenience and find all the instructions in the book, Change-Up Patchwork. After learning the basics, let your creativity flow!
Vintage 9-Patch
The first variation is a vintage-look table quilt. In the 1800s, quilters painstakingly cut small fabric squares from fabric scraps, then hand-pieced 9-patch designs. Nancy shows how to achieve this vintage look with ease, incorporating clever strip cutting techniques.
Camouflaged 9-Patch
At first glance, you might think this quilt design is a combination of several different blocks designs—perhaps a 4-patch paired with squares and rectangles. As you'll soon learn, it's a 9-patch—a camouflaged 9-patch block. The large 12″ finished block sizes are a speedy way to create a baby's tummy-time quilt.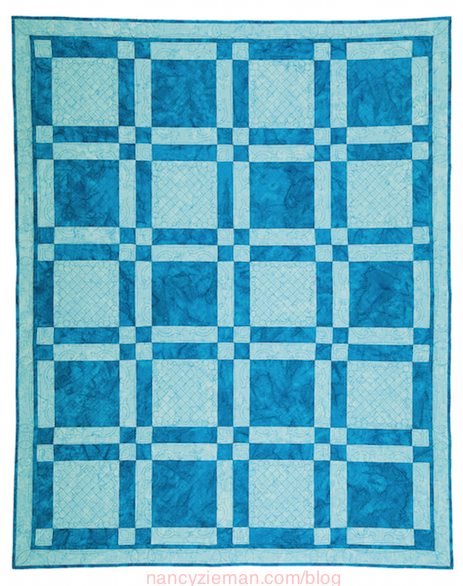 7-Patch Weave
There aren't too many hard-fast rules when it comes to patchwork, which is why we chose to break with tradition. Case in point: Must the 9-patch block always have nine pieces? That may seem like a ridiculous question, yet take away part of the block and substitute a strip of fabric—presto a 7-patch block. With a clever layout the blocks intertwine, which gives the illusion of them being woven together. We call it the 7-Patch Weave.
Can-Do 4-Patch Quilt
Begin your change-up patchwork journey with a traditional 4-patch. Mix up the line-up using three different sizes of 4-patches for 4″, 8″, and 16″ finished quilt blocks. The various sizes of 4-patch blocks are cleverly combined with solid blocks to create a modern small-to-large block theme. It's a can-do quilt!
Spinning 4-Patch
The beauty of this quilt is its simplicity! Tweak the sizes of the 4-patch strips and the patchwork design gives the illusion of movement when four blocks are combined. Use bold, bright batik fabrics or your fabric print/solid combination. Remember, you're the quilt designer. Nancy's TV show and book detail how to change the sizes of the strips. Featured is a 4-patch design, an uneven 4-patch. The block by itself doesn't look like much.
High-Low 4-Patch
A block that is usually symmetrical takes on a totally different feel when what was balanced becomes uneven. Don't change the sewing steps, only the strip sizes. Can you see the strata sections? Watch Change-Up Patchwork online and you'll get all the details!
Scrappy Square Quilt
This scrappy square design was made from leftover fabric. We auditioned stash fabrics. Then, we turned coordinating fabrics into an ideal kids' quilt. Learn how to stitch the square within a square design, using simple strip piecing techniques. Watch online to see how it's done!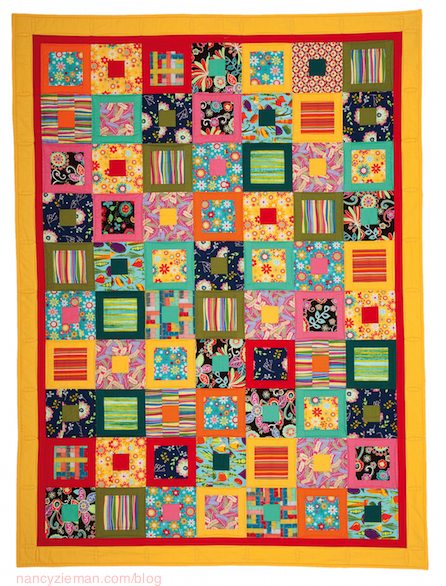 Scattered Squares
Now it's time for artistic expression. The Scattered Squares Table Runner features four different block configurations that are mixed and matched to create a conversation piece. Watch online or read in the book how to design your own square within a square block with the use of "old school" graph paper.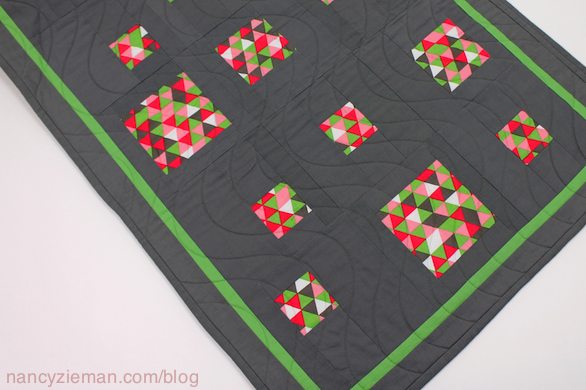 Flip Flopped Rectangles Quilt
Designing quilt blocks is as much fun as sewing them—we call this design, Flip Flopped Rectangles. Replace a square with a rectangle to create a modern look. The skill set is the same, but the strip sizes have changed.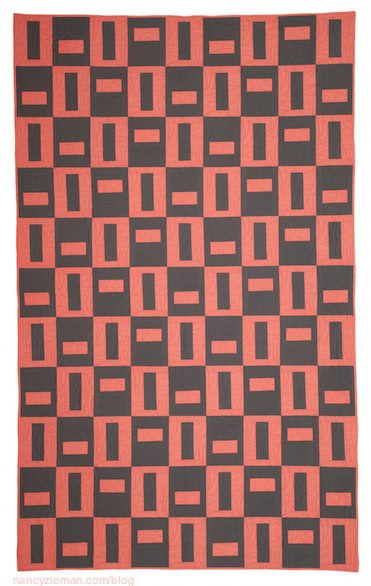 Book Features Nine Great Quilts
Find these easy 4-patch quilts, and six additional quilts, in the new Change-Up Patchwork Book and DVD or in the Change-Up Patchwork Starter Set.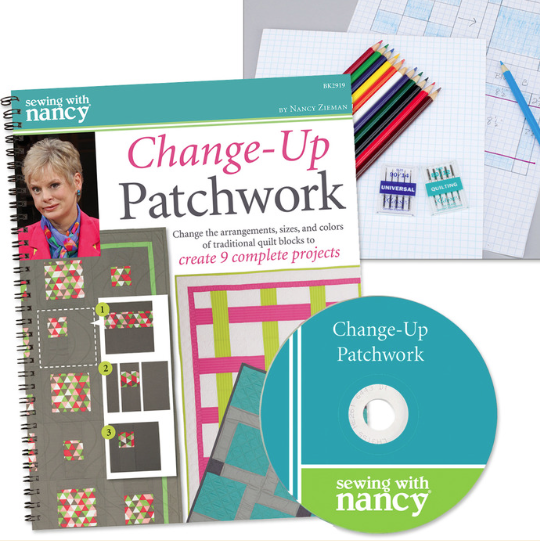 Episode one features the versatility of a 4-patch block.
The star of episode two is the square-within-a-square quilt block.
The third episode features the basics for stitching the traditional 9-patch block.
Nancy's Notions is giving away one copy of the new book, Change-Up Patchwork. Leave a comment below to enter the giveaway, telling us which of these designs you'd like to make.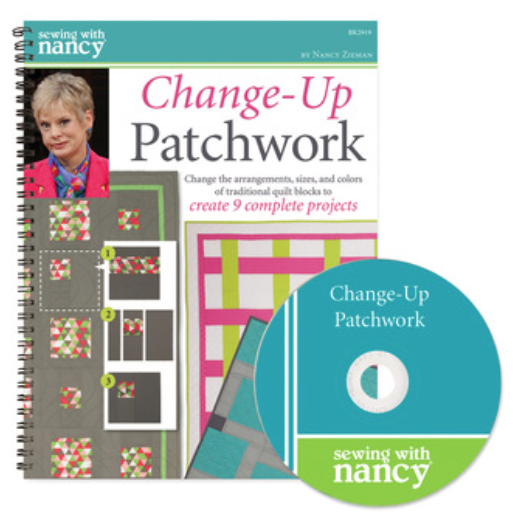 The randomly selected copy of  McCall's M7548 Knit Wardrobe,from The McCall Pattern Company is Jackie W.
Her comment is, "I would love to sew this outfit for a cruise I'm going on this spring. It's headed up to Nova Scotia so it'll be on the cooler side. This outfit would be perfect!"
Happy Sewing,
Team Nancy Zieman
Nancy Zieman Productions, LLC.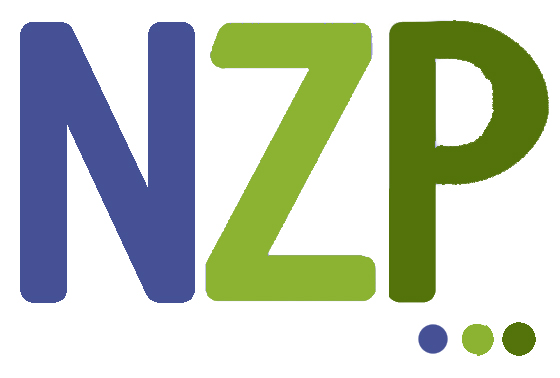 Content in this feed is © copyright 2018 by Nancy Zieman Productions, LLC and may not be republished without written permission. You're welcome to forward the email to a friend or colleague but it's not okay to add the RSS feed automatically as content on a blog or other website.
The FTC requires us to tell you that Nancy Zieman Productions, LLC has provided products by other companies in the course of doing business. The FTC requires us to advise you to take this information into consideration when reading this posting.
Make sure you are subscribed to Nancy Zieman Productions, LLC enews mailing list so you won't miss a thing. Sign up here. Join us on Facebook, plus a host of other social media channels. Connect With Nancy and Friends today!