Break the Quilting Rules—Create Column Quilts
Take a recognizable tumbler quilt design and turn it on its side. Combine several sizes of tumbler shapes and presto, you have a modern quilt design that breaks most sewing rules. This week's Sewing With Nancy features two traditional quilt designs that are sewn in columns, not rows. Plus the piecing is super-simple. This is the second episode of Quick Column Quilts. I hope you'll enjoy creating your next quilt with the Grandmother's One Patch Template, create hexagon designs with ease. Watch online at NancyZieman.com.
Tumbling Tumblers
 Quilt
The first quilt of this episode is called Tumbling Tumblers. Transform a design, traditional to modern, with a simple turn of the design.
The tumbler template from the Trace 'n Create Grandmother's One Patch Template is used to create this quilt design. There are four sizes of tumbler shapes—4″, 6″, 8″, and 10″ in one template. All four sizes are traced on the fabric and then cut, using a ruler, rotary cutter, and mat.
The tumbler shapes are stitched together using traditional quilting techniques.
Multiple background colored tumbler shapes are sewn together to add negative space to the design. Negative space is the new buzz word in quilting, and it references the space around the quilt design, not the design itself, which forms an interesting or artistic look.
You can see how the rest of the quilt is created while watching the episode or see all the dimensions detailed in the book, Quick Column Quilts.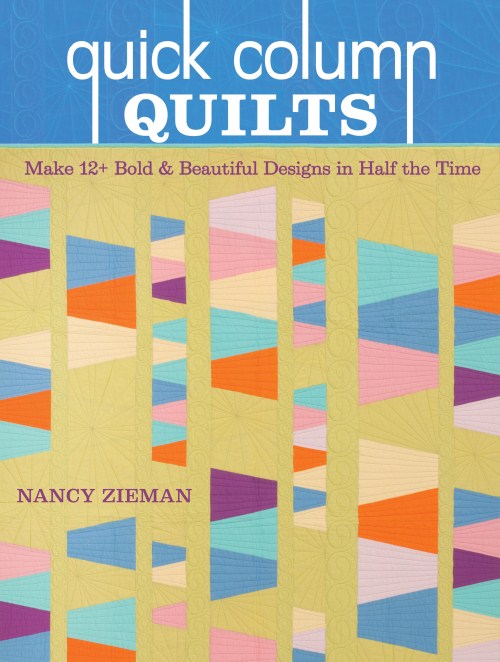 Hit and Miss Table Runner
At first glance, hexagon shapes cause many quilters to think, Oh no, the dreaded Y-seam! Not so with this speedy column quilt design. The hexagon shapes are created with two halves, eliminating the intersection of three seams, otherwise known as Y-seams. With this technique, faux hexagon halves are stitched in columns with relative speed and ease. Plus, the results are dramatic.
The second template in the Grandmother's One-Patch Template set, the faux hexagon, is used for this project.
Only the 4″ shape is traced and cut from the fabric, including the end pieces. (Watch Nancy demo this online, it's a lot easier to show this in action than to write about it!)
Four fabrics are traced and cut from the faux hexagons, plus the background fabric, which again creates the negative space design element. This photo was taken during the design process. Notice the design sketch—elementary!
The faux hexagons are sewn together with straight seams. No Y-seams in this column quilt project.
Then, the columns are sewn together. That's it—all straight seaming.
Full details, are in Quick Column Quilts Part Two.
To watch Sewing With Nancy on your iPad, iPod Touch, or iPhone, download the app.
Show us What You're Making! We love to hear from you, so whether you've tried one of Nancy's Sewing Patterns, or you're planning on stitching a project you've seen on Sewing With Nancy or on The Nancy Zieman Productions Blog, share your experiences and photos with us on Facebook or Instagram!
Happy Sewing!
Team Nancy Zieman
Nancy Zieman Productions. LLC.
Content in this feed is © copyright 2019 by Nancy Zieman Productions, LLC and may not be republished without written permission. You're welcome to forward the email to a friend or colleague but it's not okay to add the RSS feed automatically as content on a blog or other website.
The FTC requires us to tell you that Nancy Zieman Productions, LLC has provided products by other companies in the course of doing business. The FTC requires us to advise you to take this information into consideration when reading this posting.
Make sure you are subscribed to Nancy Zieman Productions, LLC enews mailing list so you won't miss a thing. Sign up here. Join us on Facebook, plus a host of other social media channels. Connect With Nancy and Friends today.