Dazzling Quilts with 4-Patch Blocks

Start with the basics, then make a few simple modifications, to change what was traditional into modern! A 4-patch block—a simple,  yet elegant patchwork design—has such potential!  Presto, you're a quilt designer, creating one-of-a-kind designs. Welcome to Sewing With Nancy's first episode of the three-part series, Change-Up Patchwork.
A 3-color 4-patch serves as the basis for this blog and corresponding TV show.
Can-Do 4-Patch Quilt
Begin your change-up patchwork journey with a traditional 4-patch. Mix up the line-up using three different sizes of 4-patches for 4″, 8″, and 16″ finished quilt blocks. The various sizes of 4-patch blocks are cleverly combined with solid blocks to create a modern small-to-large block theme. It's a can-do quilt!
Learn how to create rows of 4-patch blocks and squares. The different sizes of the 4-patch blocks nest together!
Lay out the quilt rows and watch the Can-Do 4-Patch Quilt take shape. (We laid out the rows on our studio floor. Can you spot some of our "spike" marks that we use for lighting?)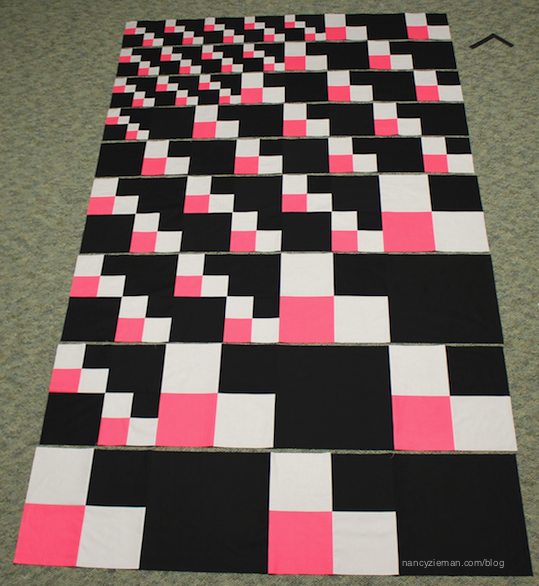 Spinning 4-Patch
The beauty of this quilt is its simplicity! Tweak the sizes of the 4-patch strips and the patchwork design gives the illusion of movement when four blocks are combined. Use bold, bright batik fabrics or your fabric print/solid combination. Remember, you're the quilt designer.
The TV show and book detail how to change the sizes of the strips. Featured is a 4-patch design, an uneven 4-patch. The block by itself doesn't look like much
 . . .but arrange four of the same blocks together—presto, a Spinning 4-Patch!
High-Low 4-Patch
A block that is usually symmetrical takes on a totally different feel when what was balanced becomes uneven. Don't change the sewing steps, only the strip sizes. Can you see the strata sections?

Watch the show online

and you'll get all the details!
It's an ideal block for a table runner.
Book Features Nine Great Quilts
Find these easy 4-patch quilts, and six additional quilts, in the new Change-Up Patchwork Book and DVD or in the Change-Up Patchwork Starter Set.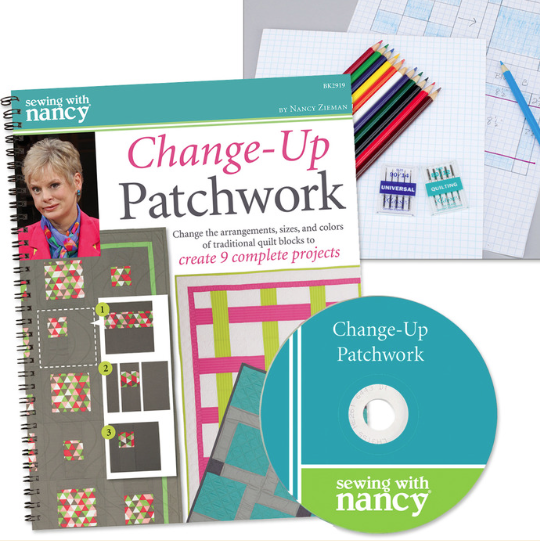 Nancy's Notions is giving away one copy of the book, Change-Up Patchwork. Leave a comment below to enter the giveaway, telling us which of these designs you'd like to make.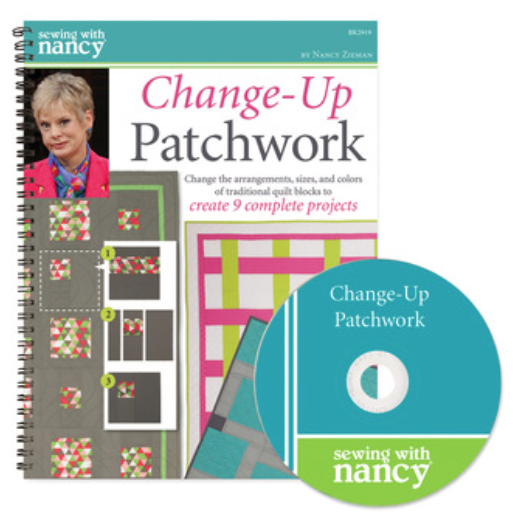 Congratulations to S. Carter, the randomly selected winner of a copy of Cabin Fever Quilts DVD from Nancy's Notions.
Her comment was, "Wow! those contemporary quilts really are great. I have been making traditional quilts, but I would like to try these out."
Bye for now,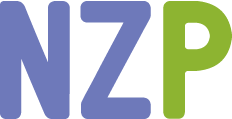 Content in this feed is © copyright 2017 by Nancy Zieman and may not be republished without written permission. You're welcome to forward the email to a friend or colleague but it's not okay to add the RSS feed automatically as content on a blog or other website.
The FTC requires us to tell you that Nancy Zieman has provided products by other companies in the course of her business. The FTC requires us to advise you to take this information into consideration when reading this posting.
Make sure you are subscribed to my enews mailing list so you won't miss a thing. Sign up here. Join us on Facebook, plus a host of other social media channels. Connect With Nancy today!