Box Quilt Block – Table Runner Spotlight

Box Quilt Block Table Runner 
We'd like to share a quilt block pattern that's ideal for a table runner. Featured is the Box Quilt Block, which dates back to 1898, each 12-1/2″ block is made with eight half-square triangles and a center square. This pattern is included in the No-Hassle Triangles Quilt Blocks, a quilt block sampler pattern book. Streamline the piecing process by  using the No-Hassle Triangle tool.
Supplies, Notions, Fabric
Quilting thread
Assorted fabrics/fat quarters
Batting to measure 4″ larger than the finished runner, in length and width
Backing fabric to measure 4″ larger than the finished runner, in length and width
Binding fabric
Construction
Each block requires:
One square 4-1/2″ x 4-1/2″ (center)

Four squares 4-7/8″ x 4-7/8″ (background)

Four squares 4-7/8″ x 4-7/8″ (solid)

Press the fabric. Use

June Tailor's Quilter's Starch

to stabilize the fabrics.
In our sewing studio we always spray the fabric with Quilter's Starch before cutting quilting strips or shapes, then press. This simple step gives the fabric crispness that translates into more accurate cutting results.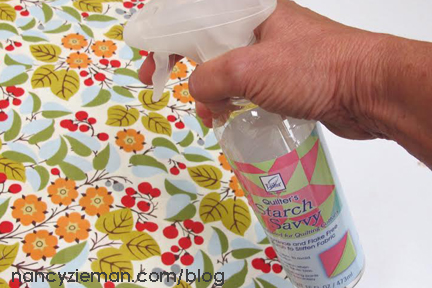 Use a cardboard template measuring 4-1/2″ x 4-1/2″ to fussy cut a design from the print to showcase a particular motif in the focus fabric.
Cut the solid and background fabrics into strips, 4-7/8″ wide. Each block will require four solid squares and four background squares.
Layer the solid and background strips to rotary cut 4-7/8″ squares.
 Stitch  1/4″ on each side of the marked centerline.
Chain piece shapes, sewing all the right sides, then sew left sides.
Press seam allowance towards the darker fabric.
Lay out

Box Quilt

block following the layout.
Join squares to form a block, using a 1/4″ seam allowance. Place squares from the first column onto the second column, right sides together; stitch.
Place squares from column three onto stitched sections and join with a 1/4″ seam allowance.
Make and join three or more blocks to create the table runner.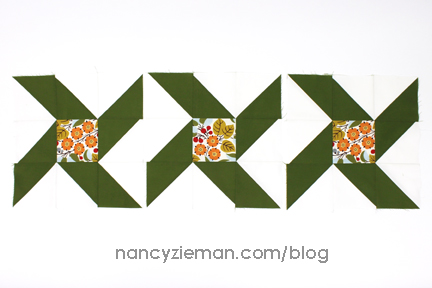 Add an inner border—cut fabric strips 1″ wide. Add an outer border—cut fabric strips 2-1/2″ wide. 

Create and add 2-1/2″ half-square triangles at all four corners. 
Enter the Nancy Zieman Productions 2019 Fall Table Runner Sewing Challenge!
Join the 2019 NZP Table Runner Sewing Challenge by stitching a table runner and showcasing your sewing and quilting talents. Table runner entries may be any color palette, feature any sewing, quilting, or machine embroidery techniques, and must be a size that fits on a kitchen or dining table—use your imagination! Find challenge details in the
October 1st NZP Blog Posting
.
All youth, age 15 and under, are invited to participate in the NEW! 2019 I Sew For Fun Kids' Sewing Challenge! Enter the challenge by purchasing the Official 2019 I Sew For Fun Kids' Sewing Challenge Cinch Sack Kit, at the NEW! NZP Shop. Quantities are limited! Find challenge details in the September 24th NZP Blog Posting.
Show us What You're Making! We love to hear from you, so whether you've tried one of Nancy's Sewing Patterns, or you're planning on stitching a project you've seen on Sewing With Nancy or on The Nancy Zieman Productions Blog, share your experiences and photos with us on Facebook or Instagram!
Happy Sewing!
Team Nancy Zieman
Nancy Zieman Productions. LLC.
Content in this feed is © copyright 2019 by Nancy Zieman Productions, LLC and may not be republished without written permission. You're welcome to forward the email to a friend or colleague but it's not okay to add the RSS feed automatically as content on a blog or other website.
The FTC requires us to tell you that Nancy Zieman Productions, LLC has provided products by other companies in the course of doing business. The FTC requires us to advise you to take this information into consideration when reading this posting.
Make sure you are subscribed to Nancy Zieman Productions, LLC enews mailing list so you won't miss a thing. Sign up here. Join us on Facebook, plus a host of other social media channels. Connect With Nancy and Friends today.