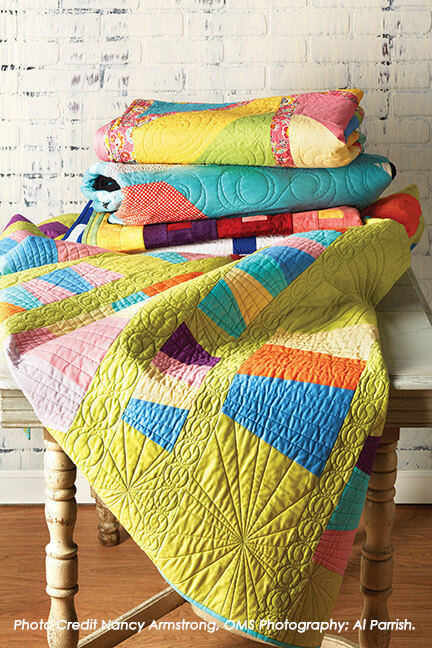 13 Quilt Patterns All with a Modern Common Theme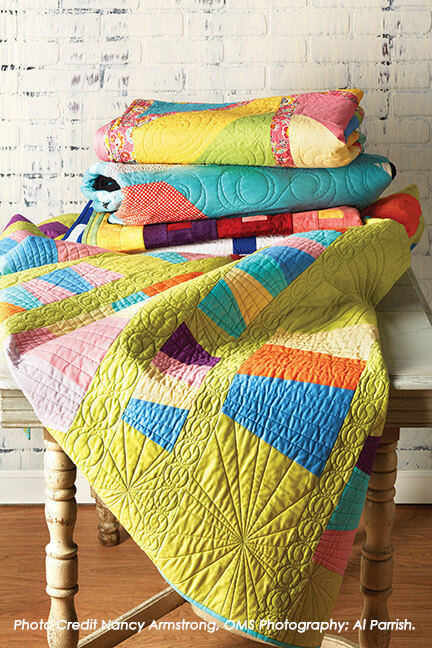 Modern, streamlined, quick, with characteristics such as these, the column quilt will no doubt soon become your go-to form of patchwork. Quilt designs are commonly based on squares, triangles, or circles—or a combination thereof. Celebrate March as National Quilting Month by adding a new word to your repertoire of patchwork descriptions: The word is columns!

Get ready for a Quick Column Quilts journey! Choose from the thirteen column quilt designs in my Quick Column Quilts book and TV show. If you're new to quilting or want to refresh your skills, there's a design for you!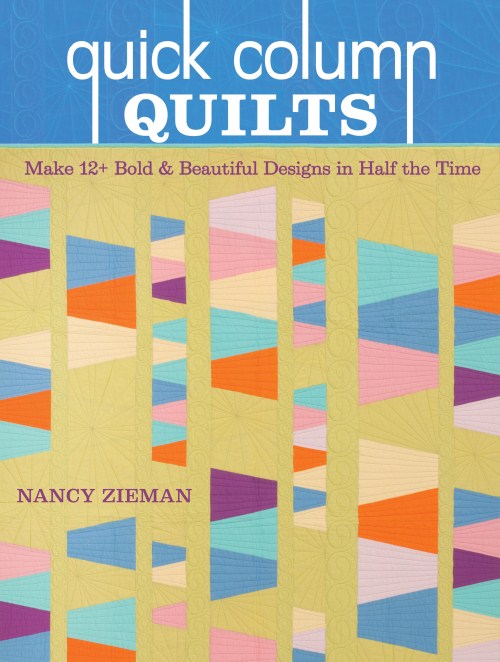 The Original Column Quilt
This easy-to-piece design can be made into a double- or full-size bed quilt. the gradation of colors provides great visual impact! I found inspiration for this quilt design from a beach towel that was left behind at our home, by a friend of the family.
Quilt To Give
I modified the origional column quilt (above) and created this super-quick quilt design—to make and donate to individuals and families in need. The quilt is easily made from a fabric stash with perhaps few purchased fabric additions. The center of each column features scrappy patchwork. You can easily create a Quilt to Give by yourself, or invite friends to sew with you—like we do at Quilt Expo.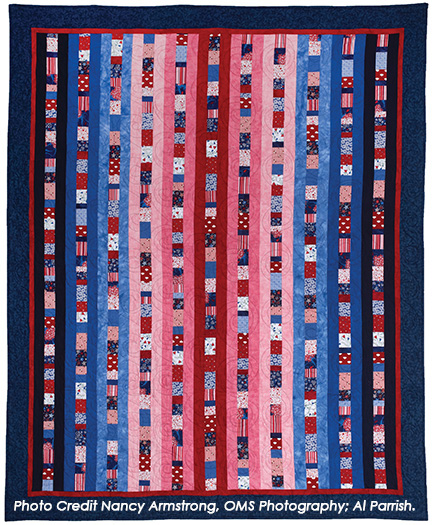 Heartbeat Column Quilt
No matter the size—baby to king—you can sew this quilt in a heartbeat! Colorful accent strips in a variety of widths make up the heartbeat pattern, while the subdued one-color strips add a perfect background for the design.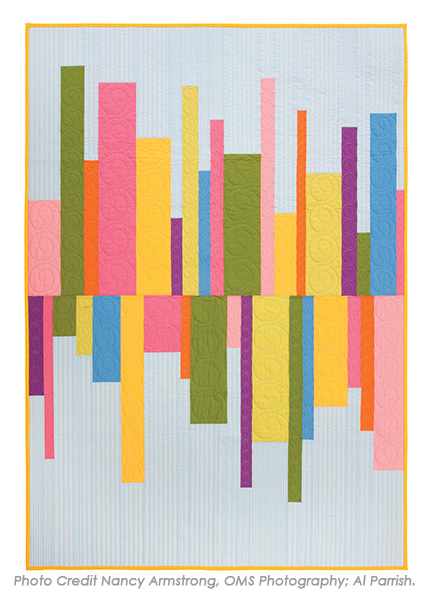 Interrupted Columns Quilt
This speedy-to-make queen-size quilt is designed with a very easy lesson in color coordination. Simply find a print you love for the sashing, and choose five colors from the print to use for the column solid color fabrics. The interruptions—horizontal strips—stop the lengthwise movement while creating a more artistic appeal.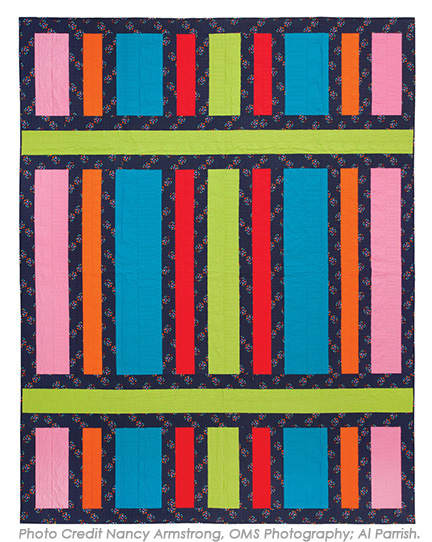 Carefree Column Quilt
Fat quarters, those convenient fabric cuts approximately 18″ x 21″, are ideal for this next column quilt. Made with six fat quarter cuts and a background fabric, this lap quilt is ideal for bright fabric choices or large-scale prints.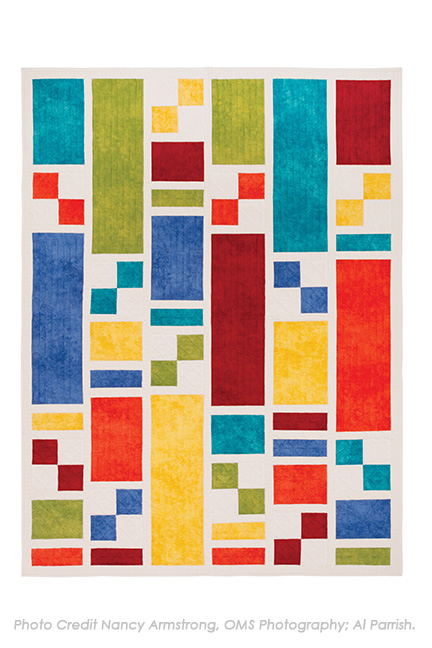 Wind Chime Column Quilt
The wind chimes hanging from our deck served as the inspiration for this Wind Chime Column Quilt. Just like real wind chimes, the angled accent pieces, seem to move as if gently nudged by the wind.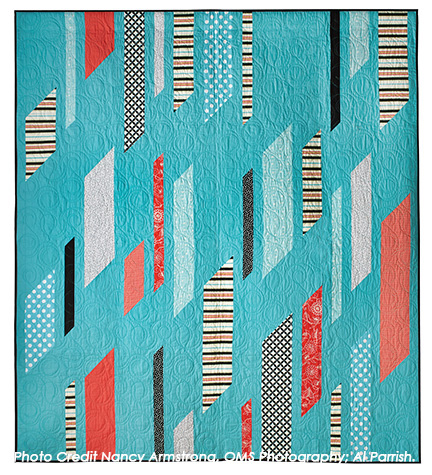 Folded Flying Geese Wall Hanging
No half-square triangles are needed to make these artistic Flying Geese. Start with squares, fold three times, and presto the folded triangles create 3-dimensional Flying Geese. Plus, the background columns are not cut, but rather one piece of fabric. Hmm, it's kinda interesting.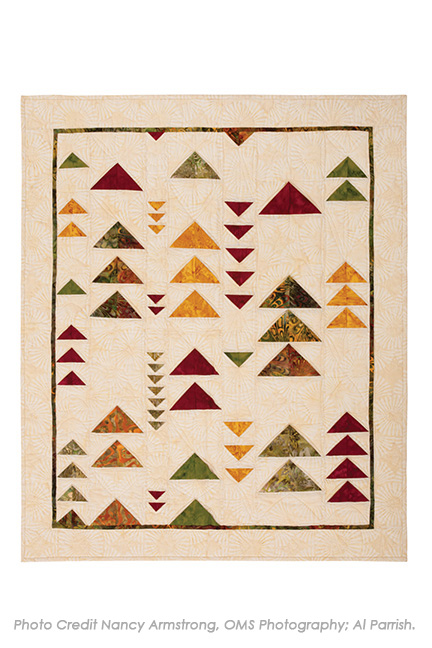 Folded Scrappy Column Quilt
Are you looking for a stash buster or a scrap quilt project? This folded column quilt is the answer! The steps are simple: fold, then quilt. There are no pieced triangles and zero bias cut edges. This three-dimensional project has guidelines, rather than an exact pattern, so it is perfect for every size fabric scrap in your stash. Talk about easy!
Dotted Columns Wall Hanging
Switch it up by making an abstract wall hanging with column-quilt techniques and fun fabrics. This artistic silk dupioni wall hanging includes "dotted columns"—circles appliquéd over the easy-to-create columns. Use a tool designed especially for making circles such as the Circles Sew Simple Tool. It makes the circles fast, painlessly, and perfect!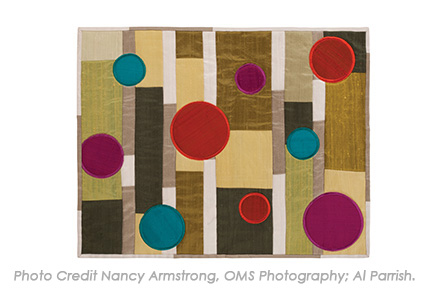 Happy-Go-Lucky Chevron Column Quilt
Use novel piecing techniques in this Happy-Go-Lucky Chevron Column Quilt. Mix and match the wide and narrow strips of fabric to create care-free chevron columns. No matching necessary—use only straight stitching.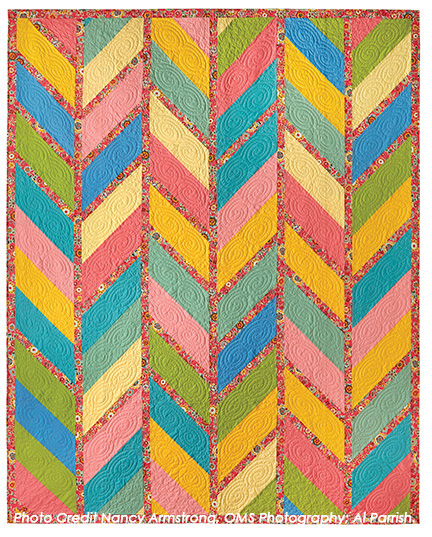 Hit-and-Miss Table Runner
At first glance, this table runner looks like it is pieced with traditional hexagons. Not so with this speedy column quilt design. The hexagon shapes are created with two halves, eliminating the intersection of three seams, otherwise known as Y-seams. With this technique, faux-hexagon halves are stitched in columns with relative speed and ease. Plus, the results are dramatic!
Tumbling Tumblers Column Quilt
Take a recognizable tumbler quilt design and turn it on its side. Combine several sizes of tumbler shapes and presto, you have a modern quilt design that breaks most sewing rules. And, the piecing is super-simple!
Floating Squares Column Quilt
This double-sized quilt looks difficult to make, but not so! The darker squares float on the light background of the quilt top, made with some creative cutting and sewing of crosswise strips. Not to worry; you will not be required to cut squares. I've opted for a quick-to-make column quilt!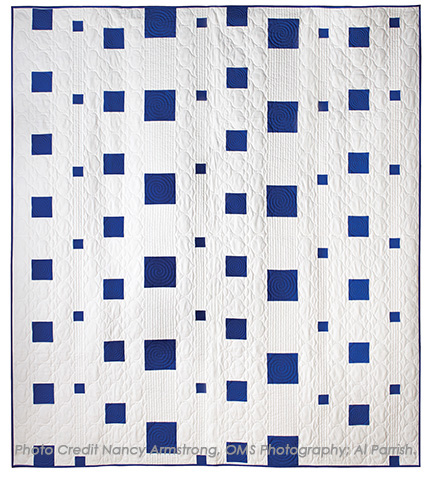 All 13 quilt patterns are detailed in my book, Quick Column Quilts.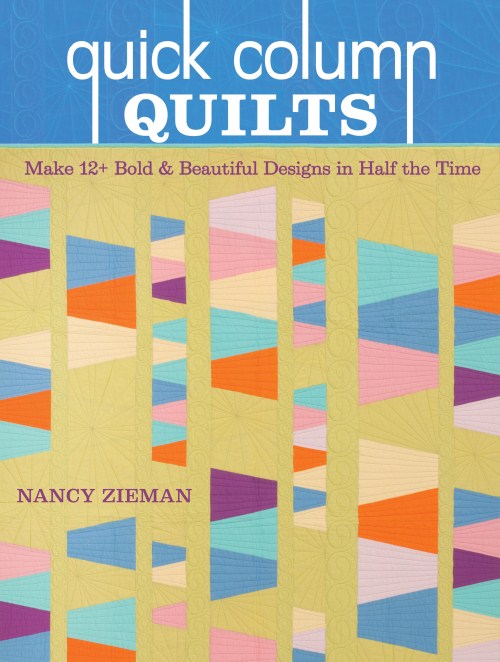 For a chance to win a copy of Quick Column Quilts by Nancy Zieman from F+W Media,  please leave a comment sharing which of the 13 quilts is your favorite.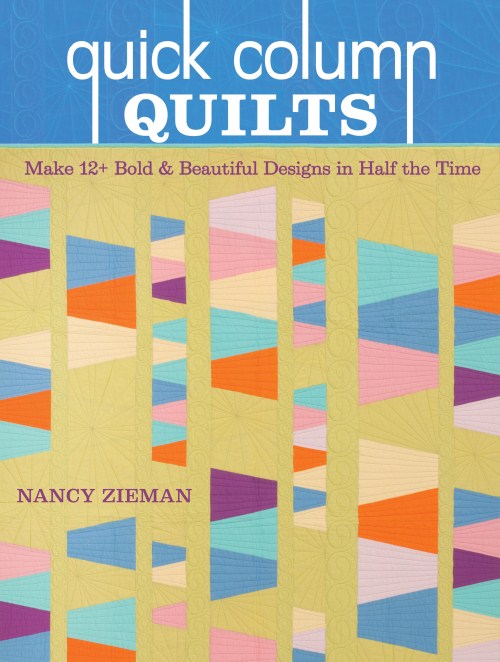 Bye for now,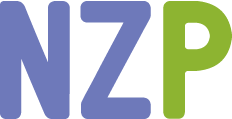 Content in this feed is © copyright 2017 by Nancy Zieman and may not be republished without written permission. You're welcome to forward the email to a friend or colleague but it's not okay to add the RSS feed automatically as content on a blog or other website.
The FTC requires us to tell you that Nancy Zieman has provided products by other companies in the course of her business. The FTC requires us to advise you to take this information into consideration when reading this posting.
Make sure you are subscribed to my enews mailing list so you won't miss a thing. Sign up here. Join us on Facebook, plus a host of other social media channels. Connect With Nancy today!
Save
Save
Save