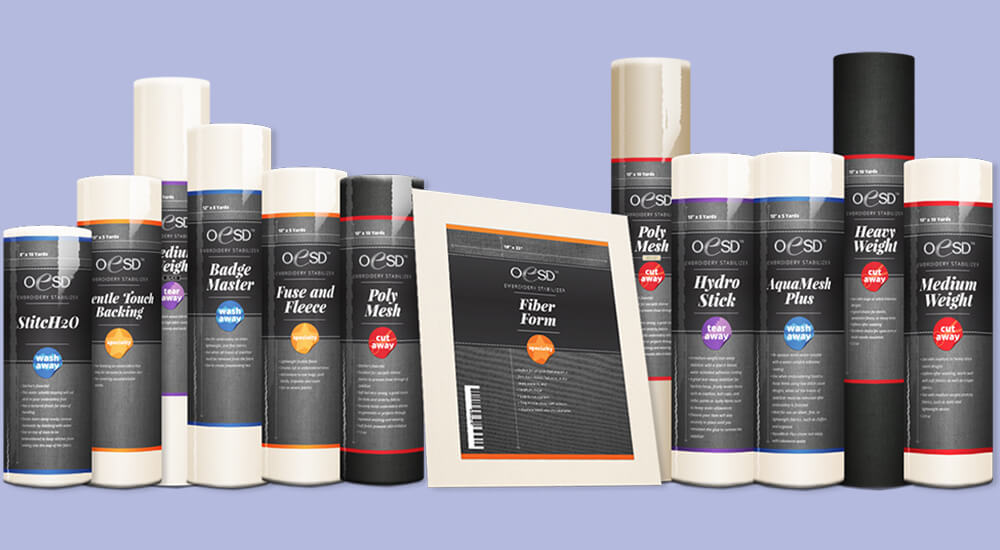 NEW! OESD Stabilizer Smarts and Gallery of Machine Embroidery Stabilizers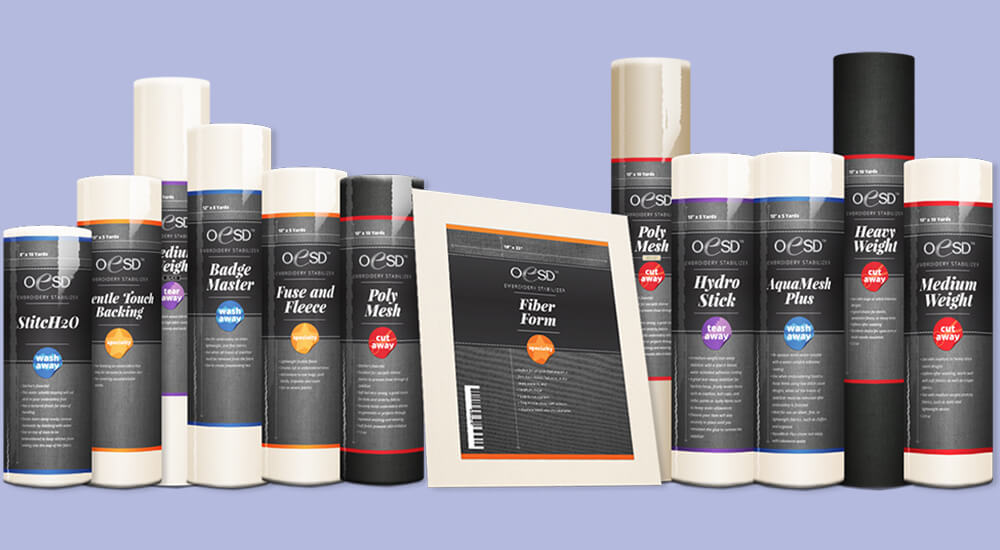 Today we're sharing a gallery of OESD Machine Embroidery Stabilizers including, Cut-Away's, Tear-Away's, Wash-Away's, and Topping Stabilizers, plus tips on how to use each stabilizer as the "foundation" for every project! Learn how to choose the right machine embroidery stabilizer and find out why stabilizers are the "foundation" for successful embroidery projects!
Watch Stabilizer Smarts on Stitch it! Sisters with Deanna Springer and Karie Coffee from OESD! Follow along as they share an assortment of Machine Embroidery Stabilizers including, Cut-Away's, Tear-Away's, Wash-Away's, and Topping Stabilizers.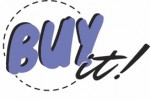 Then, head over to ShopNZP.com and SAVE 37% OFF our NEW! Exclusive Stabilizer Bundle Box that includes OESD Polymesh CutAway Stabilizer, 10″ x 10 yd. Roll; OESD Medium Weight TearAway Stabilizer, 10″ x 10 yd. Roll; OESD AquaMesh WashAway Stabilizer, 10″ x 10 yd. Roll; OESD Heat2Go Topping Specialty Stabilizer, 12″ x 10 yd. Roll; Zippered Polyweave Storage Pouch, 12″ x 16″ and a Stitch it! Sisters Sticker!
Download the FREE! OESD FREE! OESD Stabilizer Quick Reference Guide Printable!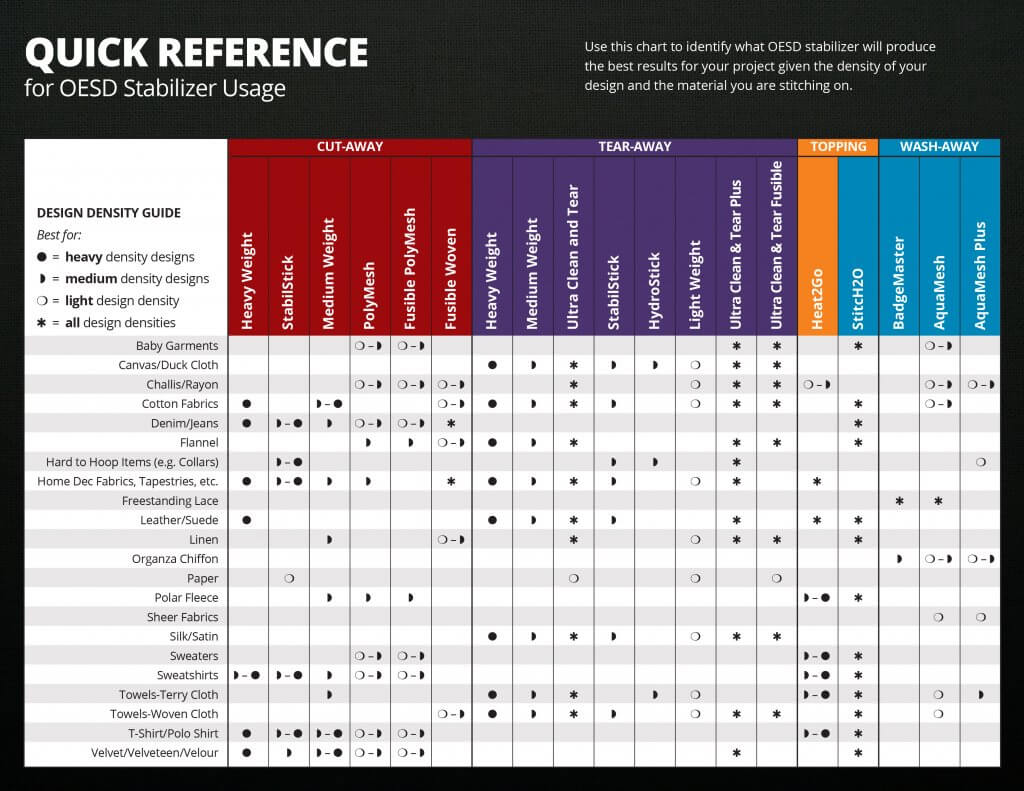 Gallery of Machine Embroidery Stabilizers
Today we're sharing a gallery of OESD Machine Embroidery Stabilizers including, Cut-Away's, Tear-Away's, Wash-Away's, and Topping Stabilizers, and how to use each stabilizer as the "foundation" for each project! 
Machine Embroidery Stabilizer Basics
Beautiful machine embroidery results begin with choosing the right stabilizer for your project. Stabilizer is the foundation for a successful embroidery project. It stabilizes the fabric and keeps it from moving, puckering, or stretching while embroidering. Stabilizer keeps the stitches looking good after embroidery by adding stability to the fabric. Without stabilizer (or too little stabilizer), embroidery designs will have puckers, holes in the fabric, and alignment problems, like gapping between the fills and the outlines of the designs.
How is stabilizer made?
Most stabilizers are non-woven material, made in a process where the fibers are smoothed into a single consistent layer. All OESD Stabilizers are made with a non-directional process, which means they are equally strong in all directions. Because of this, it does not matter which direction you cut or hoop your stabilizer, as there is no grain! For tearaway stabilizers, this non-directional feature also means that the stabilizer will tear evenly in all directions.

What makes OESD stabilizers different?
OESD Stabilizers are developed by The OESD Team of embroidery experts that have many years of experience in both commercial and home embroidery. Each stabilizer is thoroughly tested for quality and ease of use before it is given the OESD name. OESD stabilizers do not stretch in any direction, ensuring good quality embroidery, even on knits. You'll notice the high quality and consistency of OESD stabilizers, as well as their versatility for a variety of projects. OESD stabilizers are designed to be the foundation on which you can build quality embroidery!
Why are there so many kinds of stabilizers?
Different stabilizers are made to work with various applications. Many factors go into selecting the correct stabilizer, such as:
• Fabric choice: the weight and type of fabric
• Design density: how many stitches the design has over a given area
• How the project will be embroidered: can the project be hooped
• The desired finished result: whether the back of the embroidery shows, or will the stabilizer show through the fabric
What are the types of stabilizers?
Stabilizers are generally categorized first by how they are removed: CutAway, TearAway, or WashAway. In addition to these three major categories, some items fall into a specialty category, as they either stay in the project or are tools to help with the embroidery process. These major types are color-coded:
In addition to how they are removed, stabilizers are also categorized by other factors. The first is stabilizer weight, such as light, medium, or heavy-weight stabilizer. Stabilizers are also identified by their application, such as a pressure-sensitive or water-activated adhesive. Also, some types are available in multiple colors to match fabric or prevent shadowing.
How do I select the stabilizer weight?
There are some basic guidelines for selecting stabilizer weight. The heavier the fabric and/or the denser (more stitches) the design, the heavier the stabilizer that is needed. You may get better results using two layers of a lighter stabilizer than a single layer of a heavier stabilizer, especially when stitching a heavy design on a lighter weight fabric.
How do I select the stabilizer type?
Selecting a stabilizer type is in part based on personal preference, but each type has features that make it suited to particular kinds of projects.
CutAway Stabilizers
CutAway stabilizer can be used on any fabric but must be used on knits or stretchy fabrics. Because the fabric stretches, unless a CutAway stabilizer supports it, the embroidery will also stretch. CutAway will keep the stitches in place and prevent them from breaking or distorting after embroidery. Use CutAway stabilizer on jersey knit, t-shirts, sweatshirts, knit kids' clothing, afghan fabric, denim or other twill weaves, and most wearables. CutAway holds up best on items that will be frequently washed and worn.
For beginning embroiderers, using a CutAway stabilizer will give the best results in terms of stitch quality. While it is primarily used for knit fabrics, it can be used on almost any type of fabric and provides the most support, giving the best quality stitch-out with clean alignment. CutAway stabilizers hold the most stitches of all the types of stabilizers. For example, a medium weight CutAway could support as many stitches as a heavy-weight TearAway. For designs with a high stitch count or very detailed outlines, CutAway may be the best choice.
When removing CutAway, cut the stabilizer with scissors about ¼" from the edge of the embroidery, being careful not to cut the fabric while trimming the stabilizer. It is best not to cut the stabilizer closer than ¼", as it is easy to nick the stitches, and trimming the stabilizer this close can cause a ridge around the embroidery.
OESD Cut Away Stabilizers are available in several different types:  Heavy, Medium, Polymesh, Fusible Polymesh, and StabilStick.
TearAway Stabilizers
TearAway stabilizers are used in projects where most of the stabilizer needs to be removed, such as towels and linens. TearAway stabilizer can support more stitches than WashAway, but not as many as a CutAway.
TearAway stabilizer is often preferred because it is easy to remove and gives a cleaner look to the back of the embroidery. TearAway stabilizers are ideal for woven fabrics without stretch, such as chambray, poplin, quilt cotton, linen, and most satins. Also use TearAway for sturdy ready-to-wear items like bags and hats. OESD's TearAway stabilizers have no directional tear; they will tear easily in either direction, and there is no need to crisscross layers.
When removing TearAway, support the stitches with one hand as you tear away the stabilizer with the other. Only remove one layer at a time. Remove TearAway stabilizer from the outside of the design, but you can leave it in the open areas on the inside of a design.
OESD Tear Away Stabilizers are available in several different types: Heavy, Medium, Light, Ultra Clean and Tear, HydroStick, StabilStick, and Fusible.
WashAway Stabilizers
WashAway stabilizers are made from a chemical starch that dissolves completely in water. When rinsed thoroughly, the stabilizer is completely removed from the fabric.
If a fabric is sturdy and the design is light enough, a WashAway can be used as the primary stabilizer. For sheer fabrics, such as organza, tulle, or batiste, WashAway stabilizer is the best choice, as even a TearAway stabilizer will show on these projects.
WashAway toppings create a smooth surface for embroidery with fabrics containing a pile or nap, such as towels. By laying a piece of WashAway stabilizer over the top of the fabric to be embroidered, the stitches form over the top of the fabric, looking smooth and even, without sinking into the fabric.
WashAway is removed by rinsing it under warm running water. Rinse the project completely before allowing it to dry, as the starch in the stabilizer can stiffen the fabric if it is not rinsed out.
WashAway is also used on in the hoop projects like freestanding lace or appliqué. WashAway is the best choice for freestanding lace designs (unless otherwise noted). OESD recommends using one layer of AquaMesh and one layer of BadgeMaster to provide the perfect amount of stability for freestanding lace.
OESD Wash Away Stabilizers are available in AquaMesh, AquaMesh Plus, StitcH2O, and BadgeMaster.
Specialty Stabilizers
Specialty stabilizers have unique applications for specific types of embroidery projects. Some examples are using Fiber Form for creating sturdy standalone items, Fuse and Fix for easier applique stitching, and fusible products like Fuse and Seal or SoftWeb.
OESD Specialty Stabilizers include Applique Fuse and Fix, Fuse and Fleece, Fiber Form, Gentle Touch Backing, Fuse and Seal, SoftWeb, StabilStick Template Sheets, Heat2Go, and Top Cover.


Shop May SALES ending TONIGHT at ShopNZP.com

For a chance to be the random winner of a Clover's Rainbow Wonder Clips 10 pcs., please leave a comment below sharing your favorite OESD Machine Embroidery Project!
Clover will give away one Clover's Rainbow Wonder Clips 10 pcs. to one US resident in the 48 contiguous states. Winner must reply within 30 days to the official giveaway announcement email message – sent from Nancy Zieman Productions.
Join us for  The Wisconsin Arts and Peony Festival in Beaver Dam, Wisconsin June 3-5, 2022, with special events on Saturday, June 4!
Happy Stitching!
Team Nancy Zieman
Nancy Zieman Productions. LLC.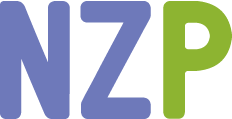 Stitch it! Sisters is a production of NZ Productions LLC. Content in this feed is © copyright 2022 by Nancy Zieman Productions, LLC and may not be republished without written permission. You're welcome to forward the email to a friend or colleague but it's not okay to add the RSS feed automatically as content on a blog or other website. The FTC requires us to tell you that Nancy Zieman Productions, LLC has provided products by other companies in the course of doing business. The FTC requires us to advise you to take this information into consideration when reading this posting.