2020 NZP Pillow Sewing Challenge Announced & Pillow Sewing Challenge Round Up


The Nancy Zieman Productions Team is excited to announce the 2020 Pillow Sewing Challenge, taking place February 25– March 24, 2020! You're invited to participate in the Nancy Zieman Productions 2020 Pillow Sewing Challenge. Brainstorm, browse, design, and plan. Then, sew a pillow! Enter the NZP 2020 Pillow Sewing Challenge by emailing one pillow image to [email protected].
Make a pillow to showcase your sewing talents. Entries may be for any occasion, any color, or any size (that fits on a sofa or comparable household furniture). Sew a pillow using as much imagination as you like. You may enter ONE pillow: Pillow must be completed within the last year and may not have been entered into previous Nancy Zieman Productions Pillow Sewing Challenges.
How to Enter
2020 Nancy Zieman Productions Pillow Sewing Challenge Guidelines
Select or create your design. All sewing, quilting, serging, machine embroidery, and embellishment techniques are eligible. Pillow must be made within the last year and may not have been entered into previous NZP Pillow Sewing Challenges.
How to enter: Send ONE high-resolution quality image of your Pillow to 

[email protected]

 by 11:59 p.m. CST on Sunday, March 22, 2020. Include your full name, hometown, and a sentence or two about your Pillow.
One entry per sewist; open to US residents in the 48 contiguous states only.
All Pillows will be judged, and winning entries will receive a prize from our generous sponsors!

Explore the full list of prizes, totaling over $875 (see below).
Make sure you are subscribed to Nancy Zieman Productions enews—so you won't miss a thing. Sign up today! Join us on Facebook, Pinterest, Instagram, and YouTube.
Grab our Pillow Sewing Challenge blog badge and let your friends know about this fun Sewing Challenge.
Share your progress and projects on your social media sites using the hashtag: #NZPPillowChallenge2020
Schedule:
February 25, 2020—Pillow Challenge Kick Off
March 22, 2020—Pillow Challenge Entry Deadline
March 23, 2020—A Panel of Judges Review Entries
March 24, 2020—Winners Announced! All decisions made by judges are final.
As the calendar starts to turn toward Springtime, it's time to start thinking spring/summer decorating. Pillows are a go-to sewing project for any skill level, they're quickly sewn in most any size, and they can be made in multiple styles!
Tutorials Included
Boxed Pillow Corners
Envelope Pillows
Recycled Button-up Shirt Pillow
Sew our Lumberjack Pillow—from a flannel shirt! We call this recycled-garment project our Lumberjack Pillow, although you could make this from any loved ones' shirt and make a memory pillow. Our technique fits the shirt around a pillow form insert, allowing for many different shirts and pillow sizes to be easily created.
Throw Pillows Made From Quilt Blocks
Along our quilting journey, we try new techniques and test interesting ideas. Sometimes these valuable lessons and attempts yield "orphan blocks" or leftover quilt blocks – that don't belong to a larger quilt. Take one or more of these treasured quilt blocks and sew them into Quilt Block Pillows – our simple idea doesn't require any additional quilting!
Pillows from Quilted Fabrics
Making pillows from double-sided prequilted fabrics is easier than you think! Nancy was smitten with the quilted eyeglass frames and polka dot duo fabrics from Riley Blake. Nancy just knew that a Trio of Pillows were destined for this playful fabric.
 Afternoon Picnic Floating Star Pillow Tutorial
Stitch our beautiful Afternoon Picnic Floating Star 18-inch quilt block, and showcase your quilt piecing talents. No time right now to stitch an entire bed quilt? No worries! Our one-block pillow project is for you! We've selected eight fat quarters from Nancy's Afternoon Picnic Fat Quarter Pack to make our striking pillow. See how quick this quilt block comes together with TEAM NZP's FREE! Afternoon Picnic Floating Star Pillow Sewing Tutorial!
Pillow Size Reference Chart: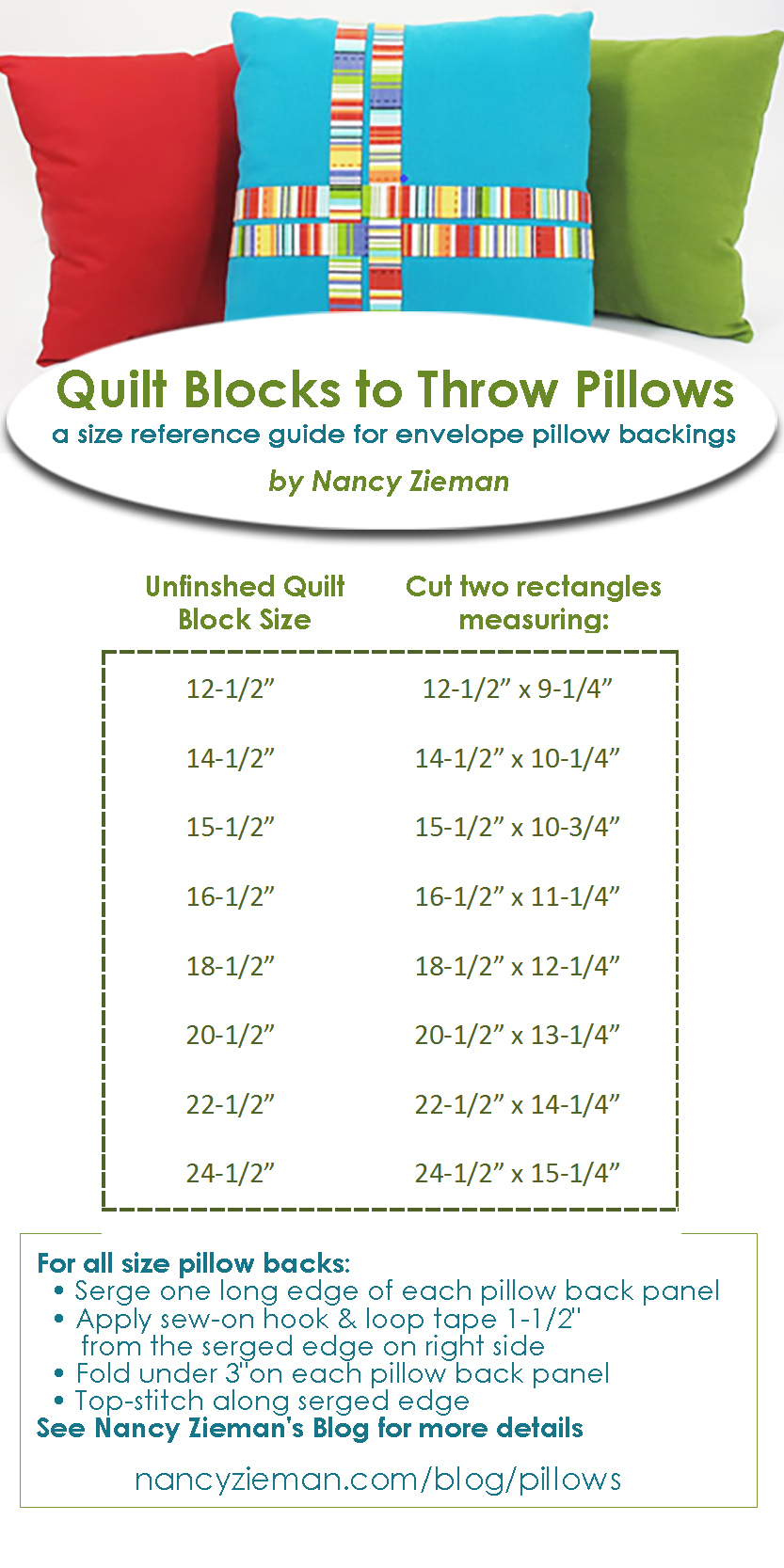 Over $875 in prizes! Thank you to our generous 2020 Pillow Sewing Challenge Sponsors!
For a chance to be the random winner of a Red Elegance Stitch it! Sisters 5″ Fabric Short Stack with S!S button & sticker, please leave a comment below sharing where you'll showcase your new pillow sewing project: Family Room, Bed Room, RV, or ?
Nancy Zieman Productions will give away one Stitch it! Sisters 5″ Fabric Short Stack to one US resident in the 48 contiguous states. Winner must reply within 30 days to the official giveaway announcement email message – sent from Nancy Zieman Productions. Email The NZP Team at [email protected]
Be sure to join in and follow the NEW! 2020 Nancy Zieman Productions Pillow Sewing Challenge – this March at the NZP Blog. Deadline to enter is Sunday, March 22, 2020.
Happy Sewing,
Team Nancy Zieman
Nancy Zieman Productions, LLC.
Stitch it! Sisters is a production of NZ Productions LLC. Content in this feed is © copyright 2020 by Nancy Zieman Productions, LLC and may not be republished without written permission. You're welcome to forward the email to a friend or colleague but it's not okay to add the RSS feed automatically as content on a blog or other website. The FTC requires us to tell you that Nancy Zieman Productions, LLC has provided products by other companies in the course of doing business. The FTC requires us to advise you to take this information into consideration when reading this posting.