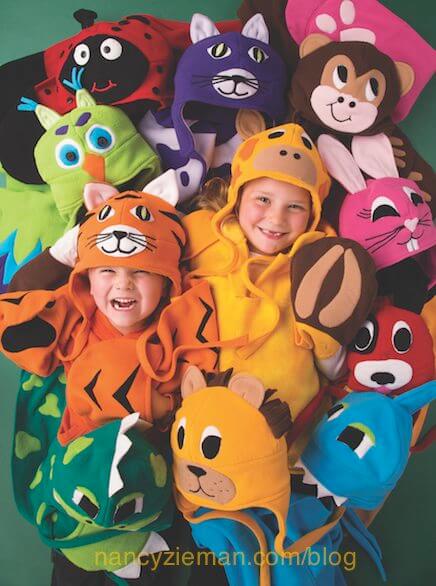 Sew Adorable Cuddle Buddies Hats and Scarves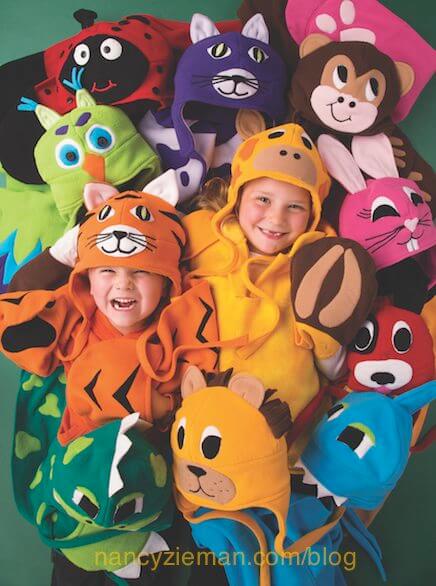 Sew an adorable animal hat from fleece! If your next sewing project includes a cute critter face, look no further! These easy, yet artistic sewing projects will find their way onto your to-do list. They are irresistable! Have we piqued your interest? Our goal is that you'll be inspired to create hat and scarf creations for kids, called Cuddle Buddies Hats and Scarves designed by Sewing With Nancy team member, Donna Fenske.

Basic Construction
Patterns in this collection are based on a simple hat and scarf shape. The magic happens when the included appliqué pattern pieces are added to transform the animal characters. Once you've mastered the hat and scarf construction, there's no limit to the possibilities.
Learn Basic Appliqué Instructions
Lions and tigers and giraffes, oh my! Appliqués will make your sewing project take on character. Even if you've never attempted appliqués before, you'll have immediate sewing success after following our sewing tips. Plus, sewing on fleece is very forgiving—our kind of fabric. The hats and scarves require a yard of fabric or less. Perhaps you can use some of your leftover fleece scraps for the appliqués.
The appliqué pieces and pattern pieces for the hats and scarves are included in the book. You'll find that with a few tweaks, the hat design can easily change from a giraffe to a lion. 
The dinosaur hat and scarf combo are for ideal for make believe.

Learn how to draw details such as whiskers and eyelashes with a simple zigzag stitch. Click to watch online!
Once you know the basics, you'll be able to fashion all kinds of hat/scarf combos. Make these as gifts or let your young guest designers work alongside you; choosing the colors and pinning the appliqués.
The Sewing With Nancy crew—most of them kids at heart—thought the scarves and hats were made for them. Gregg Happ, our floor director, decided that the giraffe was his buddy.
The Patterns and Appliqués for 12 Scarf and Hat Sets are in One Convenient Book
Cuddle Buddies Hats and Scarves 
12 pattern and appliqué sets are included: bunny, cat, dinosaur, dog, giraffe, ladybug, lion, monkey, owl, shark, tiger, and zebra.
Hats feature a lining and earflaps, plus appliqué faces and dimensional elements like ears, horns, and manes.
Scarves feature pockets and coordinating appliqué accents of feet, paws, claws, feathers, or hoofs.
Five hat sizes and two scarf lengths are included.

Hat sizes from XXSM to L fitting a head circumference from 18-1/2″ to 22-3/4″
Scarf lengths from 36″ to 53″ long

All appliqué patterns are full-size.
The soft cover book has 44 pages.
For a chance to win the Cuddle Buddies Hats and Scarves book from Nancy's Notions, please leave a comment telling us which of the cuddle buddies is your favorite.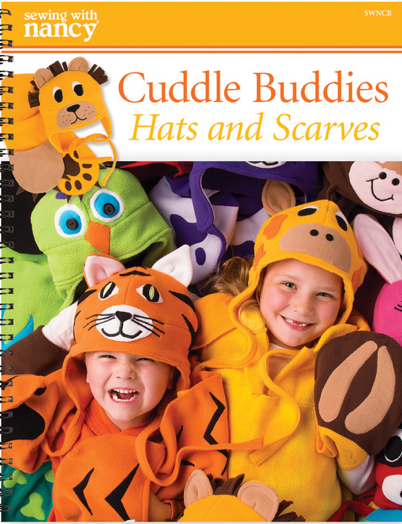 The randomly selected winner of a copy of the book, Trusty Triangles—a Row-by-Row Sampler Quilt, from Nancy's Notions is Kathy Renz.
Her comment is, "I love the twirling triangles. My favorite quilt blocks have motion."
Happy Sewing,
Team Nancy Zieman
Nancy Zieman Productions, LLC.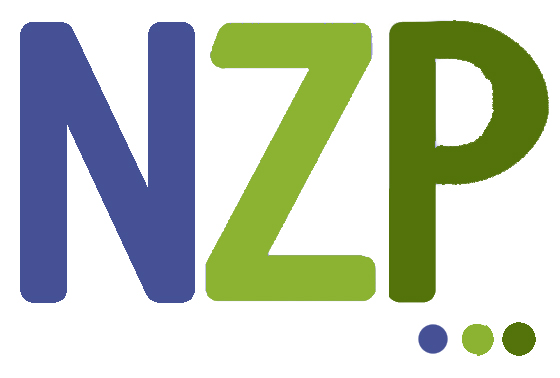 Content in this feed is © copyright 2017 by Nancy Zieman Productions, LLC and may not be republished without written permission. You're welcome to forward the email to a friend or colleague but it's not okay to add the RSS feed automatically as content on a blog or other website.
The FTC requires us to tell you that Nancy Zieman Productions, LLC has provided products by other companies in the course of doing business. The FTC requires us to advise you to take this information into consideration when reading this posting.
Make sure you are subscribed to Nancy Zieman Productions, LLC enews mailing list so you won't miss a thing. Sign up here. Join us on Facebook, plus a host of other social media channels. Connect With Nancy and Friends today!