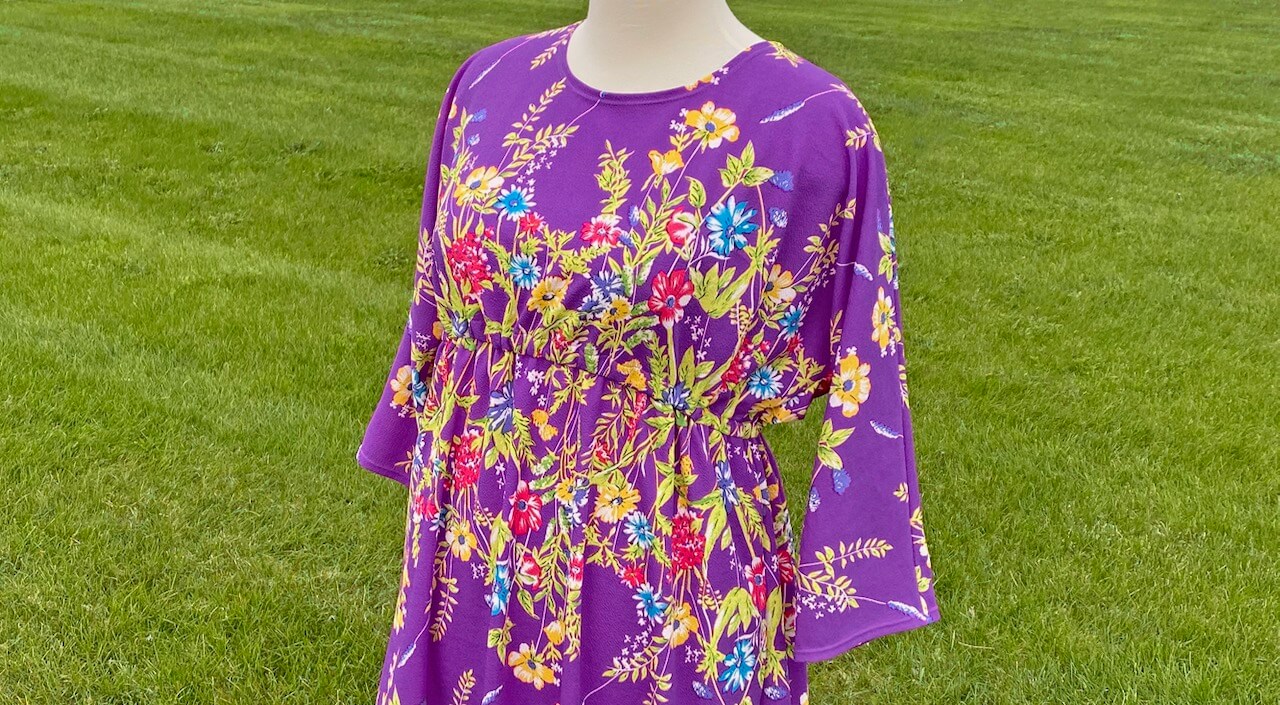 Sew a Summer Dress with Crepe Knit Fabrics and Quick Pattern Fitting Tips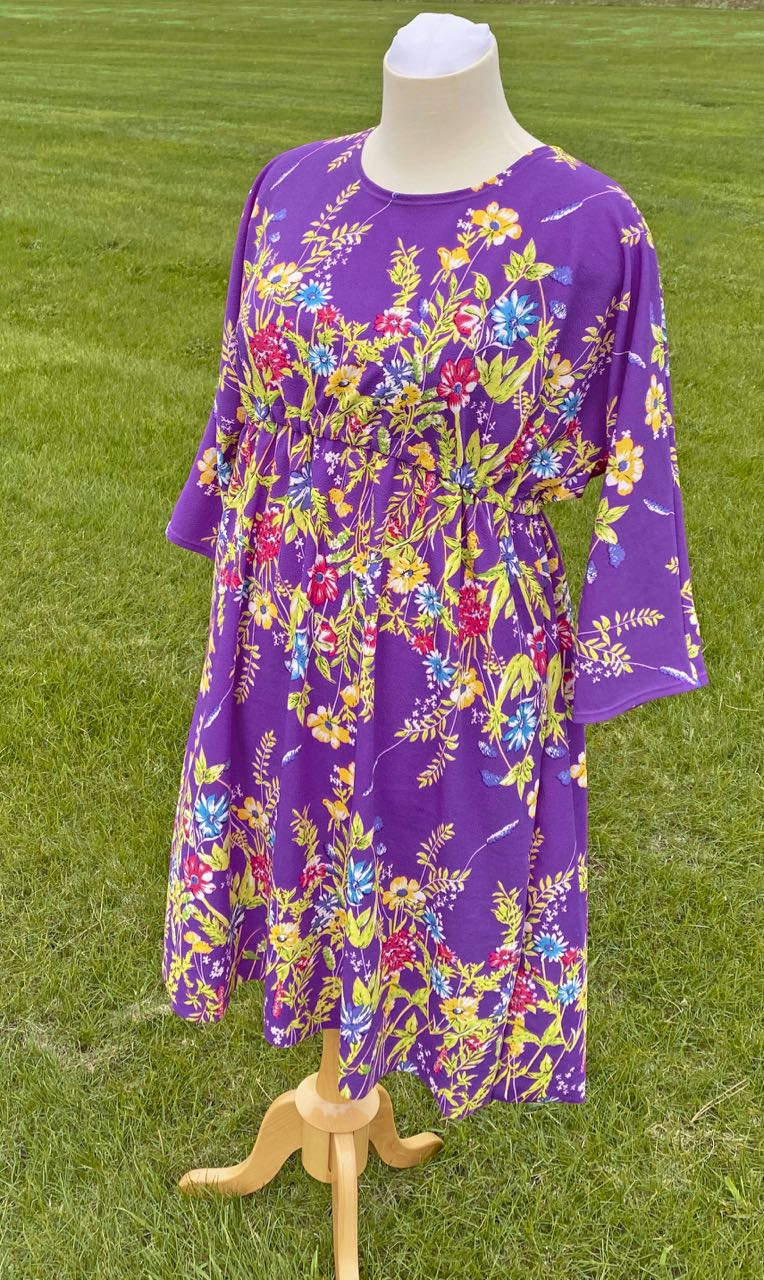 Looking for a fresh new addition to your summer wardrobe? Sew a super-simple empire dress with with our Crepe Knits! Like other knit garments, this dress is stylish and comfortable to wear. Our knit dress and top collection, M7353 from The McCall Pattern Company, sews up quickly – from just three main pattern pieces! Sew a Summer Dress in only 4 Hours with our Easy Dress Sewing Tutorial with Pattern Fitting Tips! Plus SAVE 30% OFF McCall's Patterns and 30% Off Crepe Knit Fabrics at ShopNZP.com
Choose View C Cowel Neck, or View B Scoop Neck. Then choose one of our four imited edition Crepe Knit Fabrics and stitch a beautiful new knit pull-over dress! And/or wear as a tunic–when you pair with leggings.
Our McCall's M7353 Dress Pattern is available multi-sized 6–14, and multi-sized 14–22.
Depending upon your fabric choice, this quick-to-sew fashion can be made for daywear, your next vacation, casual lunch dates, or even evening wear.
Sew A New Summer Dress in 4 Hours!
With McCall's M7353 Dress Pattern, the sewing time is minimal! In fact, the dolman-sleeve style eliminates setting in sleeves. How speedy it that! Plus, we know you'll enjoy the elastic casing technique; the elastic is sandwiched within the seam – eliminating the traditional topstitching step.

Sew a Super-Quick and Comfortable Summer Dress – with NZP's NEW! Crepe Knit Fabrics
Layout Pattern on Fabric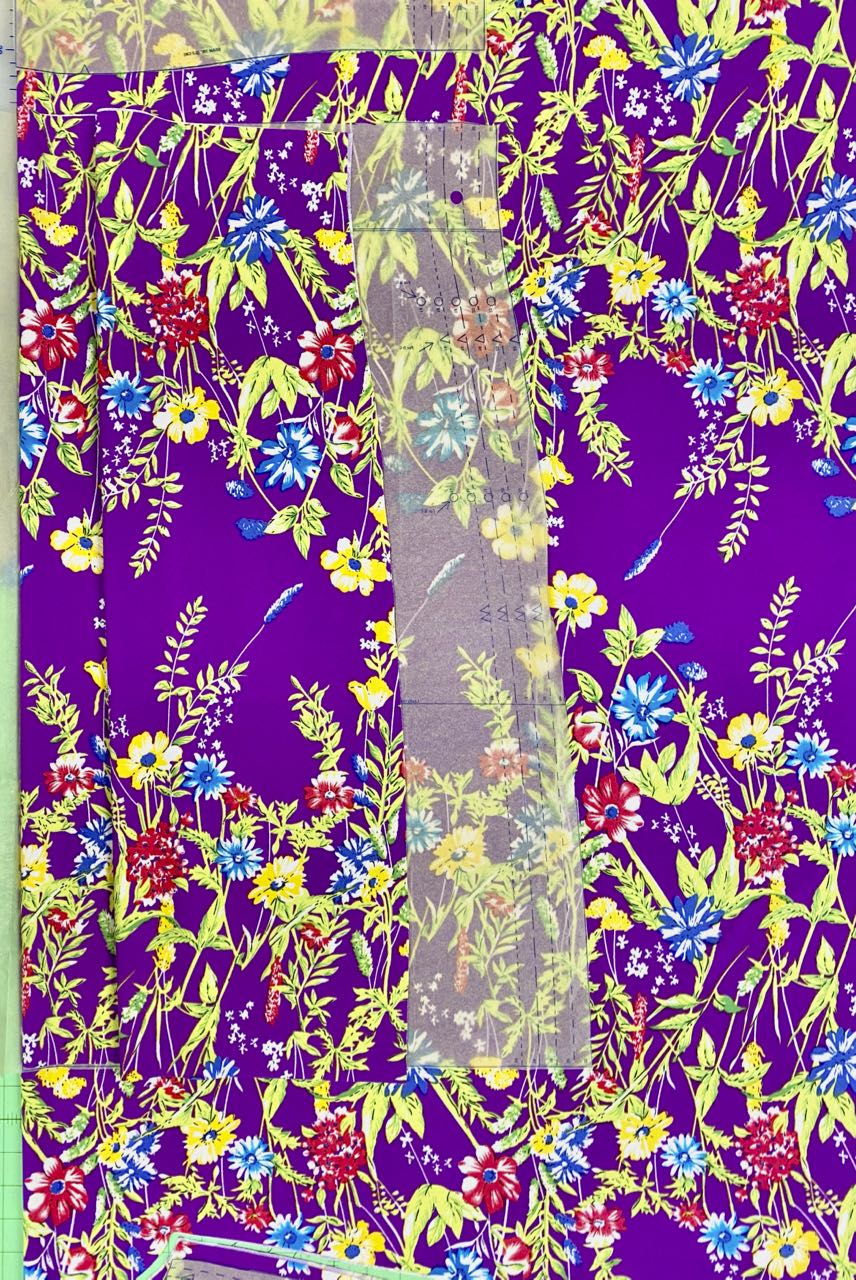 After laying out the bodice front, bodice back, and skirt pattern pieces, slide the pattern pieces up or down and position the floral repeated design where you'd like. Pin pattern pieces in place.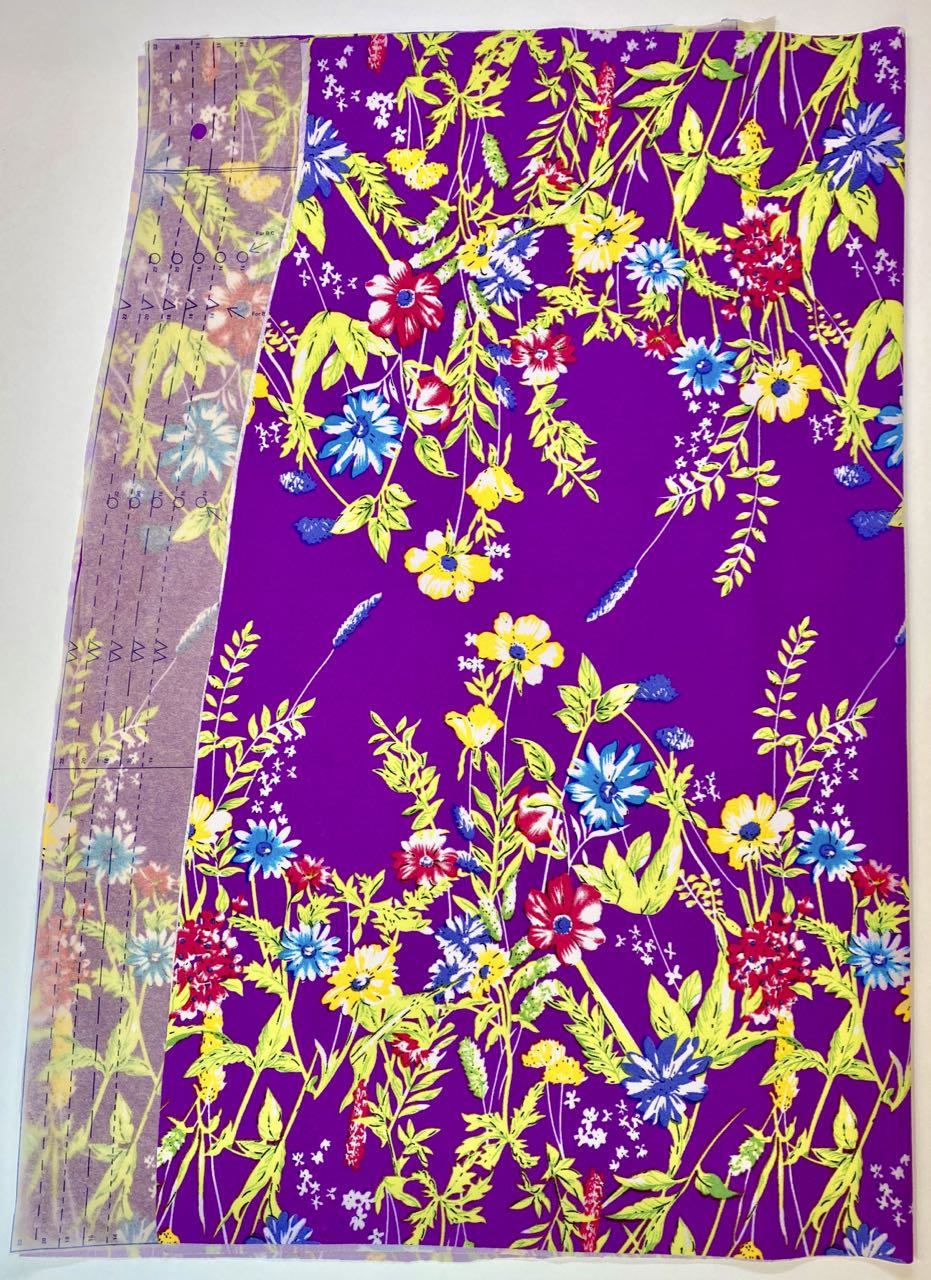 Deanna chose to locate the center of the floral repeat at the empire waist line. The photo above shows the skirt front already cut out and placed on the skirt back pattern piece, before cutting out skirt back. This helps align the repeated floral design on both the front and back skirt panels.
Before cutting out the fabric pieces, Deanna turned the scoop neckline into a round neckline – by raising the center front neck opening 1″ – using Clover's Curve Ruler. She also lengthened the bodice front and bodice back, adding 1″ for a fuller bustline, as most patterns are drafted for a size B-cup: Add 1/2″ for each cup size.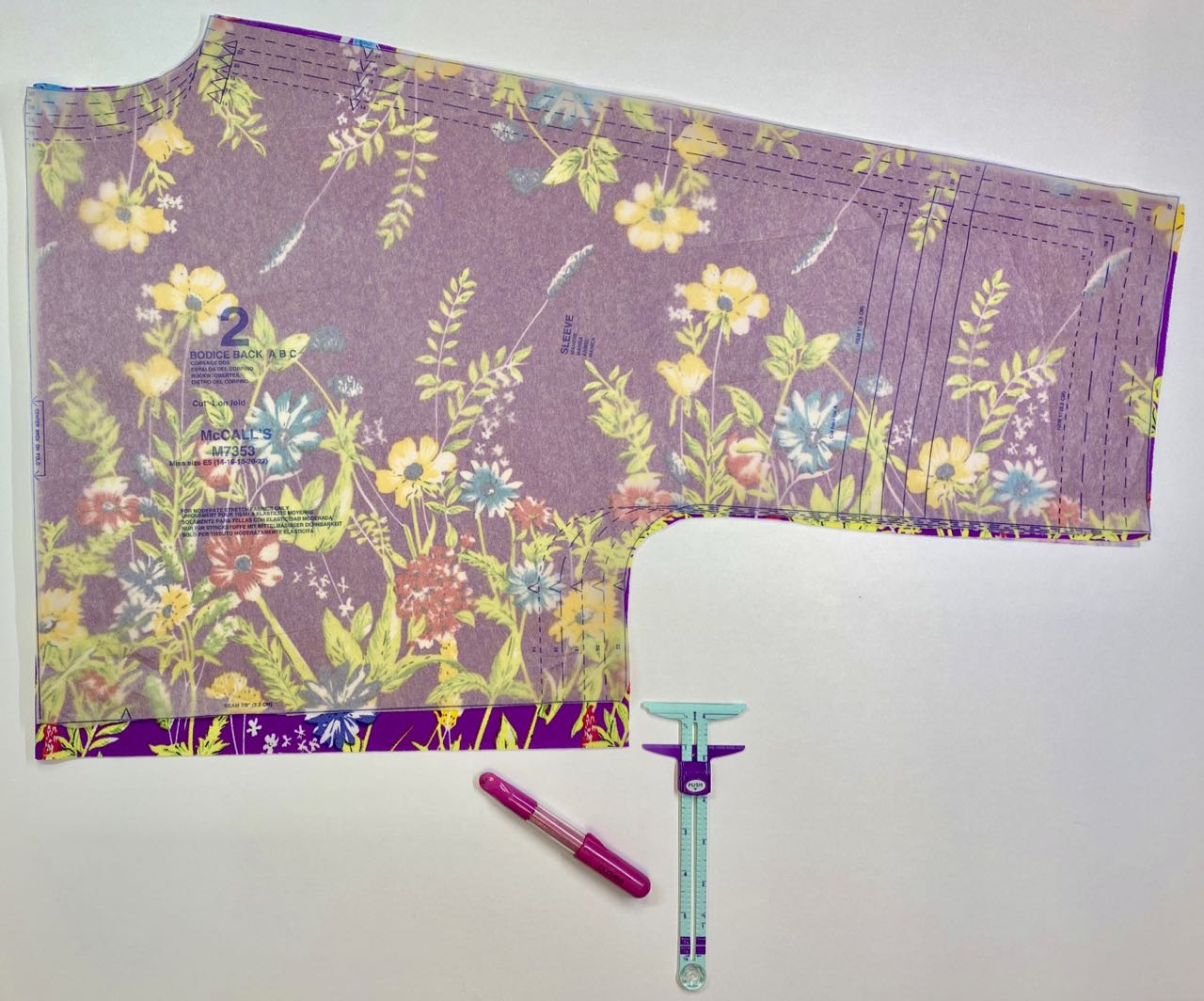 Sew Our Summer Dress
Before sewing your new summer dress, cut several 1/2″ wide bias strips of Pellon's Easy-Knit Interfacing – to stabilize dress neckline, sleeve hems, and lower dress hem!
With right sides together, align front and back at shoulders. Pin.
A Crepe Knit dress is an ideal sewing project to stitch on a serger sewing machine. Be sure to place pins parallel to seam edges – when stitching your dress with a serger!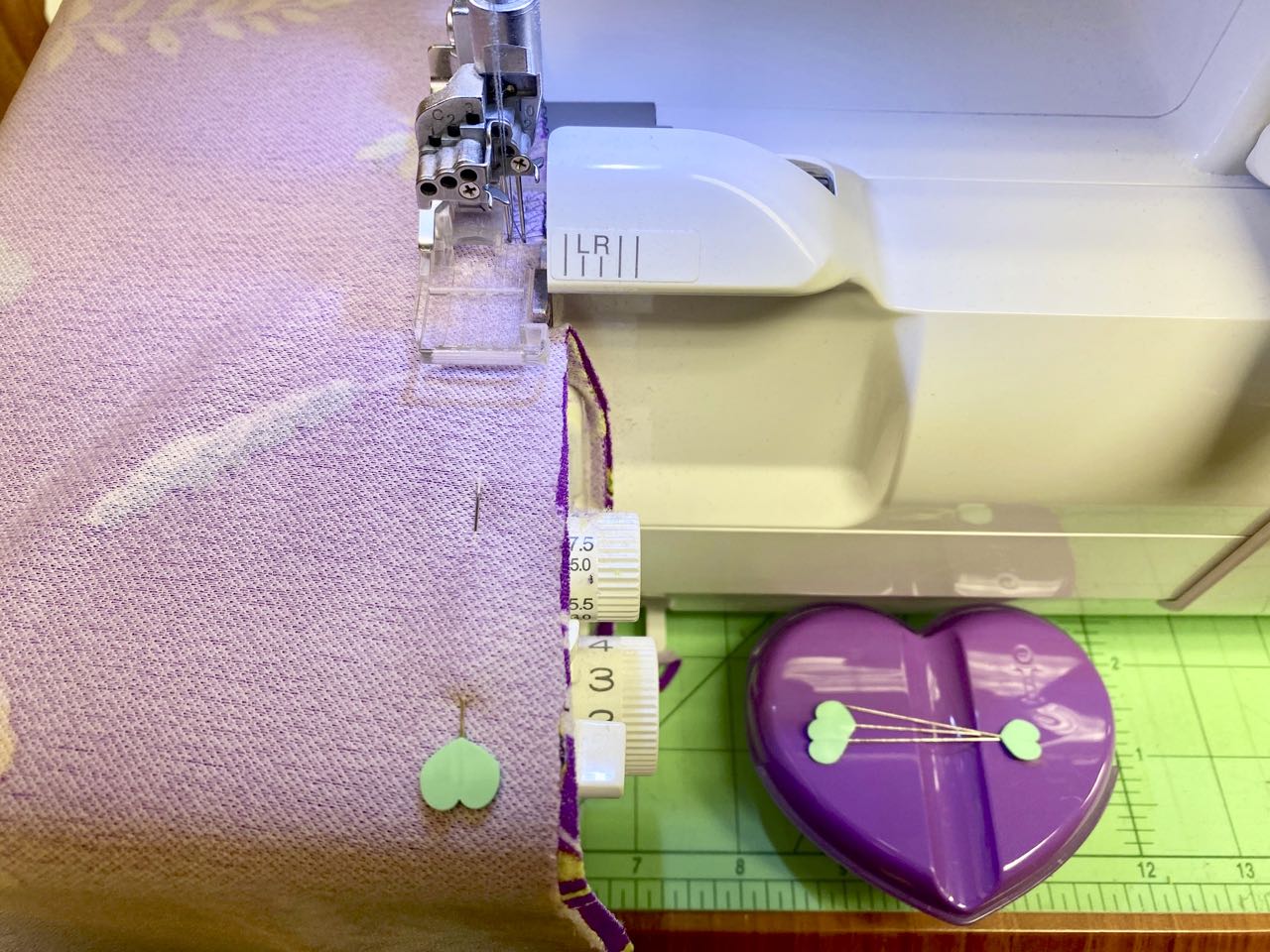 If you don't have a serger handy, stitch your summer dress with a sewing machine set for a wobble stitch. A wobble stitch is a slight zigzag stitch set at 2.0-2.5 length and .5 width. This stitch appears as a straight stitch from the right side, while providing a slight amount of stretch to the seam.
Follow pattern instructions for adding neck facing, or simply fold under 1/2″ at neckline and pin.
On right side of fabric, topstitch neckline with Double Needle stitching!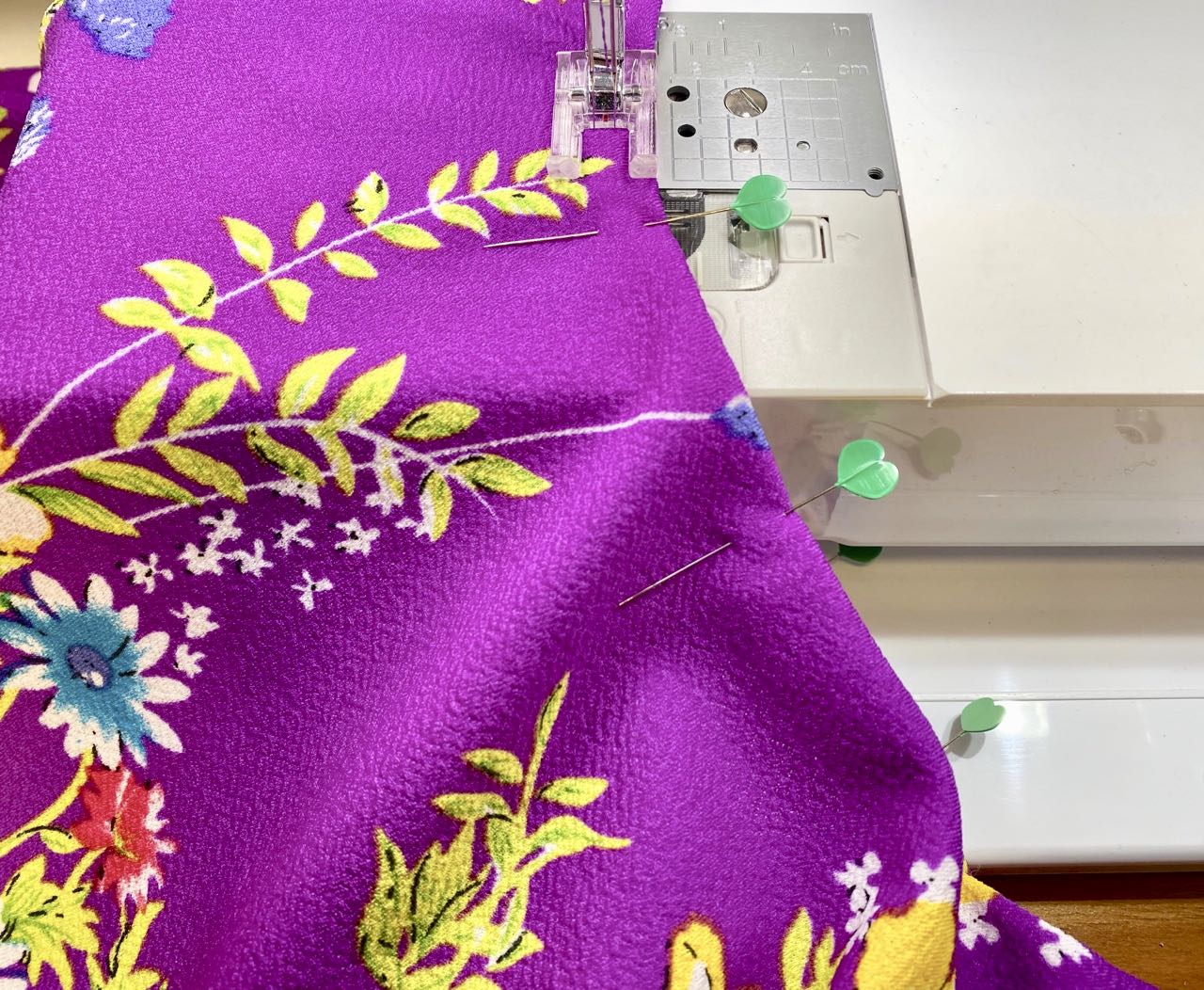 Topstitching knits with a Double Needle produces a professional appearance, and allows seams to slightly stretch – without breaking threads! Or, use a coverstitch on a serger.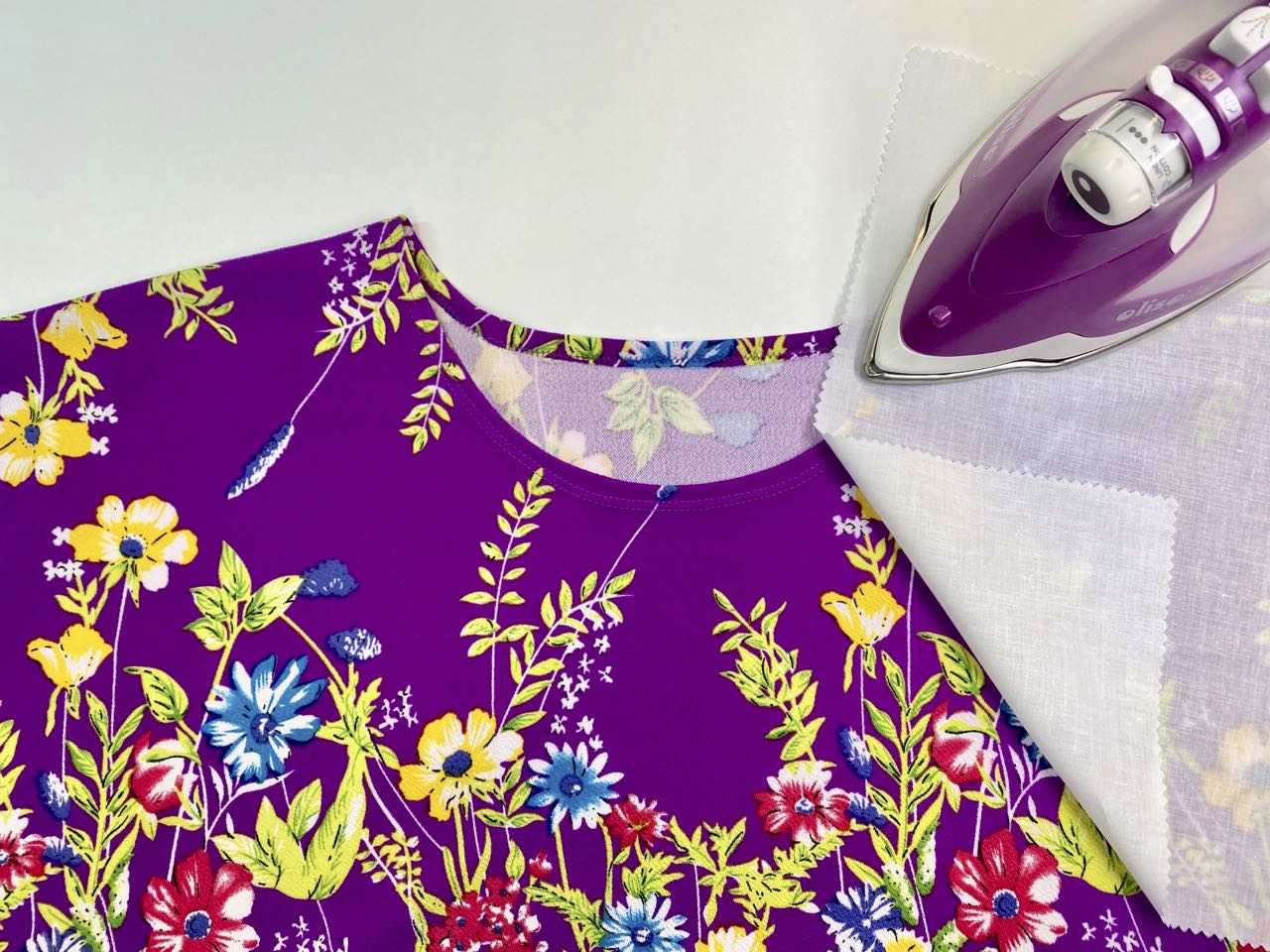 With right sides together, align front and back at underarm seams. Pin.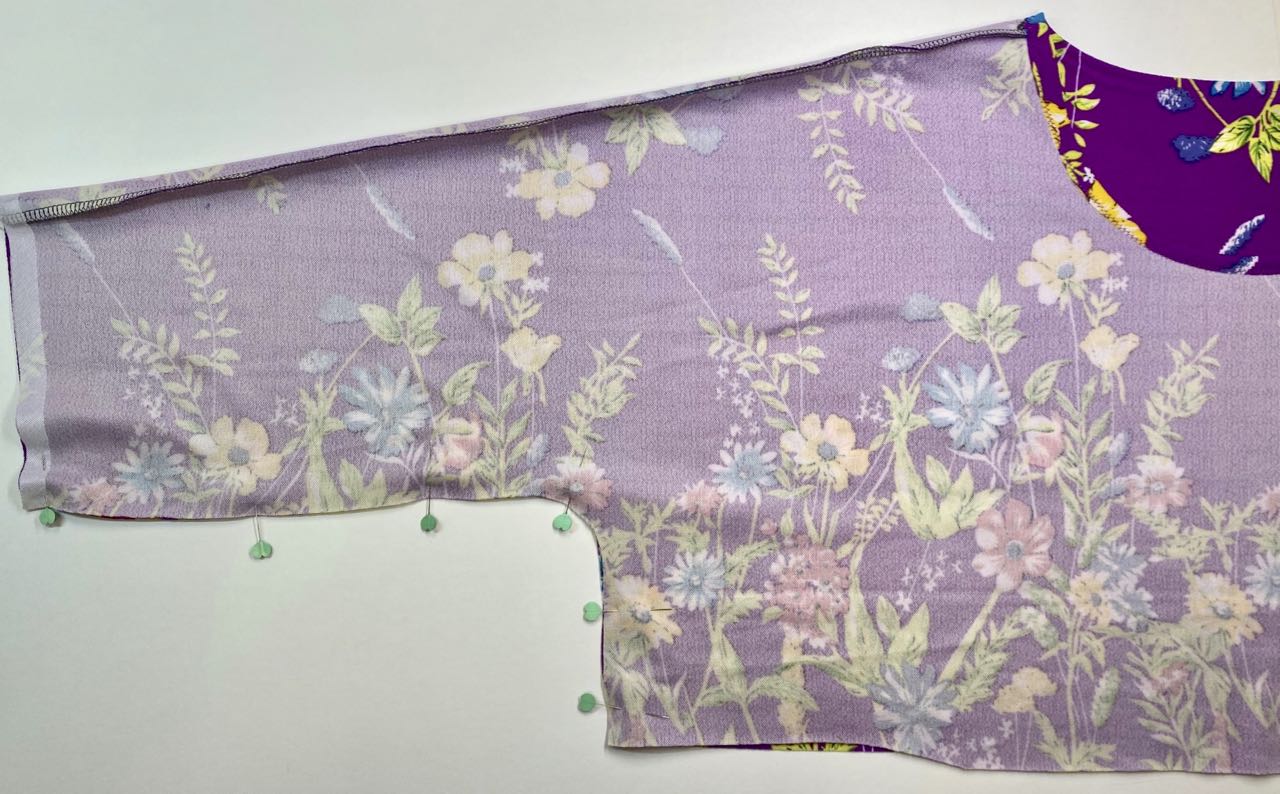 Fold under 1/2″ at sleeve hems and pin.
On right side of fabric, topstitch sleeve hems with Double Needle stitching, or use a coverstitch on a serger.
With right sides together, align pockets to skirt front, and to skirt back. Pin.
Stitch pockets to skirt front and skirt back. Using Eze-View Press Cloth, press seams flat, then press towards pockets.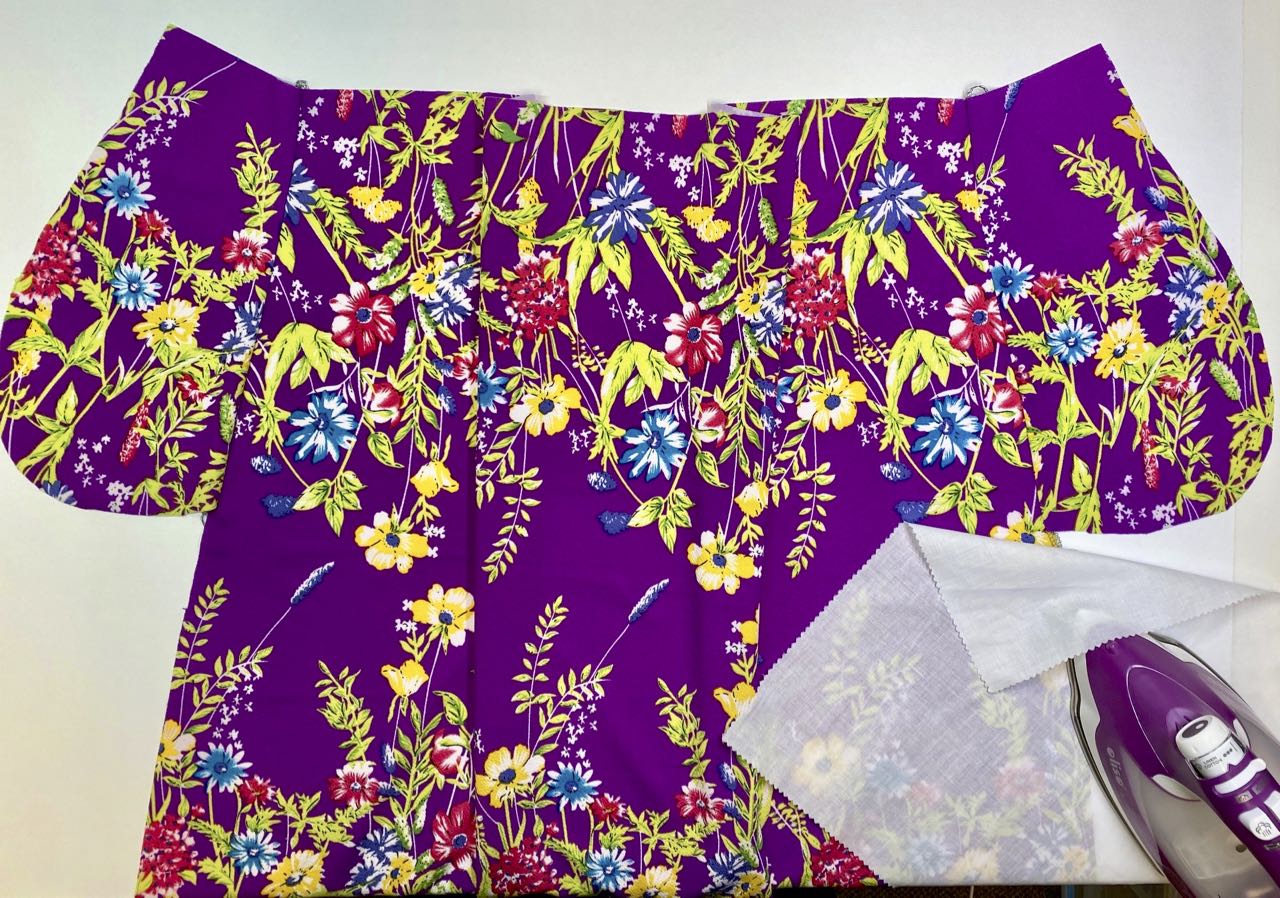 Align skirt front to skirt back, matching pockets and side seams. Pin.
At sewing machine, stitch side seams with a wobble stitch, leaving pocket opening between dots.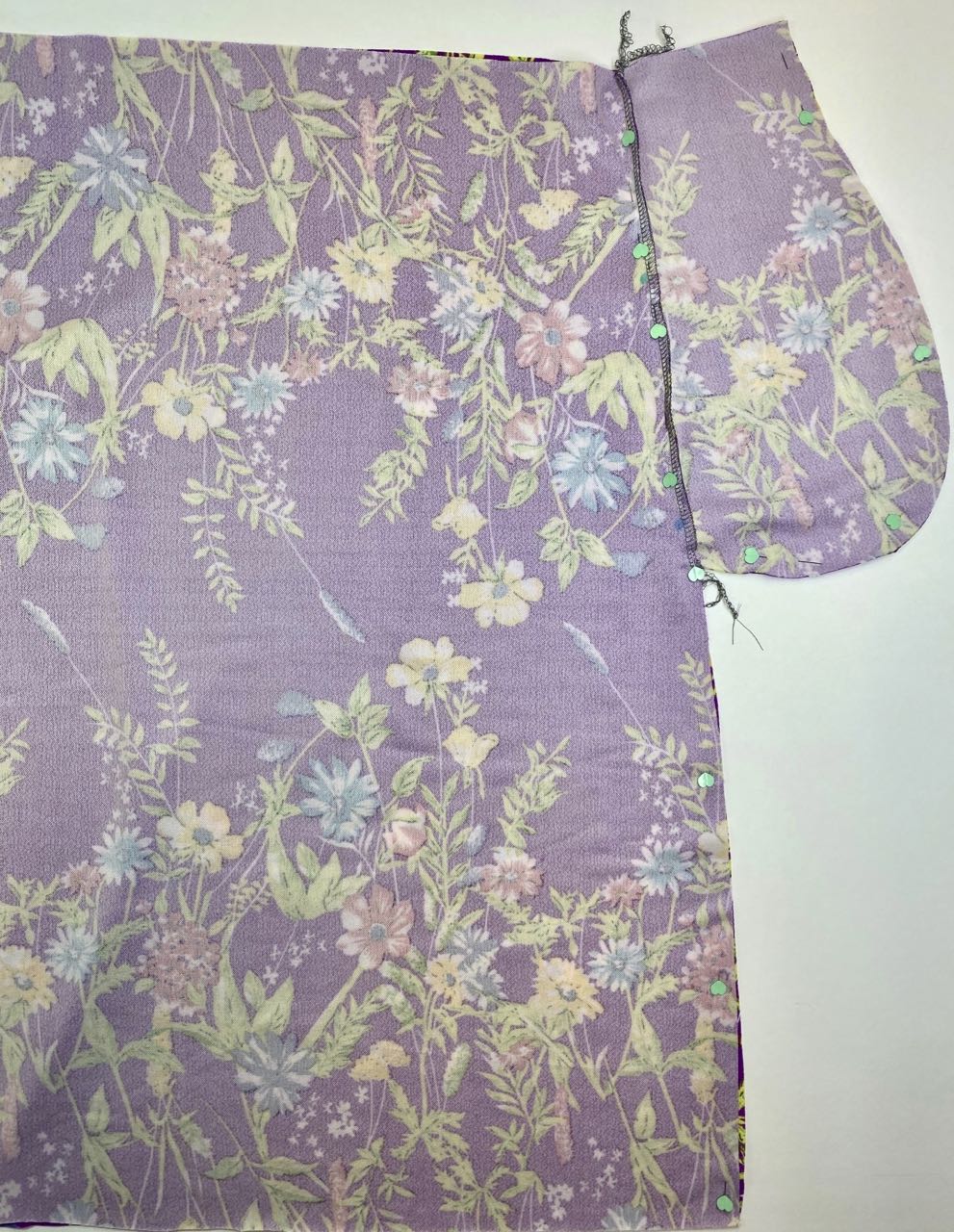 Stitch pocket outer edges together to side seams, pivoting stitching below pockets and stitching to hem.
Turn pockets toward front, along side-seams. Pin. Machine baste pocket tops to skirt front.
With right sides together, insert bodice unit into skirt unit. Pin.
Stitch bodice to skirt with 7/8″ seam allowance.
Optional: Grade bodice seam allowance to 1/4″ – to eliminate bulk in seam. Be sure to not trim away skirt seam allowance!
Press waistline up towards bodice. Pin.
Insert a rotary cutting mat into dress, and pin waistline seam to lower bodice. The rotary mat prevents inadvertently pinning through all layers! 
Using Marking Pen and ruler, mark a stitching line at 3/4″ above stitched waist seam. Stitch along marked line to form elastic casing, leaving 2-3″ opening near side seam – for inserting elastic.
Stitch one end of elastic to a fabric rectangle. Stitch and backstitch through the elastic and fabric several times. Thread opposite end of elastic through locking eye of Clover's Flex 'n Glide Bodkin.
Insert elastic through casing opening.
Meet opposite end of elastic to stitched elastic end. Stitch and backstitch through the elastic and fabric several times.
Trim away excess fabric, on all four sides of fabric rectangle.
Insert stitched elastic into the casing opening.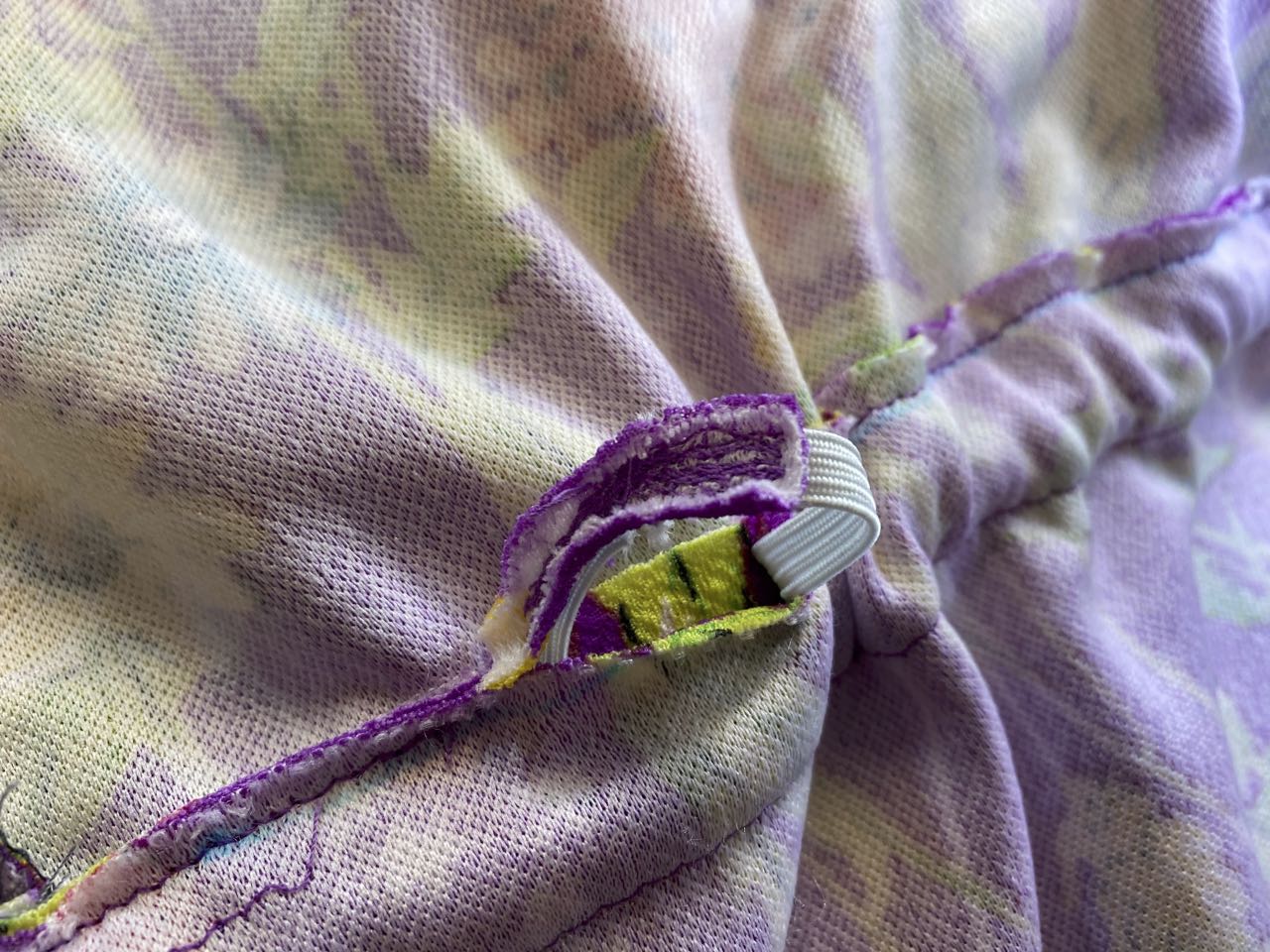 Stitch the casing opening closed, stretching the elastic while stitching.
The bernette 42 FUNLOCK Coverstitch only Machine features coverstitch options in 2.8 mm and 5.6 mm widths, plus a chain stitch!
Our New Summer Dress is complete!

Spring Dress Supplies Listing





Happy Sewing!
Team Nancy Zieman
Nancy Zieman Productions. LLC.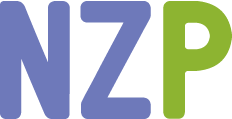 Stitch it! Sisters is a production of NZ Productions LLC. Content in this feed is © copyright 2023 by Nancy Zieman Productions, LLC and may not be republished without written permission. You're welcome to forward the email to a friend or colleague but it's not okay to add the RSS feed automatically as content on a blog or other website. The FTC requires us to tell you that Nancy Zieman Productions, LLC has provided products by other companies in the course of doing business. The FTC requires us to advise you to take this information into consideration when reading this posting.
Save