Absolute Easiest Way to Sew Tutorial Round Up
In this collection of sewing tutorials, tips, and techniques, you'll learn The Absolute Easiest Way to Sew. My tips are also featured in the best-selling book by the same name. Think of my Absolute Easiest Way to Sew tutorials as building blocks for a solid foundation for future sewing endeavors. Much like constructing a home or even a sky-scraper, the solid foundation is arguably the most important element. I've rounded up my favorite sewing tutorials to share with you here today.
Watch The Absolute Easiest Way to Sew (Part One, Part Two and Part Three) on Sewing With Nancy.
Absolute Easiest Way to Press Seams
Pressing is just as important as sewing! Sew, then press! Press each seam or construction detail before it is joined to another garment section. Read more on pressing various seam types here.
Absolute Easiest Way to Create Gathers
Gather round for these sewing techniques! I've collected 10 tips for gathering fabrics that will change the way you approach your next sewing project. Whether you're working with thick cotton or lightweight sheers, there's a technique for you! Tips #3, #5, and #7 are included in the online episode of the Sewing With Nancy TV show. My go-to favorite tip is #8. Learn the 10 easy tips here.
Absolute Easiest Way to Hem Anything!
If you're stitching, there's a good chance your project will have a hem. Nearly everything you sew has a hem—skirts, pants, sleeves, and home décor items such as curtains and table linens. By using a few simple hints, you can turn this time-consuming chore into a simple sewing task. Learn the easiest ways to hem anything, here.
Absolute Easiest Way to Finish Seams and Troubleshoot Tension
Sewing basics—that's the feature of this blog posting. Adjusting the sewing machine's tension, stitching basic knit or woven seams, and seam finishing options. You can't get more basic than this! Dive in with the tension and troubleshooting lesson here.
Absolute Easiest Way to Apply an Invisible Zipper
I often hear the stitching community say they are afraid of zippers. Today, I'd like to demystify the invisible zipper. It's one of the most useful zippers in garment/apparel and home décor sewing. The application is straightforward when you learn The Absolute Easiest Way to Sew! To seamlessly insert an invisible zipper into a seam—use this modified approach, attaching the facing before sewing the zipper. It's a new approach and one of my absolute easiest sewing tips. Conquer zipper fears with this simple lesson!
Absolute Easiest Way to Sew a Lapped Zipper
A lapped zipper gives a tailored look. Only one line of stitching shows on the right side of the fabric. It's easier to keep the stitching straight and to make sure the zipper teeth are completely covered. I prefer the lapped zipper for side openings and sometimes back openings. The secret is basting tape! See how to install a lapped zipper here.
Absolute Easiest Way to Stitch Elastic
I try to keep a pulse on what sewing, quilting, and embroidery topics you enjoy the most. For the past several years, The Absolute Easiest Way to Sew Elastics is always in my top five viewed blog posts! So in case you haven't used this technique before, I thought I'd let you in on this sewing secret, too. Find the absolute easiest way to sew elastic here.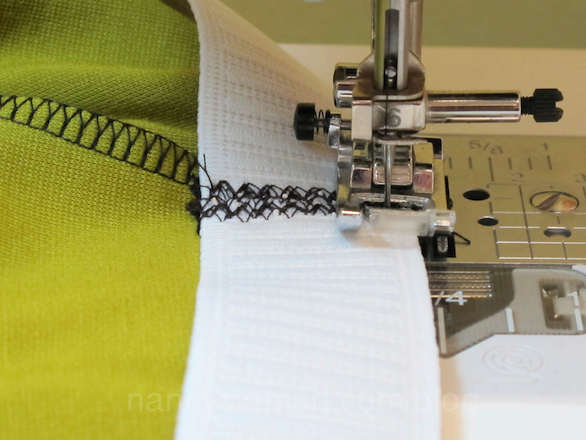 Absolute Easiest Way to Sew Collars
What if I told you: Collars are so easy to sew that even a first time stitcher will have success. Bold, I know, and that kind of assertive statement is out of character for me, but it's true. You'll be successfully sewing collars in the absolute easiest way. Learn how to create fantastic collars here.
Absolute Easiest Way to Sew Pillow Corners
Pillows, collars, and cuffs are just a few of the areas where corners need to be sewn. Cast aside the traditional technique and incorporate the "absolute easiest way" to handle sewing corners.
A complete sewing tutorial to create the blue lattice pillow (shown below) can be found here. It includes an envelope pillow back and wrapped corners. This post focuses on the wrapped corners, which can be easily applied to any pillow project.  Learn to create wrapped corners here.
Absolute Easiest Way to Sew Mitered Pockets
Sew it simple. Sew to have fun. How? It's rather straightforward after you learn The Absolute Easiest Way to Sew! Pockets are my focus for this blog tutorial. Clever use of household tape will give you the guide to sew the outright simplest mitered corners. Learn to sew mitered pockets here.
Absolute Easiest Way to Use PDF Sewing Patterns
One of the modern evolutions in sewing and quilting is digital or PDF patterns. Commercial and independent sewing pattern companies offer us instant access to our next creation. All we have to do is download, print, and tile the patterns. Sounds easy, right? It is! Learn how to use PDF sewing patterns here.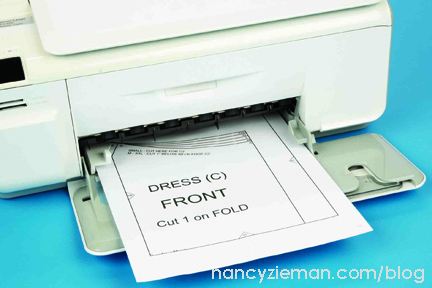 Absolute Easiest Way to Layout Sewing Patterns
Accurately laying out a sewing pattern is an essential part of constructing any project. A pattern guidesheet is like a GPS printout. It explains all the information you'll need to get from the start of a project to the finish. Refer to the guidesheet as you sew. It will answer any of your questions. Learn how to read and arrange sewing pattern pieces on this blog post.
All my favorite sewing tips are in

one book
.
The Absolute Easiest Way to Sew chapters include:
Sewing Notions
Sewing Machine Confidence
Serger Spotlight
Patterns
Fabric Facts
Sewing Basics
Beyond the Basics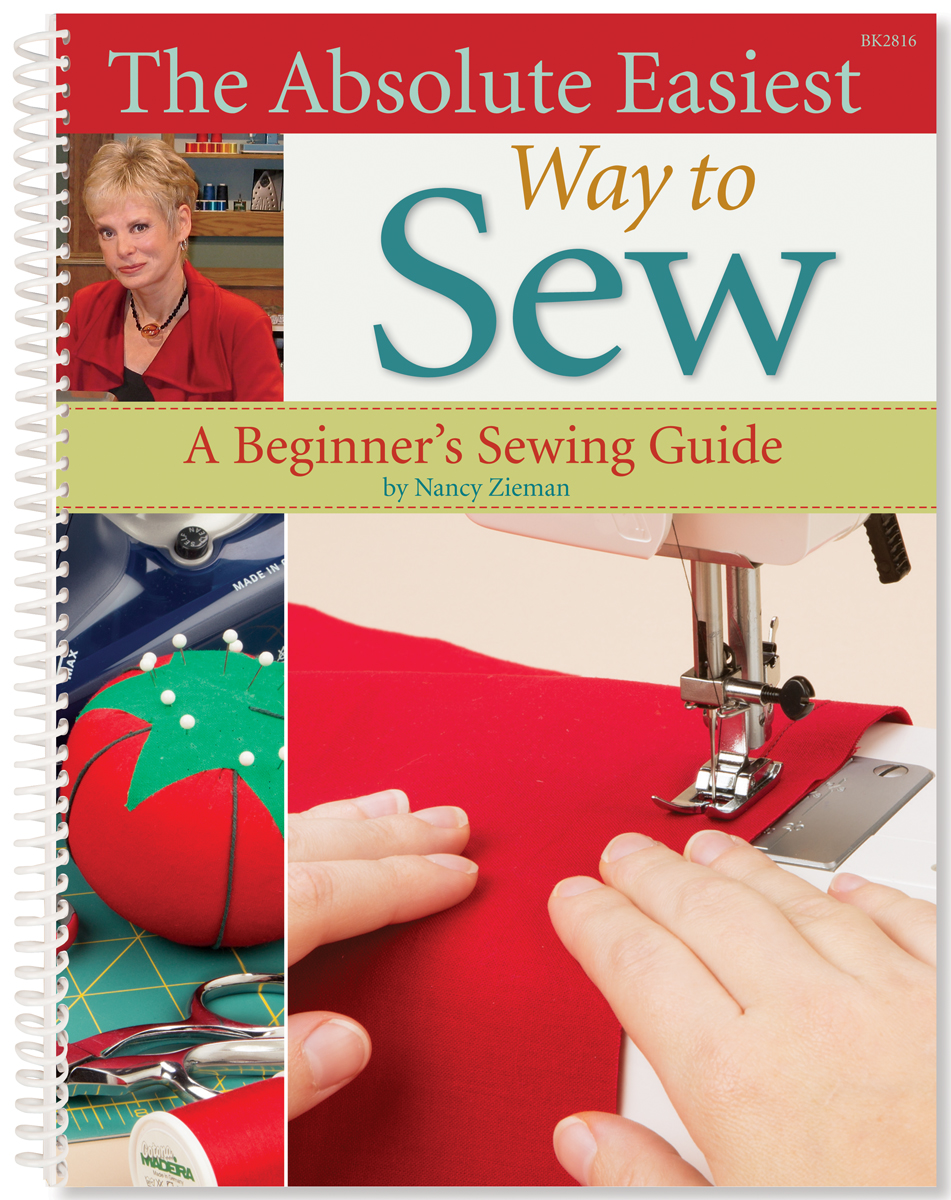 For a chance to win a copy of The Absolute Easiest Way to Sew DVD from Nancy's Notions, please leave a comment below.
Bye for now,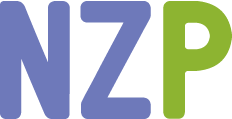 Content in this feed is © copyright 2017 by Nancy Zieman and may not be republished without written permission. You're welcome to forward the email to a friend or colleague but it's not okay to add the RSS feed automatically as content on a blog or other website.
The FTC requires us to tell you that Nancy Zieman has provided products by other companies in the course of her business. The FTC requires us to advise you to take this information into consideration when reading this posting.
Make sure you are subscribed to my enews mailing list so you won't miss a thing. Sign up here. Join us on Facebook, plus a host of other social media channels. Connect With Nancy today!