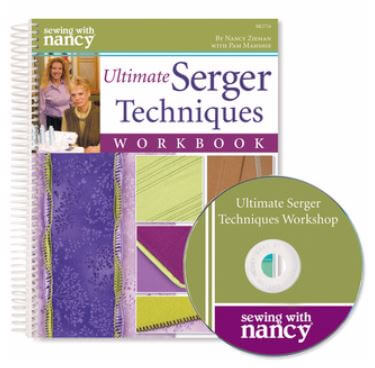 Solving Serger Dilemmas

The serger is an invaluable tool when sewing knit garments. It has so many uses besides knits, though. Change the tension settings on your serger to create different stitches and finishes. The serger is a wonderful tool. But what happens when the tension is out of whack? It can be quite frustrating. Follow these tips to troubleshoot and adjust the tensions for carefree serging.
More information can be found in my book, Ultimate Serger Techniques, available at Nancy's Notions. Watch Sewing With Nancy's episode Ultimate Serger Techniques to see some of the various applications for a serged finish.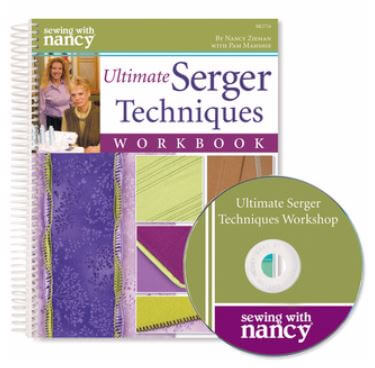 Tension Troubleshooting
Adjusting the tensions is probably the most important technique to learn about your serger. You may need to adjust the tensions with just about every change in stitch, fabric, and thread type. New stitch variations are actually created by specific tension adjustments. This section will help you recognize balanced serger stitches and show you how to adjust them if they aren't quite right. The illustrations in this section should help you in the process.
Note from Nancy: Familiarize yourself with serger tension by using a different color thread for each needle and looper. This will help you more accurately identify the threads in a stitch.
Tension Basics
Check your instruction manual for tension adjustments on stitches available on your serger.
If you have serger knobs, remember "righty tighty; lefty loosey." If you have lay-in discs or dials, turn them up to tighten and down to loosen.
Make one adjustment at a time and then serge to see if the stitch quality has improved. Making too many adjustments at one time can be confusing!
If a thread loops, too much thread is coming from the spool; tighten that tension. If threads pucker or draw in, too little thread is coming from the spool; loosen the tension.
Effects of Thread, Stitches, and Fabric
Loosen tensions for heavier fabrics, which need more thread for coverage.
Tighten tensions for lighter-weight fabrics, which need less thread for coverage.
Loosen tensions when using heavier threads, as they take up more space in the tension controls.
Loosen tensions when using stretchy thread such as Woolly Nylon, as it stretches when it passes through the tension controls and threading guides.
Adjusting the looper tension controls how much thread is released from the spool for various stitches. Loosen looper tensions for a longer or wider stitch; tighten looper tensions for a shorter or narrower stitch.
Problem: Fabric Puckers
Solution: Loosen the needle tension.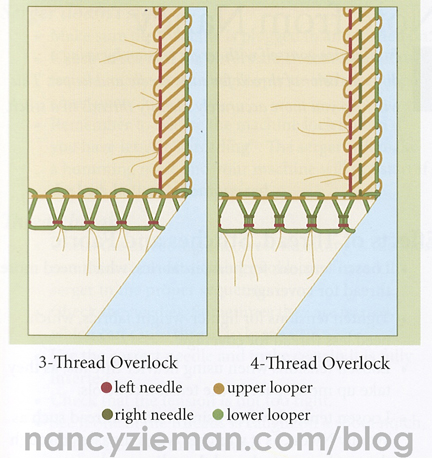 Problem: Loops or V's form on the underside and seam may pull apart.
Solution: Tighten the needle tension.
Problem:
Lower looper threads are pulled to the right side of the fabric.
Solution: Loosen the upper looper tensions, or tighten the lower looper tension.
Problem:
Upper looper threads are pulled to the underside of the fabric.
Solution: Tighten the upper looper tension, or loosen the lower looper tension.
Keep this link handy the next time your serger needs a tension adjustment.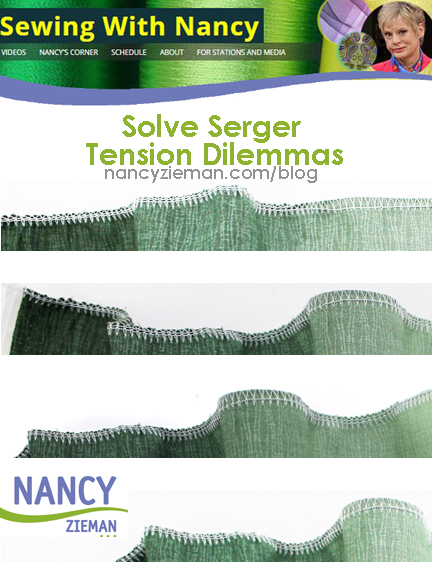 The random winner of a copy of Sew Simple with Rectangles & Squares is Patti. Her comment was: I'm planning for Christmas gifts already, and will make four sets of napkins for the seasons. I have some lovely fall leaves, a fun red and green stripe, an all over floral, and a cheerful red, white, and blue print. These will make a terrific gift for my in-laws.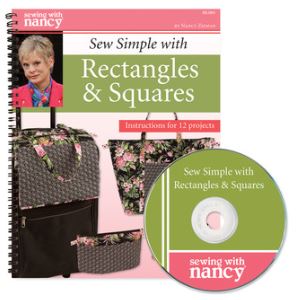 Bye for now,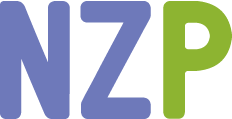 Content in this feed is © copyright 2016 by Nancy Zieman and may not be republished without written permission. You're welcome to forward the email to a friend or colleague but it's not okay to add the RSS feed automatically as content on a blog or other website.
Make sure you are subscribed to my enews mailing list so you won't miss a thing. Sign up here. Join us on Facebook, plus a host of other social media channels. Connect With Nancy today!