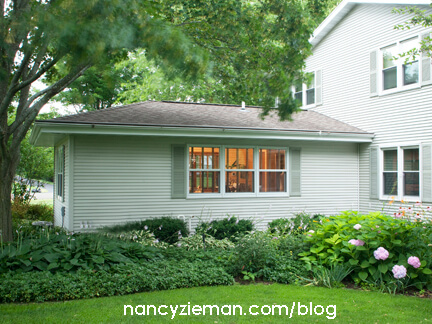 Where do you sew?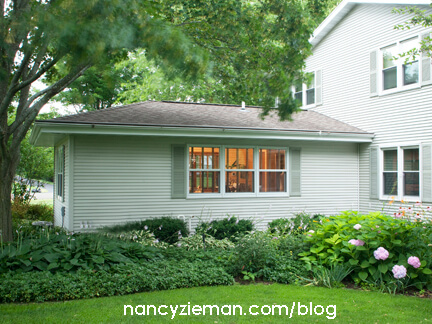 Where do you sew?  Earlier this month I asked, via Facebook and Pinterest, for you to share where you sew and to tell us about your sewing/quilting space set-up. We are lucky to have a craft that can be accomplished by hand and machine in large and small areas. We can travel with our craft or work at production level standards. The range is wonderful. I appreciate your answers. My staff and I chose several unique responses to share, plus a spotlight on one of my followers.


I am grateful to have an allocated home sewing studio for personal sewing: landscape quilting, and sewing and embroidering gifts. Being in the sew/quilt biz, I have two other sewing studios, which shouldn't surprise you. Another is at the Sewing With Nancy TV studio at Wisconsin Public TV and the other at my office. All three studios are filled with decades of fabrics, notions, and supplies.
Below, be sure to check out September's Share Your Insight question and if you'd like, submit a response. Enjoy!
Where do you sew? And, tell us about your sewing/quilting space.
Here's what you are saying:
Largely, many of you are reclaiming bedrooms to set up dedicated sewing studios! Congratulations on the space.
Sewing Near Family
"I sew at the kitchen table. I have other places I could go to sew but  I like being with the family."—Mary Jo Pigott Groom, Winter Park, FL
Sewing on the Go!
"I am lucky. I have just enough room for a 2′ x 4′  table in our motorhome.  And, it is wonderful that I can leave it up when we are not traveling.   It works out great."—Diana Smith, Micco, FL
Limitless
"I have put my sewing machine in every room in the house, except the bathroom and kitchen.  I ended up in the dining room in front of a window.  Now my stash and supplies, that is a different story, they are in every closet."—Alice R Watts, Marion, NC
Innovative Small Space
"My sewing area is a closet, part of the family room.  It is easy to access the kitchen area and close to family activities.  When the kids were learning to sew it was convenient for questions and answers.  I have a good light source and the cutting/storage cabinet is close."—Helen Heise, New London, WI
Condo Living
"I live in a condo. I sew upstairs and downstairs!"—Karen Edgecombe, Lakemoor, IL
Front and Center
"Since I now live alone in a very small house, I turned what should have been my living room into my sewing room. It is so nice to have my dinning room table up on blocks to make it more of a working height. My ironing board and both machines are set up all the time, and my idea board is hanging on the wall."—Eleanor Gibson, Netanya, Tel Aviv (Gosh Dan)
Second Kitchen Space
"My house has a good sized second kitchen that I claimed for my sewing room when my family and I moved in 15 years ago.  With windows on two sides, I have lots of natural light, and I have a ceiling fan for when the room gets too warm."—Anita Phelps, Eagle River, WI
At the Office
"I sew at the quilt shop where I work, Patchwork Angels.  I have no room in my apartment at this time, but I am hopeful!"—Candy Beardsley, Endicott, NY
A Convertible Room
"Our spare bedroom has a Murphy bed, and my fabric stash is in the closet.  I use a bookcase made by my husband's father for thread and other bits and pieces.  When company arrives we move the sewing desk, which stores my machines. Voila! We have a bedroom again. "—Lois Fay Gage, Youbou, BC, Canada
She-Shed
"I am lucky enough to have a good size shed in my backyard.  It has plenty of storage for fabric, a design wall, a set-up for at least two machines, a drop down cutting board, cable tv, and a/c."—Linda Bott, Mission, TX
"For many years I sewed in our bedroom. About 3 years ago, my dear husband bought me one of those barn buildings for outside. He has made over the inside with ac/and heat. It's all mine. I have a sewing table almost the length of one room, and the other room is where 75% of my fabric is. The rest of my fabric is under the cutting table. I love it and can totally lock myself in! My husband has always done special things for me, but this one tops the list.  "She Shed" he calls it."—Margie McWhirter, Collinsville, MS
Garage Apartment
"I have a room over the garage as my quilt studio; it was my requirement when we built our home.  Thanks to my handy hubby, I have custom drawers for my fabric collection, loads of cabinets for storage, and a very large design wall that can be tucked away. The room currently houses three of my Baby Lock machines but is about to be rearranged a bit.  I usually do my hand sewing in our family room, sitting with my husband. So, I'm really all over the place, but I LOVE my studio the best!!"—Karen Christensen, Ingleside, IL

August Reader Spotlight:
Kathy Pidilla's Answer
"I sew, quilt, and embroider in a two car garage that the previous owners of our house had converted into their family room. When we moved to Florida we looked at seventy-five plus homes to find one with a room that was large enough for my fifteen foot long Gammill quilting machine's table.  I now have my own room to sew, embroider, and quilt in.  It is located away from the normal household activities so I can work in peace"—Kathy Padilla, Winter Haven, FL
How many times have you relocated with your longarm machine?  This is the first move since I purchased the longarm.
Is there anything you would change about the garage conversion?
I wish this room was larger as it is a lot smaller than my old sewing room when we lived in Pennsylvania.
Do you have any additional tips for other readers thinking about converting a garage space into a studio? 
 Make sure that you insulate the area well. This room was a cinder block garage and the previous owners converted it to use it as their family room. I'm using it as my sewing, embroidery, and quilting room.
With the assortment of sewing interests, how would you say you spend most of your studio time?
  I own the Baby Lock 10 needle, Baby Lock 6 needle, and Baby Lock Ellisimo embroidery machines, as well as a Gammill Optimium quilting machine.  I can have the embroidery machine stitching away while I'm quilting.  Or I can stitch free standing lace on the 6 needle, embroider or piece quilt blocks on the 10 needle, and stitch the quilt blocks together on the Ellisimo.
Which projects energize you the most?
I do a lot of free standing lace and embroidered or pieced quilt blocks.
September Share Your Insight
Question
September Question: When you travel, what sewing supplies do you take on the trip?
Submit your answer by September 16, using the form below, to be considered for our September Reader Spotlight.

Disclaimer: We may contact you to verify your answer. Your contact information will not be used for any other reason. Your submission to Nancy Zieman Productions, LLC, including contact information, gives us the right to modify, use, distribute, reproduce, publish and display the submission indefinitely in all media, means, and forms without any payment to you. You hereby represent that you haven't copied the content from a book, magazine, newspaper, or other commercial source.
Content in this feed is © copyright 2016 by Nancy Zieman and may not be republished without written permission. You're welcome to forward the email to a friend or colleague but it's not okay to add the RSS feed automatically as content on a blog or other website.
Make sure you are subscribed to my enews mailing list so you won't miss a thing. Sign up here. Join us on Facebook, plus a host of other social media channels. Connect With Nancy today!