Sew Simple with Rectangles and Squares Round Up

As you may already know, I love to streamline and simplify the sewing process. Making projects faster and more efficient frees up valuable time, and everyone could use more time! One of my most popular Sewing With Nancy three-part series, Sew Simple with Rectangles & Squares (Part One, Part Two, and Part Three), addresses streamlining the sewing process. Change the way you think about projects and patterns. Everything demonstrated is simply cut from rectangles and squares!
Fabric Bins
Don't settle for tan or black bins for your shelf, customize fabric bins to accent your home décor by selecting coordinating fabrics. Made from, you guessed it, rectangle and square fabric pieces. The sewing is enjoyable and the end result is as fresh in appearance as it is useful. Grommets serve as both handles and a focal point.
. .

Wall Pockets
What's good for the shelf is good for the wall! With a little tweaking of the instructions, fabric bins turn into wall pockets that provide organization and style to any home or work office. Watch how these come together on Sewing With Nancy.
The Travel Trio
During this first episode, learn how to create a weekender tote, cosmetic bag, and luggage saddlebag. This travel trio is made using comparable sewing steps, straight stitching, and double-sided quilted fabrics.
Cosmetic Bag
Even if you've never sewn before, you can stitch this bag! On Sew Simple with Rectangles & Squares we'll review the construction steps together, and making this bag will be a breeze.
Weekender Tote
After making a simple cosmetic bag, apply many of the same sewing steps to create a Weekender Tote. It's a super-sized bag with the addition of sturdy straps and double pockets.
Mix up the fabric selection for a fun coordinated look. Or use all the fabrics you'd like—for a scrappy Weekender Tote bag.

Luggage Saddle Bag
For ease of travel, make a saddlebag for your carry-on luggage or rolling case. Two sizes of bags are attached with connector straps.
When not using this handy accessory on your luggage, zip the bags together and it's a handy shoulder tote.
Sewing With Nancy Trivia—This photo was quickly taken on the Sewing With Nancy set. Notice the tape on the floor? Those are the positioning marks for my chair in the Nancy's Corner area. We had to move the chair in order to take the photo. Now you see how we keep all our props and furniture in the right place!
Hold-it Sacks
The Hold-it Sacks are my first sew-simple projects in Part Two of Sew Simple with Rectangles & Squares. Prop up your cell phone or electronic tablet in the cradle area of a Hold-it Sack. Made from laminated fabric, they're ideal to use throughout your home or office. The unique finished shapes appear as if they were made from complicated patterns, but not these gadget holders. They're all made from rectangular shapes.
Mini Fabric Sacks
Toss them in a game or use them to hold down pattern pieces, these Mini Fabric Sacks can be both fun and functional. You can easily make three mini sacks in an hour or less.
Jewelry Caddy/Notions Caddy
Incorporating specialty fabrics, such as clear vinyl, can add functionality when sewing gifts and projects. This unique and widely available fabric is the star of the Sewing With Nancy program, Sew Simple with Rectangles & Squares, Part Three. Watch online by clicking here.
If you are planning to attend sewing retreats, sew-ins, or simply heading out on a family vacation, create a Jewelry Caddy, which nicely doubles as a Notions Caddy and is featured in a Sewing With Nancy online tutorial.
All the projects featured in the three-part series, plus a bonus, are included in the book, Sew Simple with Rectangles & Squares.
The book includes complete instructions for 12 projects using easy sewing with a basic straight stitch. Make an easy zippered cosmetic bag, or consider popular storage bins, or even a luggage saddle bag and a portable ironing pad for your next trip.
Discover my fresh approach for sewing projects with techniques that build off of each other.
Learn to simplify the sewing process with no fear zipper, pocket, grommet, and strap techniques.
Find helpful tips and streamlined techniques for sewing specialty fabrics that save time and frustration, including double-sided quilted, vinyl, and canvas fabrics.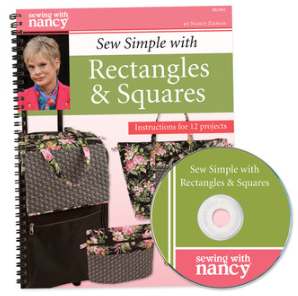 For a chance to win a copy of Sew Simple with Rectangles & Squares from Nancy's Notions, leave a comment telling us what area of the home you would use Fabric Bins the most?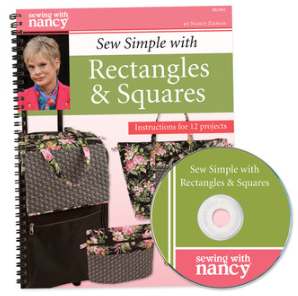 The randomly selected winner of a copy of Quilt with an Embroidery Machine DVD from Nancy's Notions is Paula C.
Her comment was, "I love my Babylock Ellageo Plus, and I would really like to start quilting in the hoop! I'm concerned about how the quilt looks from the back though, since the back of embroidered items can get messy."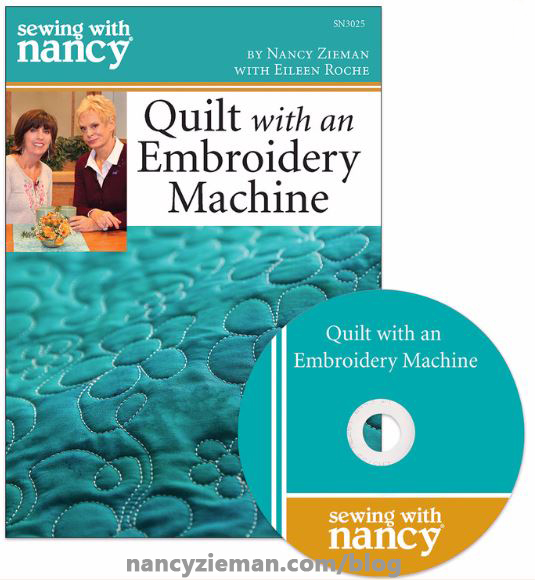 Bye for now,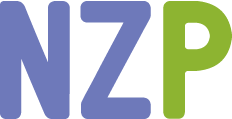 Content in this feed is © copyright 2017 by Nancy Zieman and may not be republished without written permission. You're welcome to forward the email to a friend or colleague but it's not okay to add the RSS feed automatically as content on a blog or other website.
The FTC requires us to tell you that Nancy Zieman has provided products by other companies in the course of her business. The FTC requires us to advise you to take this information into consideration when reading this posting.
Make sure you are subscribed to my enews mailing list so you won't miss a thing. Sign up here. Join us on Facebook, plus a host of other social media channels. Connect With Nancy today!
Save