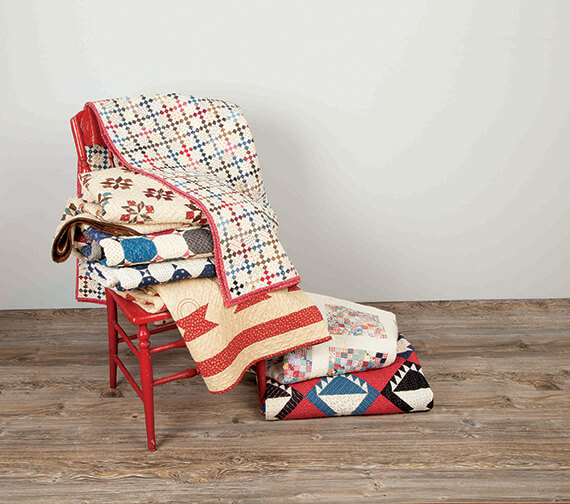 Patchwork Inspired Patterns by Antique Quilts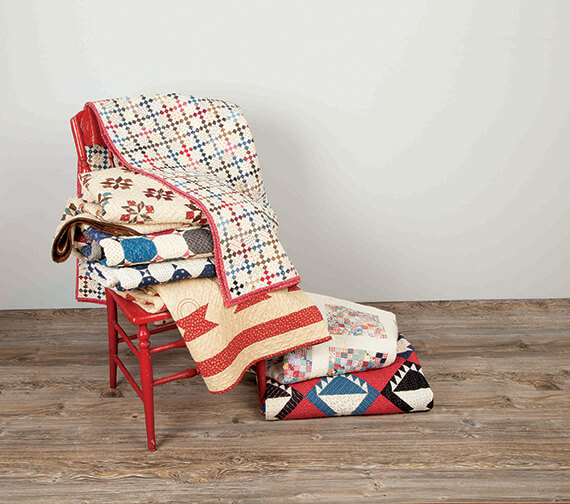 Learn how to create your own versions of antique quilt designs from a collection of history-rich quilts spanning the late 1800s through the 1930s.
In an all-new two-part Sewing With Nancy series titled, Patchwork Inspired Patterns by Antique Quilts, we unlock the secrets of quilts from yesteryear with guest Julie Hendricksen. Julie and I show antique quilts from her collection and teach you how to construct your own reproduction quilts in part one of Patchwork Inspired Patterns by Antique Quilts. Watch today's episode online.

The Patchwork Inspired Patterns by Antique Quilts book and DVD are available from Nancy's Notions.
Snowball Crossing
Let's begin with the vintage Snowball Crossing quilt design. Alternating light and dark Snowball blocks with tiny corners make this quilt look like it's pieced from circles, but in fact it's very easy to assemble.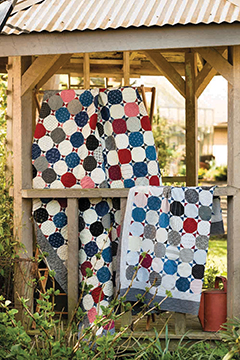 Now for a variation of the theme, a second Snowball quilt, shown on today's episode, features a Snowball pattern too. But here, the snowballs are arranged in a 9-patch formation and then set on point with alternate squares cut from shirting fabrics. This is a classic 2-color quilt, yet it uses more than just two fabrics.
Reproduction Chain
Juile shares her Reproduction Chain quilt on Patchwork Patterns Inspired by Antique Quilts, which is based on a quilt that was made in the 1930s. Julie thought it would be fun to see how it looked in an even older palette of 1890s fabric. The patchwork design is simple to make, and the perfect reason to not let your scraps to go waste!

1930s Checkerboard Charm
Use this 1930s Checkerboard quilt as an inspiration. In part one of Patchwork Inspired Patterns by Antique Quilts, you'll see the quiltmaker—most likely a saver of every inch of fabric—hand pieced one hundred 1-1/2″ pieces into each 100-patch block. I don't know about you, but I am in awe of this quilt.
Not to be outdone by a 100-patch quilt, the next quiltmaker, again from the 1930s created another Checkerboard Charm quilt with 289 tiny squares, alternating between prints and muslin. The whole look is tied together with solid-pink sashing.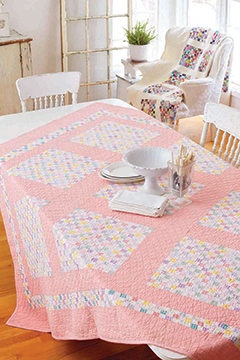 Birthday Quilt
Julie tells me she spied the most compelling 9-patch quilt on display at a quilt show; the price tag was $25,000! She didn't buy that quilt but couldn't stop telling her friends about it. To her surprise, each time she wasn't in her shop, Julie's staff cut a 1″ strip from each reproduction fabric they cut for customers, then pieced all 1,024 blocks and honored Julie with what she calls her Birthday Quilt.
The vintage-inspired quilt featured below—recently pieced and quilted by Susan Petruske of Pleasant Valley Farm Longarm Quilting—features Julie's Birthday Quilt instructions as seen in part one of Patchwork Inspired Patterns by Antique Quilts!
Here's a photo of Susan (right) revealing her vintage-inspired 9-patch quilt—with Julie (left) at the 2016 Quilt Expo!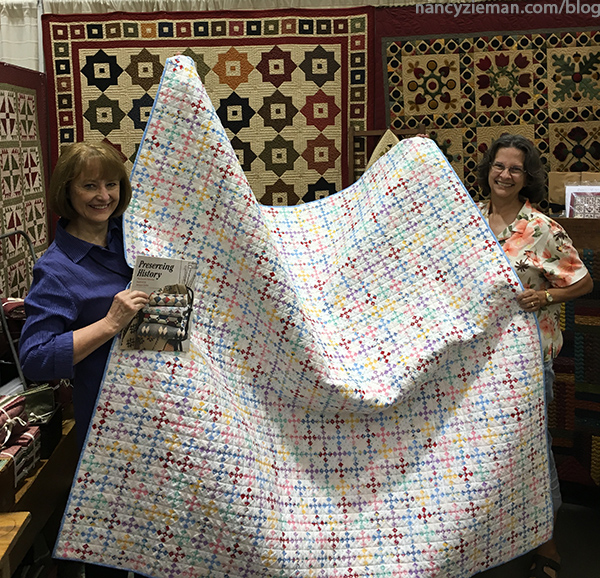 Recreate your own vintage 9-patch quilt with help from our friends at Nancy's Notions. They have a perfect vintage-inspired fabric bundle, Birds of Liberty, to make Julie's Birthday Quilt above.
Share your favorite vintage inspired quilt pattern in the comments for a chance to win a copy of Patchwork Inspired Patterns by Antique Quilts. Thank you to our gift sponsor, Martingale Press/That Patchwork Place.
The random winner of a copy of the Doodle Stitching Book, from Nancy's Notions, is Susan Berg.
Her comment was: "I always doodle, especially during meetings. I never thought to put doodling and quilting together in this way. Thanks for this idea. I'd love to have the book for more inspiration."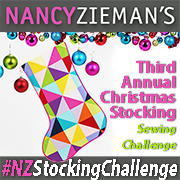 Don't forget to submit your Christmas Stocking in my Stocking Challenge! The deadline to enter is SATURDAY, December 3, 2016. Click here to see how to enter. Make sure you are subscribed to my enews mailing list so you won't miss a thing. Sign up here.
Bye for now,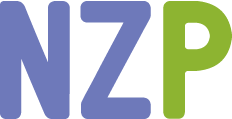 Content in this feed is © copyright 2016 by Nancy Zieman and may not be republished without written permission. You're welcome to forward the email to a friend or colleague but it's not okay to add the RSS feed automatically as content on a blog or other website.
The FTC requires us to tell you that Nancy Zieman has provided products by other companies in the course of her business. The FTC requires us to advise you to take this information into consideration when reading this posting.
Make sure you are subscribed to my enews mailing list so you won't miss a thing. Sign up here. Join us on Facebook, plus a host of other social media channels. Connect With Nancy today!