A 4-Patch Quilt Block Gets a Modern Remake

A 4-patch quilt block is a quilting basic. Four squares of the same size sewn together is an ideal way to learn how to quilt. Yet, this basic quilt block design is not limited to four same-sized squares. There are options. Change the dimensions and presto, a new, fresh look!
Quilting Basics—The 4-patch Quilt Block
Before learning how to remake the block, here's a quick review of piecing together a 4-patch quilt block:
To create a 8-1/2″ block (8″ finished block):
Cut 4-1/2″ crosswise strips:
Fabric A (pink)
Fabric B (black)
Fabric C (gray)
Form two stratas or strip groupings:
Fabric A and C
Fabric  B and C
Strip piece two stratas. Align right sides and long edges. Stitch using a 1/4″ seam.
Press seam allowance towards the darker fabric.
Subcut the strata into 4-1/2″ sections.
Align right sides of sections from each strata. Stitch with a 1/4″ seam. Press the seam allowance in one direction.
Note from Nancy: The steps above are a quick visual representation of how a 4-patch is created. When making a project, I create many blocks at once using chain-stitching techniques. Complete instructions are listed in Change-Up Patchwork.
Design Note: Each 4-Patch block is laid out next to a solid square (black) to achieve the design above.
Modern Remake—The High/Low 4-Patch
Ready for a remake?  Simply change up the measurements to create a renovated 4-patch design. Both quilt blocks are 8-1/2″ (8″ finished) and were sewn using the same technique. The main difference—aside from color—is that the crosswise strip sizes were changed. Here's how to create an 8-1/2″ (8″ finished) High/Low Block.
Fabric A (Light Gray): Cut strips 2-1/2″ wide and 6-1/2″ wide.
Fabric B  (Dark Gray): Cut strips 2-1/2″ wide
Fabric C (Aqua): Cut strips 6-1/2″ wide
Strata One: 2-1/2″ strip of Fabric A to 6-1/2″ strip of Fabric C
Strata Two: 2-1/2″ strip of Fabric B to 6-1/2″ strip of Fabric A.
Subcut Strata 1 into 2-1/2″ sections.
Subcut Strata 2 into 6-1/2″ sections.
Stitch the 2-1/2″ section to the 6-1/2″ section.
Stitch and arrange the high/low 4-patch blocks to create a table runner or take off with your own unique design. The resources you need to design and sew your own project are in Change-Up Patchwork.

Book Features Nine Great Quilts
Find these easy 4-patch quilts, and six additional quilts, in the new Change-Up Patchwork Book and DVD or in the Change-Up Patchwork Starter Set.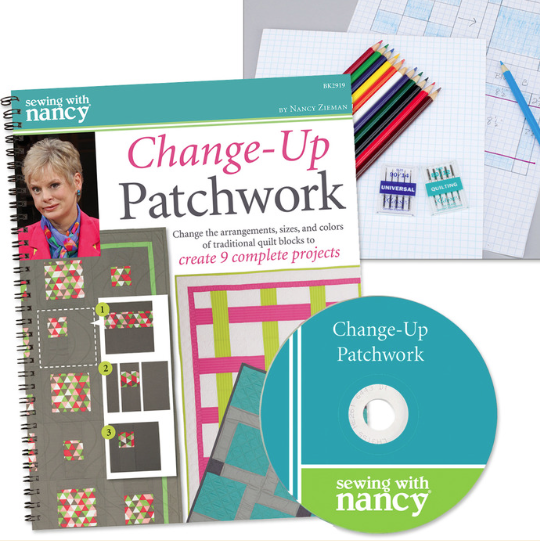 Episode one features the versatility of a 4-patch block.
The star of episode two is the square-within-a-square quilt block.
The third episode features the basics for stitching the traditional 9-patch block.
Nancy's Notions is giving away a copy of the Change-Up Patchwork DVD. Leave a comment below to enter the giveaway. One random winner will be chosen.
Bye for now,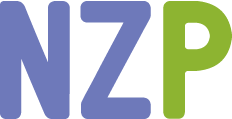 Content in this feed is © copyright 2017 by Nancy Zieman and may not be republished without written permission. You're welcome to forward the email to a friend or colleague but it's not okay to add the RSS feed automatically as content on a blog or other website.
The FTC requires us to tell you that Nancy Zieman has provided products by other companies in the course of her business. The FTC requires us to advise you to take this information into consideration when reading this posting.
Make sure you are subscribed to my enews mailing list so you won't miss a thing. Sign up here. Join us on Facebook, plus a host of other social media channels. Connect With Nancy today!
Save
Save
Save
Save
Save
Save
Save