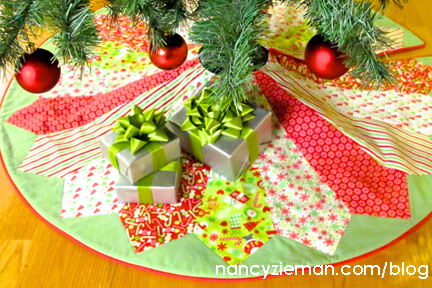 Gifts: Handmade vs Purchased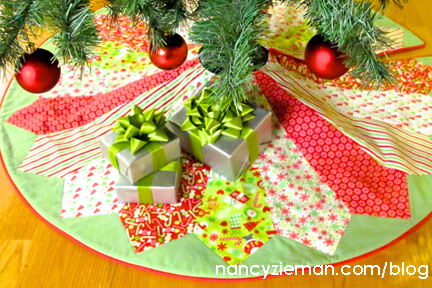 Do you create/sew more gifts than you purchase?  That's the question The Nancy Zieman Productions Team posed earlier this month, via this blog,  Facebook, and Pinterest.  It isn't a surprise to learn that NZP Blog readers are a wonderfully creative bunch of makers. 
Enjoy the selected responses below, plus a spotlight on one featured reader.
Here's what you are saying:
Calendars and more
"I definitely create/sew more gifts than I purchase. In my family we've done away with regular presents between adults (what a stress relief). Therefore, all the presents I give are hand-made. For years I've been making personalized photo calendars and mug rugs. For close family I make quilts, blankets, wall-hangings, table toppers, embroidered towels, and tablet cases. For the children I make bags, clothes, doll clothes, and cuddly toys. I love that I give something unique that nobody else has, and can personalize it to the recipient. "—Cecilia Nilsson, Rijnsburg, Netherlands
Small Gifts
"Yes, I do. With two great granddaughters born this year, I'm sewing like crazy and there will be more for Christmas. We don't exchange gifts with the adults, but I make a little something for the house. The grandkids usually want a new scarf or something small."—Christine Rhodes, Strathmore, Alberta CA
Baby Showers and Baby Quilts
"Yes, I make many baby blankets and quilts—my sister-in-law has over thirty grandchildren who are having babies, and I am usually invited to the many showers!"—Cathy Catanzaro, Lakeside Park, KY
Make it all!
"Always and absolutely! Usually totes, aprons, nightgowns, flannel pajama pants, and quilts-quilts-quilts. These are usually for family; for others, I bake or give lap quilts, for aging and creaky knees."—Susan Sweet, El Sobrante, CA
Handmade Every Holiday
"Almost all… About 2 years ago now, I told my children and the friends that we swap gifts with, that I wanted to switch to all handmade gifts. My children are grown and my friends are also 50-somethings who have managed their own households for many years and can (usually) afford to buy what they truly need/want. I did not want the gift expressions of my affection to become unwanted clutter for them. A gift of my time in creating something for them seemed more appropriate.
This year almost all of the birthday gifts have been handmade, but the Christmas gifts will be a mix of homemade and store purchases. I have made: crochet area rugs, LOTS of knitted socks, knitted pillows and quart-size zippered pouches, crochet trinket boxes, knit sweaters and hats. Sewn gifts have included: tool aprons, tool storage rolls, LOTS of aprons, silk ties and scarf sets, grocery/tote bags, college-themed pj pants, and aprons, hot mats (your pattern), napkins, and pillows. Most recently, I decorated a store-bought grocery bag with a custom-created appliqué. My 1st appliqué project, but it won't be my last! :)"—Jane Caruso, Miami, FL
Start Early
"I make most of the gifts. I start sewing in July, just after vacation. I'm done by Thanksgiving, except gift cards. I make ALL of my husbands shirts, and of course I make one for myself, so we match. We match all the time, this way we are easy to find if one gets off track. People are fascinated by the looks."—Janet Harris
All Things Fabric
"Yes, I sew/create. I make pj pants or night gowns for four grand girls. Last year I made slippers as well. For girl friends and exchange gifts I make whatever is new that year like microwave bowls. hot pads, mug rugs, or fabric buckets. This year I did coasters from the flat fell seams of old jeans I had been saving. and I have often made small throw pillows."—Judy Schulte, Kimberling City, MO
A Family of Makers
"I have sewn more than purchased. I make items for my children and grandchildren while my husband makes wooden games (when the grandchildren were little) and now turns bowls or boxes for them.
Mug mats and microwave bowl holders are the most recent."—Kathe Mayer, University Heights, OH
Personalized Embroidery
"My reason for buying my first sewing/embroidery machine in 1994 was to be able to make personalized gifts for family members and friends. Many years and machines later, I still love to make such gifts. I've learned so much for improving my sewing and embroidery techniques at conferences and shows and in books since 2001, thanks to wonderful instructors and vendors, including you, Nancy. Thank you so much."—Rosann McGuire, Graner, IN
Gift Traditions
"I create most of the gifts that I give because I treasure all those that have been given to me by my mother—clear back to my great grandmothers. I love the tradition. I learned to sew when I was four, and I have been retired for a while. I love to watch the sewing programs on PBS and was disappointed when HGTV discontinued theirs. It is true that you CAN teach an old dog new tricks! I sew clothing, home décor, and quilts. I also love other crafts such as tatting, crochet, knitting, weaving, embroidery, and jewelry making. It's a relaxing hobby and an opportunity to give to charity. A definite 2-way plus!"—Anny Laird, Stockbridge, NY
Baking
"I will give baked goods this year, not sewn items. Many years ago, I gave sewing gifts but got away from it. My passion is beginning to bloom again, so I will probably make sewn gifts for next year."—Peggy Riordan, Chicago, IL
Yarn and More
"Yes, I rarely, if ever, purchase gifts for my family and friends. I usually sew, knit, crochet, or embroider something for each of them. Of course, this means that I start early for Christmas."—Mitzi Peters, Gulf Breeze, FL
This Month's Reader Spotlight:
Enid's Answer
"Since we moved to a very small town in rural Alaska 15 years ago, where the gift shopping is extremely limited, I have created virtually every gift given to those I love. Christmases, birthdays, special events, comfort for illnesses…all gifts made by me. Quilts are the main items I make for gifts, but also lots of embroidered/quilted pillows, placemats and table runners, table toppers, clothing, bags of all kinds, wall hangings, custom furniture slipcovers, pet blankets, pillowcases, linen tea towels. The list is long, now that I think about it! I love making all these things, and the gifts all seem to be appreciated (something we makers always love knowing). "—Enid Keyes, Homer, AK
What percentage of sewing projects are planned gifts, charity, and/or personal projects?
I would guess that about half of my sewing projects are personal projects. Since I am 70 years old, however, I always sew nonclothing personal items with the idea in mind that family members and friends will receive them after I am gone. The other half are gifts. Many times I make something with the idea that I will keep it, and then someone says, "I really like that!" Then I end up giving it to them. It always makes me feel great to share the things I like to make!
How much time do you allot when planning all your gift sewing?
Planning gifts doesn't take a whole lot of time, because I have so many ideas for things I want to make, no matter what the occasion.  What takes time is paring the list down to something realistic in terms of time spent in making. I always have lists of gifts I want to make, and the list is way, way longer than what I could ever accomplish. However, I do have a list of individuals who I know will appreciate hand-sewn gifts, and those people are the most likely to be recipients. If I give someone a quilt one time, the next time around, they may receive a set of machine embroidered pillowcases or a set of quilted and/or embroidered placemats. So I go back to that project list repeatedly to vary the items people receive. It is sometimes difficult to estimate how long a project will take to complete. One rule of thumb for project management is that you estimate how much time a project will take, double that, and then add another 50%, and you'll come close to how much time it will actually take. Scary enough, this is a pretty accurate method and one I use often. It helps me avoid those middle-of-the-night, has-to-be-done-by-morning crunches that are not as much fun as when I was younger.
You mentioned sewing many quilts. Do you have a go-to size or style?
My go-to size of quilt is a throw (70″ x 80″ or thereabouts) since my ability to move large quilts about as I bind them is limited by arthritis. I also love to do larger (60″ x 60″) wallhangings for my own home (these are the ones intended to go to others after I am not around to enjoy them anymore. I call them my "Heritage Quilts," and they are displayed around my home). I have a bucket list of quilts I intend to finish in my lifetime. Most of them involve a lot of machine embroidery, something I have a passion for. I have all of my larger quilts professionally longarm quilted locally. The smaller items I quilt myself and I am working on gradually upping my free motion skills.
What was your favorite gift to give? (If you've already gifted it, can you share a picture?)
My favorite gifts to give are quilts for friends and family suffering from serious illness. Mostly they are for individuals going through chemotherapy or major surgeries for ongoing illnesses. If one of my quilts comforts the recipient even a little bit as they go through their intense suffering, then it makes me feel that I have sent perhaps just a small ray of light into their lives, something that might help them keep going or give them a moment or two of happiness during a dark and frightening time. Those quilts are usually backed with minky or flannel, so they will be soft. The battings are bamboo/silk, (which have antibacterial properties), and they are quilted to be very soft and snuggly.
My very favorite of these quilts was the first one I made. It was for the son of a friend, who was courageously fighting stage 4 colon cancer. I sent an email out to friends, asking for written prayers for his recovery to be sent to me, and they sent that request all over the United States. I got prayers back from several dozen people, some of whom were physicians who had never before heard of my friend's son. Some of the prayers were from children, who wrote prayers of comfort and courage for the children of the young man with colon cancer. I cut a piece of muslin the size of the finished quilt top, and I spent an entire day hand copying in permanent ink each and every prayer onto that piece of muslin. The transcription process was, for me, intensely spiritual, an unbelievably beautiful and hopeful experience.
The quilt sandwich was made with the prayer muslin facing outwards behind the quilt top so the prayers could be glimpsed through the lighter fabrics. I provided the family with a written copy of the prayers, so they would know what each one said. It was a simple quilt, because time was of the essence, but I know it comforted my friend's son in his last horrific days, and still comforts his children all these years later. It was a quilt that affected me very deeply, and I am so grateful I had the opportunity to give that particular gift. It was a perfect example of the reciprocal nature of heart-felt gift-giving: the giver is as truly uplifted as the recipient.
Next Month's Share Your Insight Question
Next Month's Question: Aside from quilts or curtains, what items do you sew for your home?
"Aside from quilts or curtains, what items do you sew for your home?"
 Submit your answer by Dec 10, 2017, using the form below, to be considered for our next month's Reader Spotlight.

Disclaimer: We may contact you to verify your answer. Your contact information will not be used for any other reason. Your submission to Nancy Zieman Productions, LLC, including contact information, gives us the right to modify, use, distribute, reproduce, publish, and display the submission indefinitely in all media, means, and forms without any payment to you. You hereby represent that you haven't copied the content from a book, magazine, newspaper, or other commercial source.
Happy Sewing,
Team Nancy Zieman
Nancy Zieman Productions, LLC.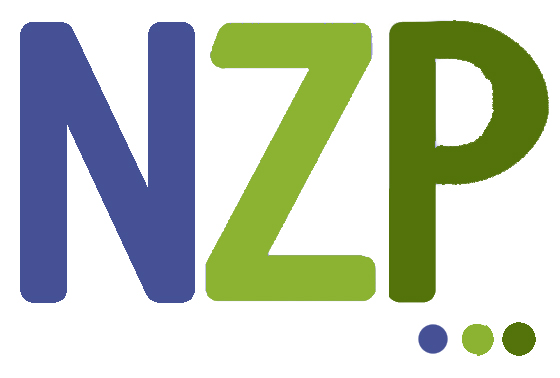 Content in this feed is © copyright 2017 by Nancy Zieman Productions, LLC. and may not be republished without written permission. You're welcome to forward the email to a friend or colleague but it's not okay to add the RSS feed automatically as content on a blog or other website. The FTC requires us to tell you that Nancy Zieman Productions, LLC has provided products by other companies in the course of doing business. The FTC requires us to advise you to take this information into consideration when reading this posting.
Make sure you are subscribed to Nancy Zieman Productions, LLC. enews mailing list so you won't miss a thing. Sign up here. Join Nancy Zieman and Friends on Facebook, plus a host of other social media channels. Connect With Nancy Zieman and Friends today!