Create a Garden Scene with Fabric

Two of my favorite hobbies are sewing and gardening. Almost 20 years ago, I was introduced to a quilting technique by Natalie Sewell, nationally known landscape quilt artist. Natalie and I became fast friends and schedule two–three quilting dates each year. During this three-part series, our goal is to simplify the process so that everyone interested can enjoy the pleasure of creating outdoor scenes in fabric.

How to Create a Garden Scene with Fabric
A great beginner's project is to create a close-up garden scene. Natalie's design, Summer Flowers, is what we used during the TV program as an example for choosing fabric, messy and fussy cutting, as well as designing with raw-edge appliqué.
Our book, Beginning Landscape Quilting, is a step-by-step guide for designing simple scenes. We're confident that you'll have great success.
First we start with an inspirational photo. We'll teach you how to study the photo, which will help in the fabric selection process.
Watch online and follow along in the book as we show you exactly how to create a garden scene. Below are the pages from Beginning Landscape Quilting featuring the steps to create a Garden Scene. It is a direct step-by-step guide, leaving no question as to what to do.
We can't help, but share a few of our scenes. Irises in my Garden is one of my early landscape quilts—I still enjoy looking at it!
How to Create Ground Cover
The next landscape quilting topic focuses on ground cover. I'm certain your eye focuses on the Dancing Maple in Natalie's quilt by the same name. The lively and spirited tree is the star of the design. Yet, without the interesting ground cover, the depth and dimension in the quilt would not be as impactful. If your inspiration photo features ground cover, we'd like to share with you the tricks of choosing fabric and designing that all-important landscape quilt element.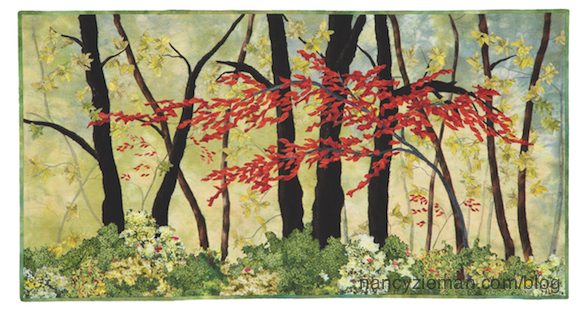 You'll learn that the inspirational photo is a starting point. Our quilts rarely, if ever, look like the inspiration. That's not the point!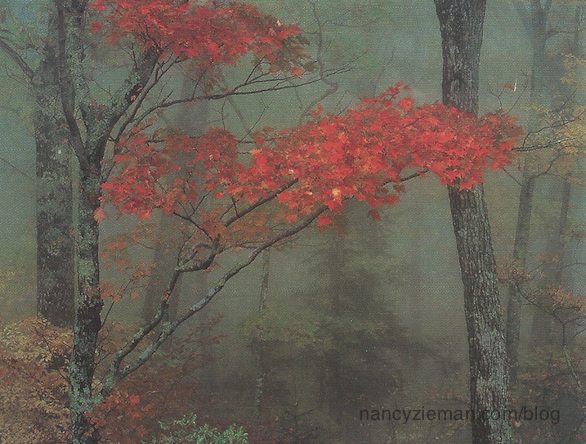 Dogwood by Natalie is another showcase quilt. I almost feel as if I could walk right into the woods!
My design, If Trees Were Teal, is more impressionist than realistic.

How to Create Background Tree Foliage
I am certain by now you realize you're learning to use fabric as paint and scissors as your paintbrush to capture nature in a wall hanging. Natalie's 
Autumn Birches
design combines many techniques we've already explained, with the exception of background tree foliage. Next learn the importance of the scale of fabric prints and the importance of really bad messy cutting to give the impression of distant trees. (Learn how to do really bad messy cutting when watching online).
The inspirational photo gave Natalie an idea of what fabric to choose.
Here's another showcase, September by Natalie. Okay, we like to share our work!
To watch Sewing With Nancy on your iPad, iPod Touch, or iPhone, download the app.
Now that you've seen how easy it is to dive into landscape quilting, which season would you most like to capture in landscape quilt imagery? Leave your answer in the comment section below to be considered for a copy of Beginning Landscape Quilting. One winner will be randomly selected.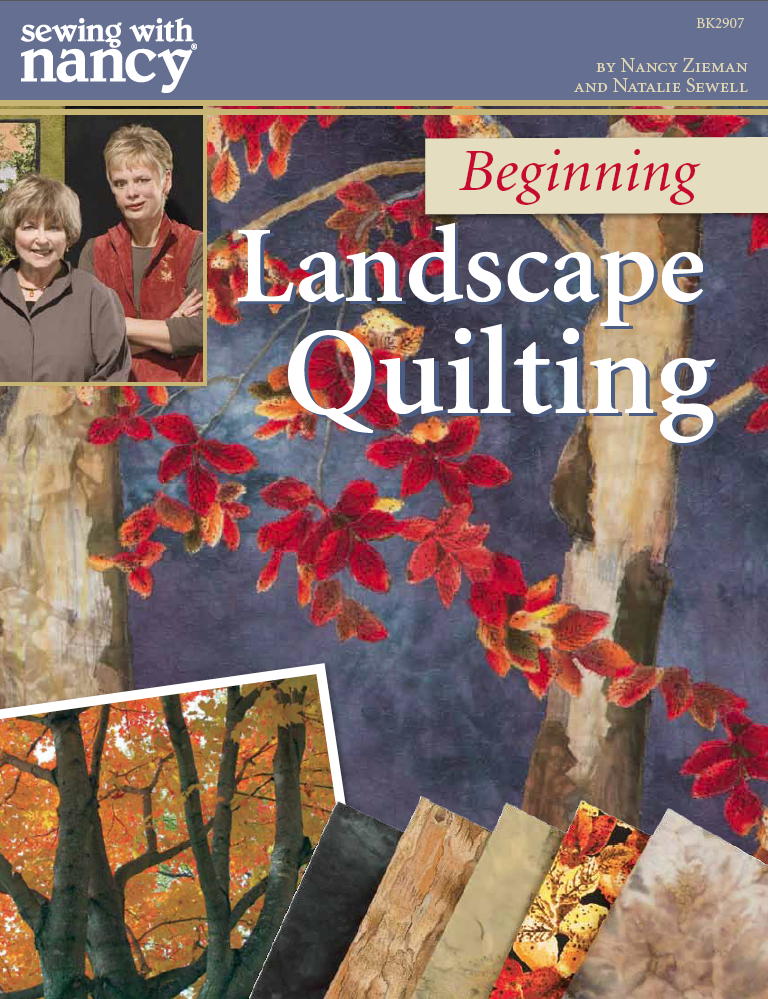 Bye for now,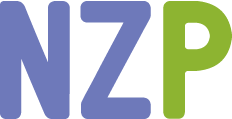 Content in this feed is © copyright 2015 by Nancy Zieman and may not be republished without written permission. You're welcome to forward the email to a friend or colleague but it's not okay to add the RSS feed automatically as content on a blog or other website.
Make sure you are subscribed to my enews mailing list so you won't miss a thing. Sign up here. Join us on Facebook, plus a host of other social media channels. Connect With Nancy today!