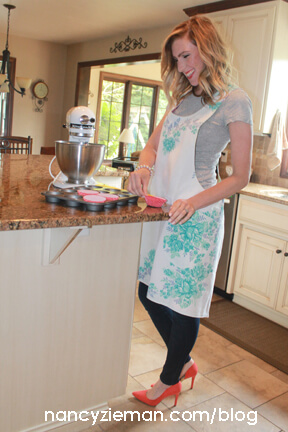 Sew a Speedy Reversible Apron – With No Ties!

Sew a quick, easy, and reversible Crisscross Apron ideal for wearing while baking, during a garden harvest, or for next weekend's BBQ! Today Mary Mulari shares her all-time most requested apron style! You can sew in an evening—with no strings and no ties!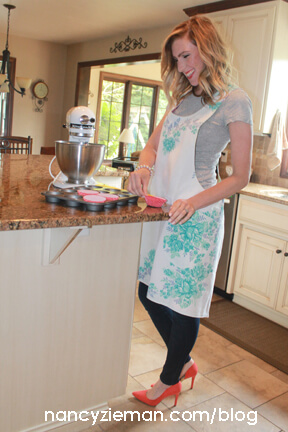 Photo credits and many thanks to Alison Zieman (photographer) Brittany Maher (model).
Supplies
Two 1 yard cuts of cotton quilting fabrics or batik fabrics
For years Mary received countless requests for a Crisscross Apron Pattern. Mary was stymied by thinking the pattern shape wouldn't fit on a one yard cut of fabric. She also couldn't think of a way to make it adjustable for different size people. Mary studied an old apron and realized the Crisscross Apron could be made from a one yard cut of fabric (actually two yards–because it's reversible!) and the shoulder band piece was the key to adjusting the apron size. Another adjustment opportunity is to narrow or widen the apron front. The pattern offers instructions and illustrations for both alterations.
Tablecloth & Fat Quarters
Tablecloth:  This was Mary's mother's tablecloth.  She "fussy cut" the pattern from the tablecloth and loves the way the front and back of the apron both show the floral pattern.
Fat Quarter:  It's fun to choose four coordinating fat quarters for one side of the apron.  Instead of meeting all four fabrics at one central point, Mary chose to offset the top and bottom pairs by 3″.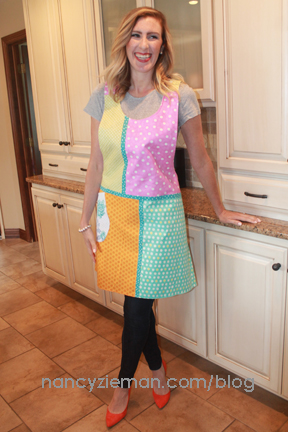 She also added 1″ strips of fabric between the fat quarters.
The pocket comes from the tablecloth side, but it could be cut from fabric remaining after cutting the apron from the assembled fat quarters.
Red and Yellow
Red side:  Mary used a different red print fabric on the shoulder bands so you can see this extra piece sewn to the apron. These bands can be cut and adjusted in length for apron wearers of any size.
Sometimes Mary sews on just one pocket and it would be the pocket for the dominant hand. All the lefties appreciate you thinking about them when you decide on where to place a single pocket!
Yellow side:  Mary thought this clever kitchen print was a great choice for the reverse side of the apron and it didn't need any further embellishment.

Black and Orange
Black side: Mary inserted narrow strips of orange fabric at the ends of the shoulder bands, just for a little trim.
Mary trimmed only one of the pockets and the other pocket blends into the printed fabric of the apron. If you've been following her apron patterns and suggestions through the years, you'll remember that she dosen't sew two contrasting fabric pockets to an apron because this detail draws the eye across the body at the hip and stomach level, and usually that's not the area we like to highlight. For a practical apron, she likes a dark background print to hide liquid or flour spills.
Orange side:  Wide rick rack trims the pockets and also the apron's bottom edge. Extending the rick rack beyond the fabric edges means that the rick rack can be seen from either side of the apron.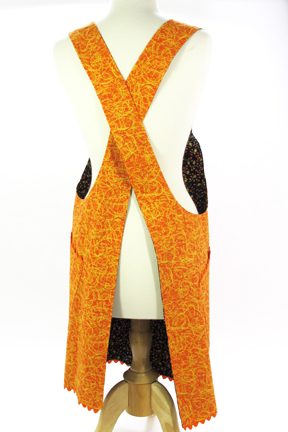 General notes to use if you wish:
Mary's apron patterns are printed on sturdy paper so they withstand many uses. There's a list area on the pattern where you can write the recipients' names and the dates of the aprons you make from the pattern. It's always fun to read the list and jog your memory.
Reversible aprons continue to be a favorite gift at bridal showers. For a coordinating gift, she enjoys trimming a kitchen towel with leftover fabric from the apron.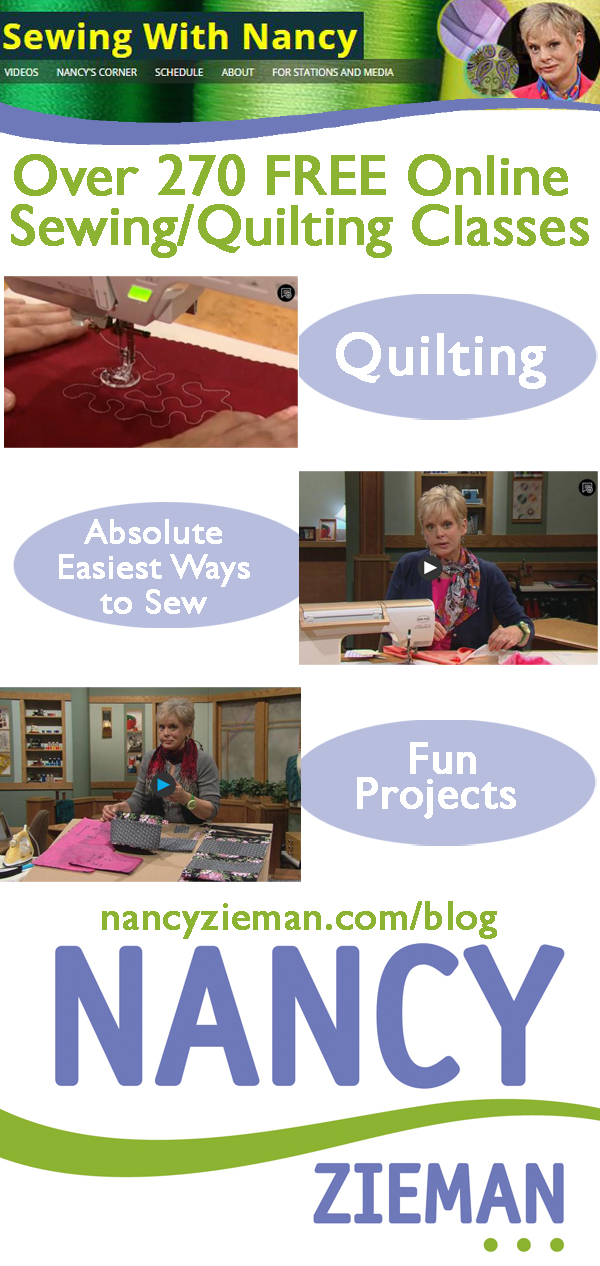 Happy Sewing,
Team Nancy Zieman
Nancy Zieman Productions. LLC.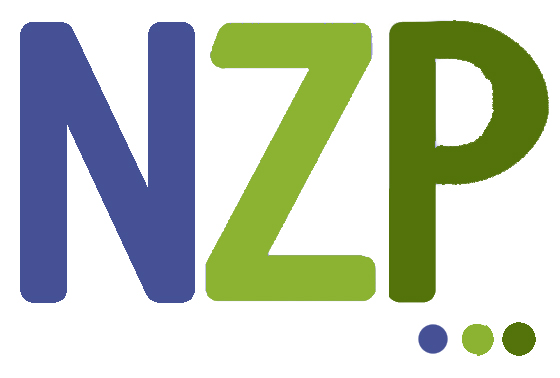 Content in this feed is © copyright 2018 by Nancy Zieman Productions, LLC and may not be republished without written permission. You're welcome to forward the email to a friend or colleague but it's not okay to add the RSS feed automatically as content on a blog or other website.
The FTC requires us to tell you that Nancy Zieman Productions, LLC has provided products by other companies in the course of doing business. The FTC requires us to advise you to take this information into consideration when reading this posting.
Make sure you are subscribed to Nancy Zieman Productions, LLC enews mailing list so you won't miss a thing. Sign up here. Join us on Facebook, plus a host of other social media channels. Connect With Nancy and Friends today!