Sew a So-Cool Picnic Tote

It's that perfect time of year for toting food to picnics and cookouts. Whether you are planning a family outing for the day or packing the car for a road trip, this modified Weekender Tote will keep hot foods warm or chilled foods cool. Here's how to make a personalized insulated tote. Simply modify my instructions found in Sew Simple with Rectangles & Squares by using double-quilted fabric lined with Insul-Film. In an afternoon, sew a So-Cool Picnic Tote. The large bag holds everything you'll need and still stores flat when you are finished.
Modifying the Weekender Tote Instructions
The Weekender Tote instructions are based on a simple rectangle design, featuring double-sided quilted fabric. The dimensions for the tote are listed in the book, Sew Simple with Rectangles & Squares.
Cut out the rectangles from the quilted fabric, using a rotary cutter, ruler, and mat.
Assemble and attach the pocket and straps, following the instructions in the book.
Now, it's time to modify the instructions.

Seam the Insul-Film. The

Insul-Film

will not be wide enough for the Weekender Tote's required sizes.
Use Wonder Clips

, instead of pins,

to hold the Insul-Film together.
Stitch a 1/4″ seam through the Insul-Film using a

Teflon Presser Foot

, which will allow the foot to slide over the film.
Note from Nancy: I recommend a size 

70 Klasse sewing machine needle

when sewing through the Insul-Film. The small-sized needle will not create large holes in the Insul-Film. 
Lay the Insul-Film on the inside of the bag base.
Use Wonder Clips to hold the film in place around the outer edges.
Baste around the bag base perimeter to secure the Insul-Film.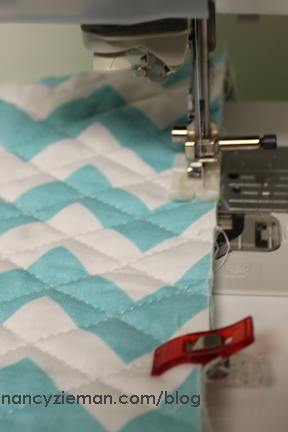 Continue to follow the Weekender Tote instructions to complete the bag, making sure to use Wonder Clips when applying the zipper.
Learn how to create the original Weekender Tote. Watch Sew Simple with Rectangles & Squares online.

The random winner of a Hot and Handy Projects book was Joyce who said, Pot holders and placemats make nice gifts. I enjoyed reading the comments about your favorite sewn kitchen accessory after last week's blog, How To Sew a Quick Pot Holder. 
Bye for now,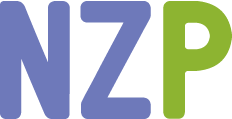 Content in this feed is © copyright 2015 by Nancy Zieman and may not be republished without written permission. You're welcome to forward the email to a friend or colleague, but it's not okay to add the RSS feed automatically as content on a blog or other website.