Easy to Sew Travel Bags with Quilted Fabric

"I like to sew but I really don't have the time." Sound familiar? My Sewing With Nancy three-part series, Sew Simple with Rectangles & Squares, addresses streamlining the process. Change the way you think about projects and patterns. Everything demonstrated is simply cut from rectangles and squares!
The Travel Trio
During this first episode, learn how to create a weekender tote, cosmetic bag, and luggage saddlebag. This travel trio is made using comparable sewing steps, straight stitching, and double-sided quilted fabrics.
Cosmetic Bag
Even if you've never sewn before, you can stitch this bag!
Weekender Tote
After learning how to make a simple cosmetic bag, apply many of the same sewing steps to create a Weekender Tote. It's a super-sized cosmetic bag with the addition of sturdy straps and double pockets.
Luggage Saddle Bag
For ease of travel, make a saddlebag for your carry-on luggage or rolling case. Two sizes of bags are attached with connector straps.
When not using this handy accessory on your luggage, zip the bags together and it's a handy shoulder tote.
Sewing With Nancy Trivia—This photo was quickly taken on the Sewing With Nancy set. Notice the tape on the floor? Those are the positioning marks for my chair in the Nancy's Corner area. We had to move the chair in order to take the photo. Now you see how we keep all our props and furniture in the right place!

All the projects featured in the three-part series, plus a bonus, are included in the book, Sew Simple with Rectangles & Squares.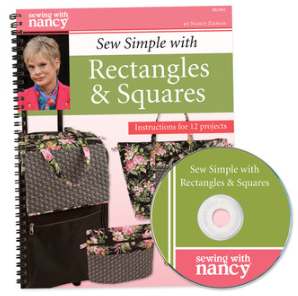 Bye for now,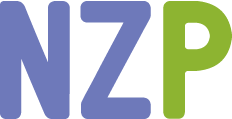 Content in this feed is © copyright 2016 by Nancy Zieman and may not be republished without written permission. You're welcome to forward the email to a friend or colleague but it's not okay to add the RSS feed automatically as content on a blog or other website.
Make sure you are subscribed to my enews mailing list so you won't miss a thing. Sign up here. Join us on Facebook, plus a host of other social media channels. Connect With Nancy today!