Easy, Contemporary Rope Sewing Projects

Sewing yards and yards of cotton rope or clothesline cording together to create baskets, trivets, or bags is not a new technique. Nancy's guest for this next series creates multifunctional baskets, bags, and coasters for the modern home. She learned to sew at a young age, started a business during high school, and continues to create all the projects for her business while studying Environmental Sciences at the University of Cincinnati. Welcome Lindsey Zinno, who will inspire us with her reinvented rope sewing projects. Watch the first in this two-part series Rope Sewing Reinvented on Sewing With Nancy.
Find everything you'll need to complete these projects in this Rope Sewing Reinvented Starter Kit from Nancy's Notions.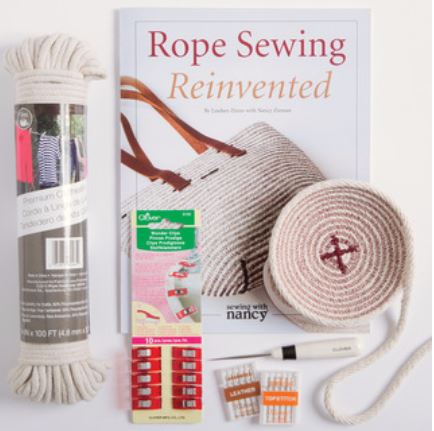 The Coaster Basics
The coasters show Lindsey's simple, yet functional style, using uncovered cotton rope—it's the first project we'll show you how to make. Use uncovered natural clothesline rope to create a more contemporary design with a traditional technique. Colored thread gives a stylish look. Learn what supplies and techniques Lindsey uses on today's new episode of Sewing With Nancy.
Mini Dishes
The next step to rope sewing is making vessels, this mini dish can be used for keys, jewelry, garlic, potpourri, or even to tidy up your desk. Use mini dishes for lavender buds and bobbins. Lindsey shares how she creates the mini dish with decorative details on Rope Sewing Reinvented.
Oval Tray
Once you've mastered the art of shaping a rope vessel, learn to experiment with the design. Lindsey's Oval Tray is purposeful, while having a modern, artistic style. The angle of stitching determines the vessel shape and the inclusion of rope handles increases the functionality. Watch Nancy and Lindsey create this design on Sewing With Nancy.
Rope Sewing Reinvented Book with DVD
Clothesline Rope
Topstitching Needles, Size 100
Leather Needles Assortment
Stiletto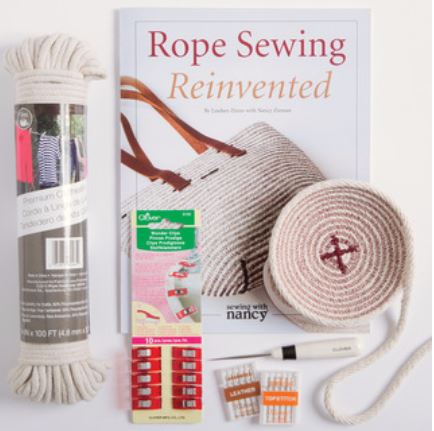 For a chance to win a copy of the Rope Sewing Reinvented Book and DVD from Nancy's Notions, leave a comment sharing which rope project you'd enjoy making.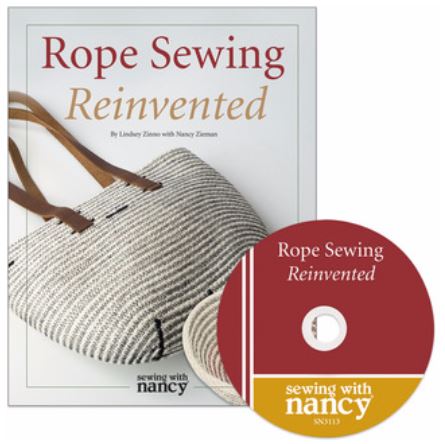 The randomly selected winner of a copy of the book, The Absolute Easiest Way to Sew  from the July 3 post is Shirley C.
Her comment is: That book looks like a must-have for me as a busy grandmother keeping active kids busy all summer—sewing projects that are fast and easy to make.
Happy Sewing,
Team Nancy Zieman
Nancy Zieman Productions, LLC.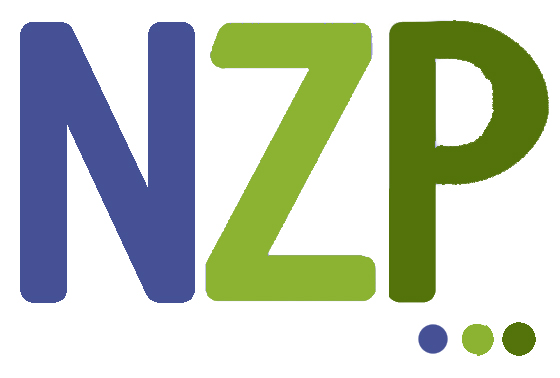 Content in this feed is © copyright 2018 by Nancy Zieman Productions, LLC and may not be republished without written permission. You're welcome to forward the email to a friend or colleague but it's not okay to add the RSS feed automatically as content on a blog or other website.
The FTC requires us to tell you that Nancy Zieman Productions, LLC has provided products by other companies in the course of doing business. The FTC requires us to advise you to take this information into consideration when reading this posting.
Make sure you are subscribed to Nancy Zieman Productions, LLC enews mailing list so you won't miss a thing. Sign up here. Join us on Facebook, plus a host of other social media channels. Connect With Nancy and Friends today!