What Sewing Supplies Do You Take on a Trip?

When you travel, what sewing supplies do you take on the trip? That's the question I posed earlier this month, via this blog,  Facebook, and Pinterest. The responses to the question ranged from practical to clever. Enjoy the selected responses, plus a spotlight on one of my followers.
Below, be sure to check out October's Share Your Insight question and if you'd like, submit a response. Enjoy!
When you travel, what sewing supplies do you take on the trip?
Here's what you are saying: Hand sewing projects rule the travel packing list with hexagons and hand embroidery being the top two favorites. Many of you have "grab-and-go" boxes already packed with a specific list of core tools, too. Great idea!
Grab and Go Box
"I travel with a school pencil box with small scissors, needles, pins, small ruler, and marker.  I have fabric pieces already cut to sew by hand for a quilt.  Currently it is for an apple core quilt but is ready for any hand work I want to take along.  We mostly travel by car."—Connie Jordan, Marysville, OH
Itemized Sewing Box List
My simple sewing box contains:
a "good" 6″ scissors
a pair of stork scissors on neck ribbon
magnetic pincushion/wrist band
nonrust pins
hand sewing needles in a tomato pincushion
6 spools of thread or filled bobbins (white, black, navy, brown, off-white, and whatever the color of my current project)
box of safety pins
box of small shirt buttons
chalk
hem gauge
seam ripper w/cover
bodkin
retractable tape measure
 ½ " Stitch Witchery roll
a few ½" circles or strips of Velcro.
—Rebecca McKenna, Lakewood, OH
Sewing Saves Sanity
"I take whatever is necessary to keep my sanity. If we go to the lake for a week, I'd take my machine and a project that I need to sew.  If I'm flying somewhere I take hand projects. I always have every kind of sewing on the go."—Cindy Szoke, Brantfod, Ontario, Canada
Limitless Hobbies
"When I travel I take a sewing machine, fabric, and everything else you always need. We travel in a van so we can both take our machines, wood burning equipment, jewelry making equipment, etc."—Suzy Bubnell, Salem, VA
Depends on the Trip
"What I take along when I travel depends on how long we will be gone.  Just short trips, I may take some knitting or hand work to do in the car. If I am going on a hunting trip with my husband, I will take my sewing machine and projects to do while he is hunting."—Delores Peterson, Cadillac, MI
Repairs and Utility Sewing
"We travel by camper 99% of the time. I always take a small sewing machine. Any number of things can come up that require sewing, such as repairing a camper curtain, fixing a pant rip or sewing on a button. I take a vintage, portable machine with zigzag and stretch stitch capability—a lovely 1970s era Singer Genie. It took me a couple of years to find it, but so worth it. It is a very lightweight, all-in-1 solidly built machine with a protective shroud that slides over the machine head and has a cubby for cables, foot control, and accessory box. No need for a heavy case as it has a built in handle."—Irene Scott, Dryden, NY
"We often travel to Dubuque, IA, to spend time in our boat on the Mississippi River. I have enough room in the 36′ boat to do sewing and crafting. When there is a bigger project to repair for the boat I can take my sewing machine and supplies to the community room provided at the marina. I pack everything in a carrying case with a divider for smaller items. That way I can keep track of my notions in one place. I might as well add that if there's room in the case I will throw in items like painter's tape, Steam-A-Seam and an extra light. I've repaired canvas and curtains on the boat and made covers for the side bumpers. For fun I've sewn pillows, pillowcases, a table cover, and a lamp shade. I'm glad that my hobby is useful, portable, and ready to cruise!"—Lynn Sterud, Madison, WI
Quilt Shop Directory
"I take my book with many fabric/quilt shops listed so I can visit as many as possible. I always find something unique in each place I visit. I do not sew while traveling since we sold our RV, but love to shop for sewing items at these stores and thrift shops. I found a Singer Featherweight machine for $150.00 in one of the thrift shops."—Joan Michelbrink, Prescott, AZ
Charity and Outreach
"For road trips, even just a few hours, I take charity quilts to bind. Very few supplies are needed."—Marcia Wood, Dallas, TX
Technology and Inspiration
"I take my sewing magazines on my Nook and have a place to take notes if I'm inspired."—Kathy Kuhnle, Colorado Springs, CO
Sewing in the Hotel Rooms
"On occasion I have taken my sewing machine with us so I can sew in the hotel room during our downtime or rest breaks such as when we visit Las Vegas. I never travel without a sewing project along."—Lillian Sablan, Bayside, WI
Pack Everything!
"I pack everything I can for sewing when I travel!  We went to Myrtle Beach this summer with kids, grandkids, and one great-grandchild, and I took a basic sewing machine, pieces of a Christmas quilt I have been working on for at least 2 years, and a couple of other UFOs. I actually finished the 35 blocks for the quilt!"—Karen Tucker, Margate, FL
Planned Sewing/Quilting Kits
"I try to 'kit up' projects to take along when we travel with our motor home. I have a modern sewing machine and a vintage handcrank sewing machine with me. I have a fishing tackle box with thread, bobbins, presser feet, scissors, pins, etc. I have a ruler bag with ALL my rulers, a small cutting mat and rotary cutter. An iron and ironing mat and a small folding table complete my setup. Last winter I completed two quilt tops and completely pieced a lap quilt using the handcrank, while on our winter getaway. Sewing outside with a handcrank while parked at an RV campground guarantees you will meet many of your fellow campers—and some of them will be quilters also."—Anne Oelke, Montello, WI
Three Smart Items
"I have two things, well, three! My very small sketchbook/notebook.  Inside the notebook are my measurements, fabric needs, and yardage for any at-home projects, and notations of items I may need to complete a garment or other project. There is a tape measure as well. Then, if I 'thrift shop' or find a new fabric store, I will be ready. I also have teeny swatches of fabric (stapled to the inside of the notebook) that I have used and liked—or hated—to better help me as I decide on new fabrics. Most of our trips are via car, and I am the passenger—then I spend a lot of time in waiting rooms. So, I also carry tiny, portable embroidery projects to work on while waiting. Christmas ornament projects are especially good for travel!"—Ruthann Yeaton, Rochelle, IL
September Reader Spotlight:
Joan Zamojcin's Answer
"When I travel, I bring my credit cards, and I always leave room in the trunk of the car for fabric I buy on the road. I bring patterns or yardage amounts stored on my phone, along with a list of window sizes, table sizes, etc., in case I see something I love in a fabric store. My husband now notices billboards and signs advertising fabric stores, mill stores, and warehouses. He thoughtfully always has a book in the car to keep him busy while I shop. I have begun to consider bringing along a sewing machine to fulfill the occasional request from kids and grandkids for a mending job or a curtain to shorten. Recently I purchased a machine at an estate sale that I could put in the car. As always, your devoted follower."—Joan Zamojcin, Holly Springs, NC
What types of fabrics do you seek out when traveling?
Unless I have a specific project in mind, I look for any type of fabric that catches my eye. I frequently sew gifts for my four children and have a pretty good idea of what their colors are for placemats and table runners. Some things I make frequently—purses, table quilts, table cloths, and kitchen quilted objects—so I  seek out appropriate fabrics. I also love to work with polar fleece—easy, quick, and forgiving.
Describe your favorite hostess gifts.
My favorite gift is a microwave pot holder. Since they are not usually available in stores, friends are excited to receive them and frequently hint for more! I use the
Micro-Safe Hot Holders
pattern, but admit that I have modified it to avoid making the bias tape finish.
What types of sewing/quilting projects do you lean towards?
In the past I made all my clothes and many for grandchildren. Now that I am retired and clothing is much more affordable than years ago, I do more robes, shawls, and ponchos.
I have done a few twin quilts, but I like more "instant gratification." One could say I lean towards "requests" or "suggestions." I have recently become enamored with paper piecing as well.
When did you start sewing and how has it developed now that you are a seasoned traveling shopper?
I started to sew (self-taught) when I was 23 and pregnant. Back in the day, before stretch panels were invented, maternity slacks and skirts had a hole in the front and a fabric tie to keep them on. I am 5'8″ tall, and I found that the tops were too short to cover the hole in the front of the skirts and pants, embarrassing for sure! I decided I needed to make my own tops. I had an old Singer Featherweight from my mom and just plowed ahead. They may not have been picture perfect, but my big belly didn't stick out. From there, I started to sew for my kids to save money.  I took a course on Public TV called A Bit with Knits, taking vociferous notes. I taught myself how to sew T-shirts, pajamas, and all that good stuff for my now growing family.
Featured photo courtesy of McCall Pattern Company, Pattern M6668, designed by Nancy Zieman.
October Share Your Insight
Question
October Question: What gifts are you sewing for the holidays?
Submit your answer by October 14, using the form below, to be considered for our October Reader Spotlight.
Disclaimer: We may contact you to verify your answer. Your contact information will not be used for any other reason. Your submission to Nancy Zieman Productions, LLC, including contact information, gives us the right to modify, use, distribute, reproduce, publish and display the submission indefinitely in all media, means, and forms without any payment to you. You hereby represent that you haven't copied the content from a book, magazine, newspaper, or other commercial source.   Photo credit: McCalls Pattern Company M6668, Cell Phone Pouch, Laptop/Tablet Sleeves, and Luggage Bags were designed by Nancy Zieman.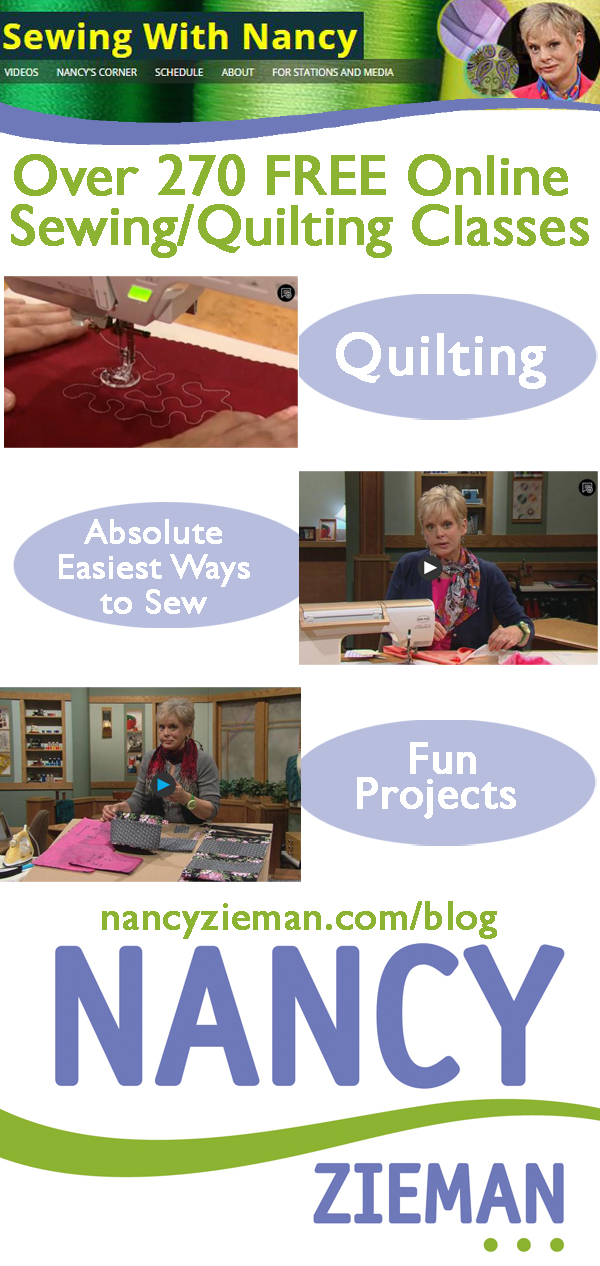 The random winner of a copy of The Absolute Easiest Way to Sew book is Lynn Again. Lynn said: "Even though it feels like 'cheating,' I like to use the fusible hemming tape to hem lots of items. I hemmed a pair of jeans this way 5 years ago and it still holds and looks great!"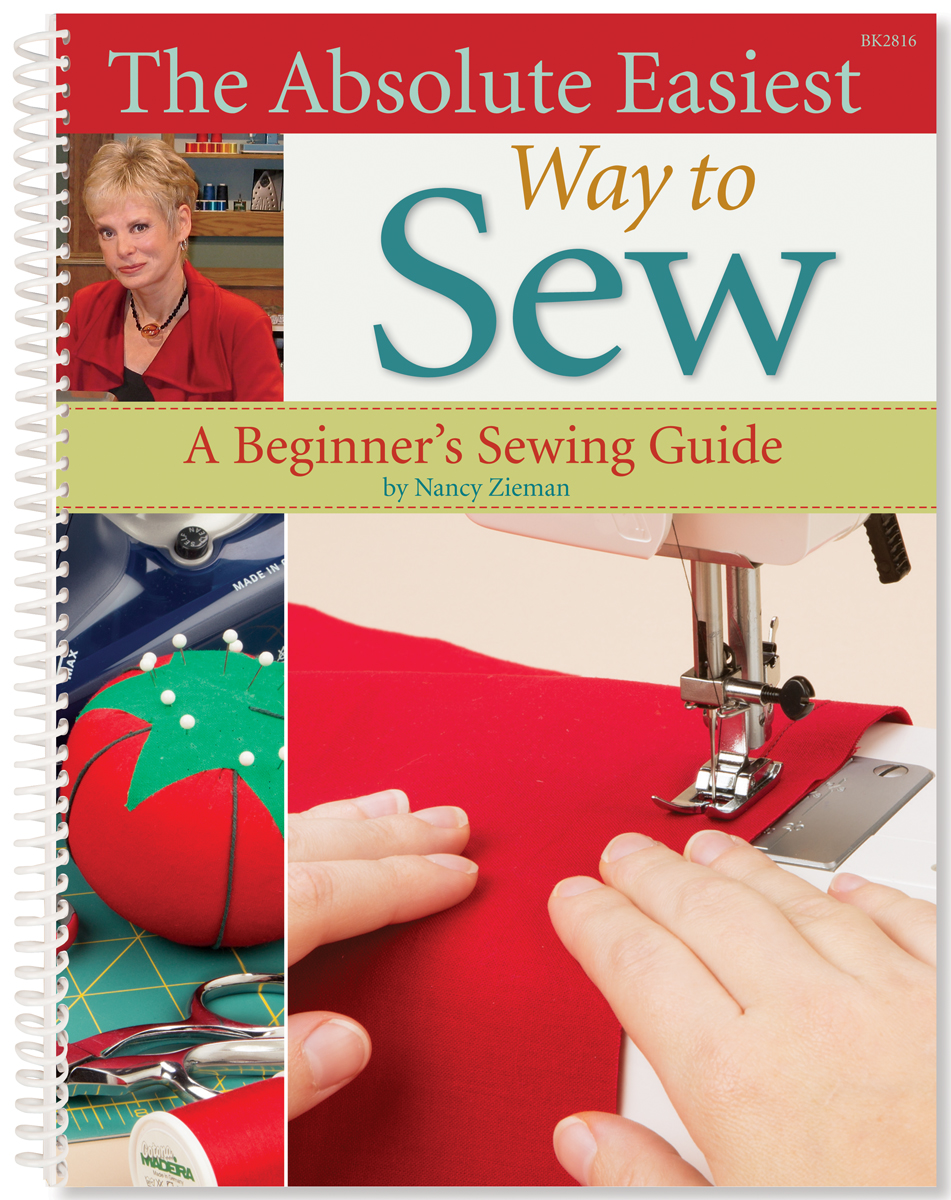 Bye for now,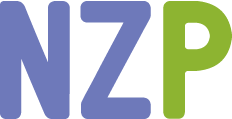 Content in this feed is © copyright 2016 by Nancy Zieman and may not be republished without written permission. You're welcome to forward the email to a friend or colleague but it's not okay to add the RSS feed automatically as content on a blog or other website.
Make sure you are subscribed to my enews mailing list so you won't miss a thing. Sign up here. Join us on Facebook, plus a host of other social media channels. Connect With Nancy today!