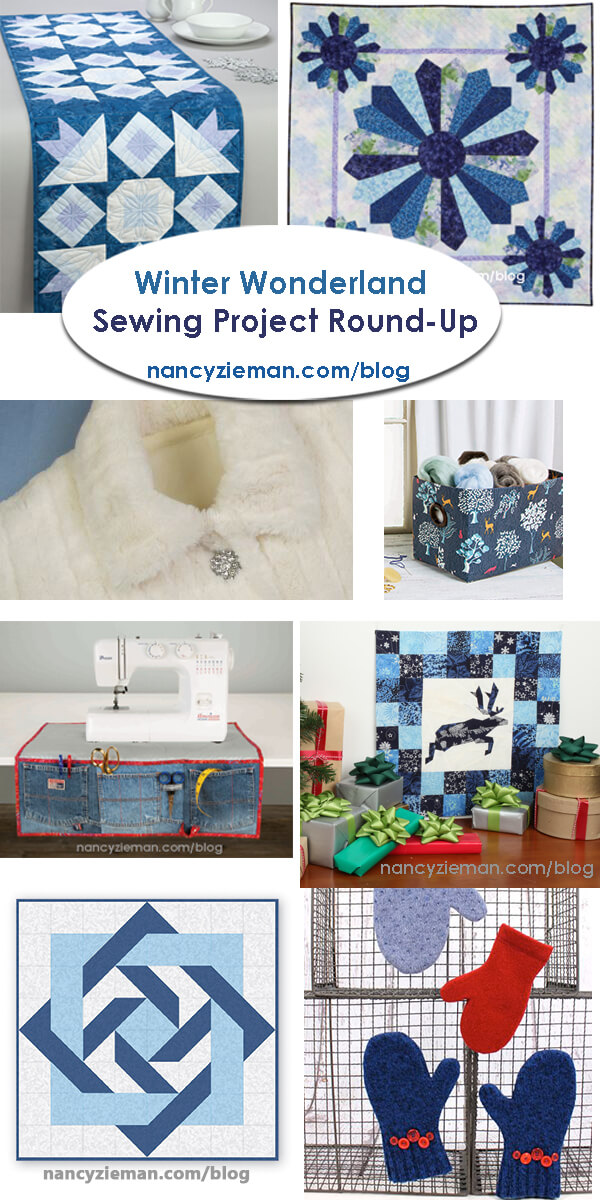 Winter Wonderland Project Roundup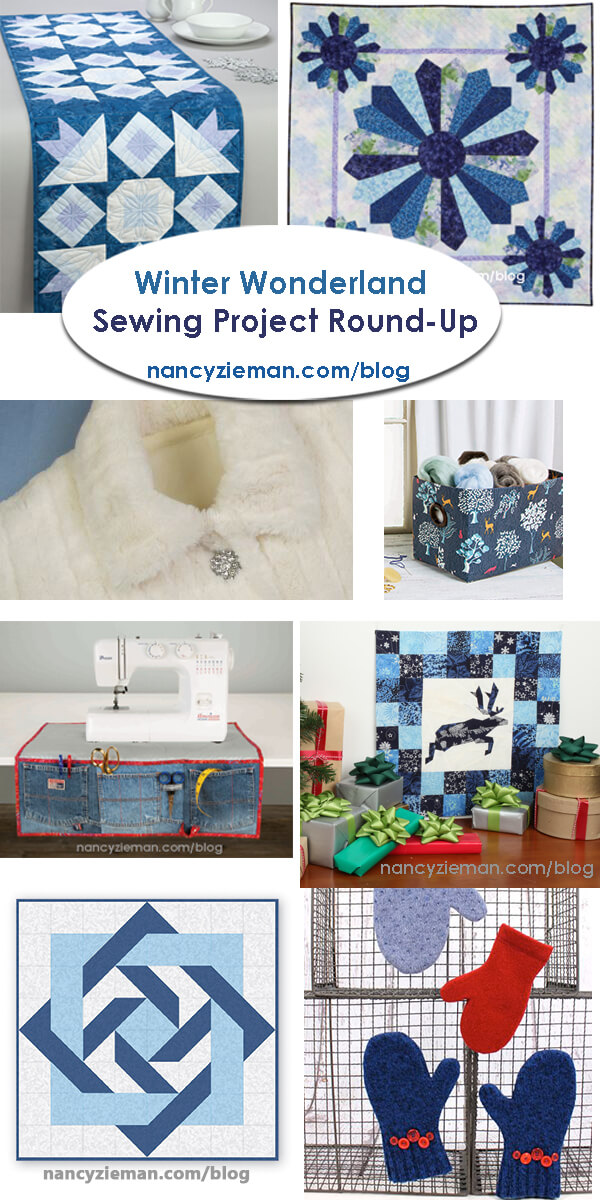 Stay warm inside while making these Winter Wonderland sewing, quilting, and embroidery projects. You'll find blue and white-themed, comfortable and cozy projects in each of the linked posts below. All skill levels and project types are represented so you can jump right in!
Quilt and Embroider with a Flurry of Snowflakes!
Novice or expert, quilting is always an exciting adventure. With so many techniques and styles to choose from, it can be tricky to master precision piecing, until now. Let your embroidery machine do the work for you! By using the software in the Flurry of Snowflakes embroidery bundle, you can easily create quilt blocks and finish the design with outline quilting motifs. Nancy shows you the step-by-step process on Stress Free Quilting with Machine Embroidery on Sewing With Nancy. Find out more here.
Sew a Super-Sized Dresden
Start with an approachable lap-size quilt pattern and make a larger, bed-size quilt. The larger Dresden appliqués can be stitched in approximately the same amount of time as smaller blocks, one of the bonuses to super-sizing your quilt blocks. The beauty of this template is that a Dresden Plate block can be made as small as 12″ or as large as 40″—a total of six sizes. Read more on the Super-Sized Dresden blog post.
Foundation-Piece a Festive Reindeer Block
This fun paper-piecing project is much simpler than it looks! Sew a 16″ x 16″ (finished) block to turn into a holiday pillow cover or wall hanging. You may even choose to omit the patchwork border to create a pot holder, or make a few blocks to incorporate into a quilt. Download the pattern here, and see how easy this reindeer is to stitch.
 Sew with Faux Fur
Have you ever sewn with fake fur? A few years ago, when Nancy made a faux fur cape—for her niece to wear on her wedding day, she knew it was time to brush up on that particular sewing technique. You see, the wedding date was in winter and the location—Wisconsin. A faux fur cape would be the perfect coverup to wear between the church and the reception, providing the outside temperature remained reasonable. Nancy and her husband were married in January, and the high temperature that day was -10 degrees! Winter weddings are somewhat of a family tradition. Turns out, we all like to live a little on the edge. Grab the faux fur sewing tips here.
Illusion Quilts Made Easy: Slip Knot Quilt Pattern
There's something magical about quilts. Perhaps it's the creative process of selecting color combinations, arranging the blocks to create an overall pattern, or simply enjoying the satisfaction of a well completed project. Illusions Quilts allow quilters and sewists to experiment with hues of color and arrangement of blocks to trick the beholder's eye into believing the illusion. Based on half-square triangles (HSTs), the illusion quilts are easy to sew and to enjoy. Make yours today.
Sew Green Makeovers: Mittens
Sew mittens for everyone in the family with the multi-size patterns included in Sew Green Makeovers. Mittens are easy to sew from two layers of felted wool. When the mittens are cut out and turned right side out, a little bit of steam pressing will flatten the seams and the mittens are ready to wear on either hand. Sewing With Nancy guest Mary Mulari will show you how here.

10-20-30 Minutes to Sew: Double Duty Mat
When you need flexibility in sewing, create the Double Duty Mat to use as a sewing station and pressing mat. First the sewing station: Set the machine on the largest portion of the mat, which provides a handy area of notions to be stored directly below the mat. Or, slide the mat to a flat surface and use as a pressing area, again with storage options. Outdated jeans provide the stability and pockets for this upcycled project. In part two of this Sewing With Nancy TV mini-series, 10-20-30 Minutes to Recycle Jeans and in the book by the same name, Nancy Zieman demonstrates how easy it is to create this mat.
Sew Simple with Rectangles and Squares Round Up
As you may already know, Nancy Zieman's approach to sewing involves streamlining and simplifing the sewing process. Making projects faster and more efficient frees up valuable time, and everyone could use more time! One of Nancy's most popular Sewing With Nancy three-part series, Sew Simple with Rectangles & Squares (Part One, Part Two, and Part Three), addresses streamlining the sewing process. Change the way you think about projects and patterns. Everything demonstrated is simply cut from fabric rectangles and squares!
For a chance to win a Clover's Trace 'n Create Quilt Template—Dresden Collection by Nancy Zieman, please leave a comment below, sharing your favorite winter sewing or quilting project.
Happy Sewing,
Team Nancy Zieman
Nancy Zieman Productions. LLC.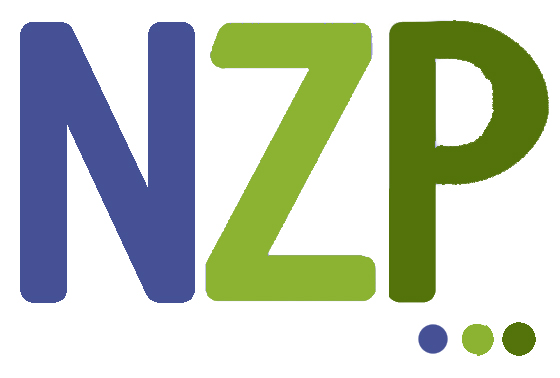 Content in this feed is © copyright 2018 by Nancy Zieman Productions, LLC and may not be republished without written permission. You're welcome to forward the email to a friend or colleague but it's not okay to add the RSS feed automatically as content on a blog or other website.
The FTC requires us to tell you that Nancy Zieman Productions, LLC has provided products by other companies in the course of doing business. The FTC requires us to advise you to take this information into consideration when reading this posting.
Make sure you are subscribed to Nancy Zieman Productions, LLC enews mailing list so you won't miss a thing. Sign up here. Join us on Facebook, plus a host of other social media channels. Connect With Nancy and Friends today!