What's Your Favorite Sewing or Quilting Process?

Earlier this month I asked, via Facebook and Pinterest, for you to share your favorite sewing or quilting process.  My staff and I chose several of the many responses, plus a spotlight on one of my followers.
Be sure to check out June's Share Your Insight question below, and if you'd like, submit a response. Enjoy!
What's your favorite sewing or quilting process?
Here's what you are saying:
Company
"Sewing and quilting with my 5-year-old granddaughter."—Jearit, Seattle, WA
Gifts and Generosity
"I enjoy making wristlets and key fobs to give away."—Beverly Morten, Baltimore, MD
Inspirational Therapy
"I love appliqué!  I started quilting after my cousin sent me a quilt that she made. I was recovering from having four strokes. When I looked at the quilt she made me, I knew what my NEW therapy was going to be.  I looked at dozens of books and found that I really liked the appliquéd quilts the best. I started my first quilt using an appliqué technique and also doing everything with my stroke-affected hand.  It turned out somewhat well and I have been doing it ever since. My arm is now recovered! "—Michele Mann, Madison, WI
Garment Piecing
"I love the process of sewing my cut out pieces together, and watching a garment take shape. There is a Zen quality to the simple process of running the seams through my machine and a sense of self-worth when it is done."—Carla Taylor, Bend, Oregon
All-Encompassing Enjoyment
"I enjoy every part of the process. Maybe the planning is my favorite part: which pattern, which fabric, what style changes, etc. I also enjoy the cutting and sewing, too. Of course, I really enjoy wearing what I've made or seeing the face of the person I've made the gift for!"—Charlotte Trayer, Mountlake Terrace, WA
Fabric! Fabric! Fabric!
"Picking out the fabric is my favorite part of the sewing process. I sew for my nieces, and I love the process of finding fabrics, patterns, and their favorite colors to make them a piece of clothing, purse, or doll clothes."—Connie Caudill, Springfield, MO
Sweet Sounds
"I love the hum of the machine as it stitches along. With the completion of each seam, I get closer to seeing the results of the effort invested in creating the project. "—Ellie Donald, Catonsville, MD
Free-Motion Quilting
"My favorite quilting process is free-motion quilting on my domestic machine.  However,  my favorite sewing process is embroidery.  I love how both give me a sense of creativity. Each time I use one of these processes, I learn new skills. I love learning new things, don't you? "—Doreen Hersh, Wichita, KS
Accuracy
"Doing it right the first time. Oh, what bliss!"—Judy Englis, Portland, OR
Big Finishes
"My favorite by far is completing a project. For example: taking the last few stitches on a quilt binding and then placing it onto a bed or seeing the look on the face of my seven-year old granddaughter when I show her the latest princess dress-up gown finished."—Judy Englis, Portland, OR
Hand Quilting
"I must be the black sheep of the family, I guess—I love hand quilting. I've even purchased tied quilts that have interesting blocks and hand quilted them if I didn't have a project almost ready for quilting."—Karole Walla, Big Timber, MT
One-Seam Flying Geese
"One Seam Flying Geese is my answer! I used to hate making Flying Geese until I saw a YouTube video by Ricky Tims demonstrating one seam flying geese it has changed my life! After finding a finished size cutting guideline, I can take any pattern using traditional construction and convert it to the one seam."—Kay Jinks, O'Fallon, MO
Beginning and Endings
"I love quilting from the beginning to the end of each project!  Strangely enough, it is the beginning and ending that I most enjoy.  Choosing my fabrics is so much fun for me—that mixing and matching challenge is such a delight. The ending process of putting on the binding is so rewarding and exciting, knowing that my project is almost finished! All the in-between parts are lots of fun, also."—Kathy Biciocchi, Weldon Spring, MO
Templates
"It's funny you asked… Yesterday as I had your Hex Twist template in hand, and I found myself saying 'Thank you, Nancy, for bringing me such pleasure.' When I follow your instructions everything fits! I just made a couple of 3D blocks from the hex twist template and they look like a small box inside of a larger box. Nancy, your tip on starching saved me so much frustration! By the way, whenever I see a quilt pattern, that could be made using a template of yours, more times than not you'll hear me say, 'Hey, that's a Nancy,' when I spot the block."—Kate Aitken, Cushing, OK
Piecing
"Piecing the blocks. I love to see them come together."—Nancy Toney, Kihei, Hawaii
Sewing Clothing and Accessories
"Clothing and accessories are my picks. I like watching your shows as your methods make sense, are simple to follow, and have beautiful results. I need a group that deals with clothing construction since I enjoy others' company."—JeannieSue Anderson, Glyndon, MN
Heirloom Sewing
"I am completely in love with heirloom sewing and I love putting in a Dresden plate pattern.  I have used beautiful embroidery, cutwork, puffing, lace shaping, reverse appliqué, pintucks with embroidery, lace sewn to lace or material, and entredeaux insertion between the petals of a Dresden plate.  I am working on smocking by machine to add to the petals."—Lee Wilson, American Fork, UT
May Reader Spotlight:
Shirley Haag's Answer
"I'm whimsical, so I like to put my thoughts together and think of whom I might be making a quilt for.  Then, I use colors we both like, find a pattern, and do my own variation. I always add a kitty to the quilt, as I love kitties.  I've gone from painting to making quilts, and I love them both."—Shirley, Portland, OR
You mentioned painting as a previous hobby. Does that skill add to your quilting design work? 
Yes, oil painting definitely plays a part in my quilting.  I always have to add my own artistic touch, even if it is a class project.
Where do you find sewing inspiration?
An inspiration for quilting, as with any art, is whatever is around you, magazines, or pictures you have taken, mine or those that others have taken.  Landscapes are my favorite. I give most away; so I think of the person who is going to receive the item.
On a scale of 1 to 10, how big is your fabric stash? And, do you have a favorite piece? 
I would say a 2 in comparison to my best friend, who got me started and who has been quilting for more than 20 years.
What color is most prevalent in your work? 
I love all colors! Currently, I've used tones of purple.
June's Share Your Insight
Question
June Question: If you knew you wouldn't fail, what sewing or quilting project would you try?
Submit your answer by June 17, using the form below, to be considered for our June Reader Spotlight.

Disclaimer: We may contact you to verify your answer. Your contact information will not be used for any other reason. Your submission to Nancy Zieman Productions, LLC, including contact information, gives us the right to modify, use, distribute, reproduce, publish, and display the submission indefinitely in all media, means, and forms without any payment to you. You hereby represent that you haven't copied the content from a book, magazine, newspaper, or other commercial source.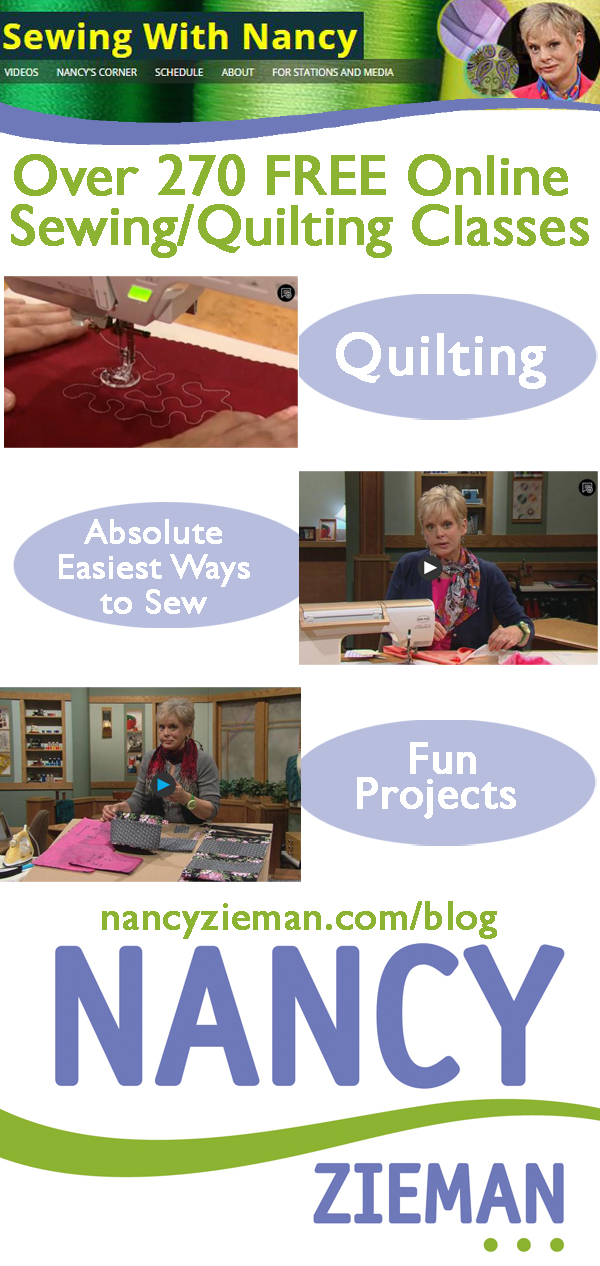 The random winner of a copy of the book, The Absolute Easiest Way to Sew is Cecilia. She said: The two most intimidating sewing processes are fitting pants and sewing in a zipper, yet I have sewn for awhile. I would love to win this book, as it could be very helpful to me. I always love your shows and books. Thanks for making this information available to us.


Naomi is the random winner of Nancy's 30 Favorite Gifts to Sew book. Her comment was: I definitely need to make the Roll Up Chalkboard for my grandchildren.
Thanks for the comments regarding the blog,
Six Easy Knit Sewing Tips
. The random winner of a pattern from
McCalls
is Barb L. She said: Love
7331
as the styles are so classic. And, thanks for all the tips. I need to practice working with the serger on knit fabrics.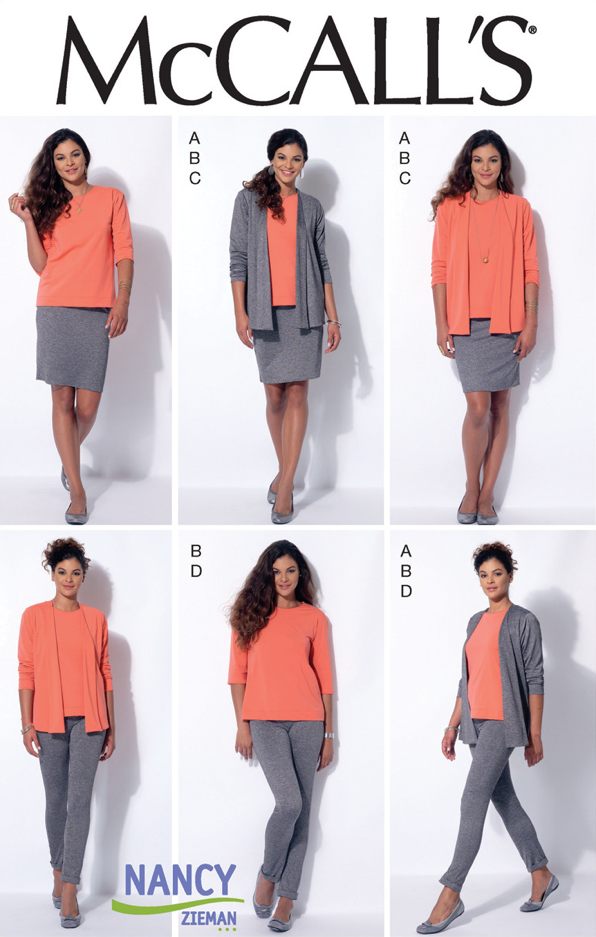 Bye for now,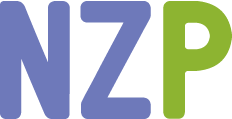 Content in this feed is © copyright 2016 by Nancy Zieman and may not be republished without written permission. You're welcome to forward the email to a friend or colleague but it's not okay to add the RSS feed automatically as content on a blog or other website.
Make sure you are subscribed to my enews mailing list so you won't miss a thing. Sign up here. Join us on Facebook, plus a host of other social media channels. Connect With Nancy today!