Quilt With Carefree Curves Part One on The Best of Sewing With Nancy

Curved seams have been in traditional quilt blocks for years. Unfortunately, curved seams are not necessarily fun or fast to sew, until now. Using two squares, yes squares, you can create a 1/4-circle block, similar to the well-known Drunkard's Path design, without matching any opposing curved seams.
Watch and learn as Nancy demonstrates the simple machine appliqué technique in this two-part Sewing With Nancy series, Quilt with Carefree Curves. It is the featured online Sewing With Nancy video.
Traditional Curved Piecing Technique
Take a look at the traditionally cut pieces used to make a curved seam block. To sew the seam, opposing curves must be joined. Whenever Nancy tried to sew this seam, she was quite unhappy with the results. Nancy generally avoided all quilt patterns with curved seams, and she was not alone.
Templates Come to the Rescue
Liking the looks of curved-seamed blocks, but totally not liking the technique, Nancy thought about enlisting the help of a sewing product, fusible interfacing and some unconventional quilting techniques.
Nancy found it easier to trace the curve shape and then sew those curves, rather than working with opposing seams. So, She developed a set of templates, Carefree Curves Quilting Templates. These templates assist you in making traditional to super-sized blocks.
To create the 1/4-Circle blocks, use the circle template, which makes three sizes of blocks: 4-1/2″, 6-1/2″, and 8-1/2″. You'll see how the other two templates are used next week!

How to Create Carefree 1/4-Circle Blocks
For every four blocks cut four background squares, and cut one square to create four 1/4-Circles. The sizes are printed on the template.
Cut a square of lightweight fusible interfacing the same size as the 1/4-Circles.
Layer the squares (fabric and interfacing), right side of fabric to the smooth side of the interfacing.
Place the template on fabric/interfacing squares. Trace circle and quarter markings.
Stitch along the traced line.
Align ruler along quarter markings. Cut, using rotary cutter, ruler, and mat.
Trim away excess interfacing from the interior, leaving 1″ of interfacing.
Turn interfacing to wrong side. For best results, run a smooth edge

Hera Marker

along the stitching line to define the curve.
Press curved edge, making certain seam is at the edge.
Pin 1/4-Circle to one corner of the background square. Each sewn/cut circle creates four blocks.
Machine stitch 1/4-Circle to block, using a straight stitch, blind hem, or zigzag stitch.
Design Options:
When you watch the Sewing With Nancy series, you'll see all of these steps in motion! Plus, Nancy shows how easy it is to create a variety of designs.
1/4-Circle—you're not limited to one size of circle. Here we placed the larger 1/4-Circle in one corner of the block and the smallest 1/4-Circle in the opposite corner.

To watch Sewing With Nancy on your iPad, iPod Touch, or iPhone, download the app.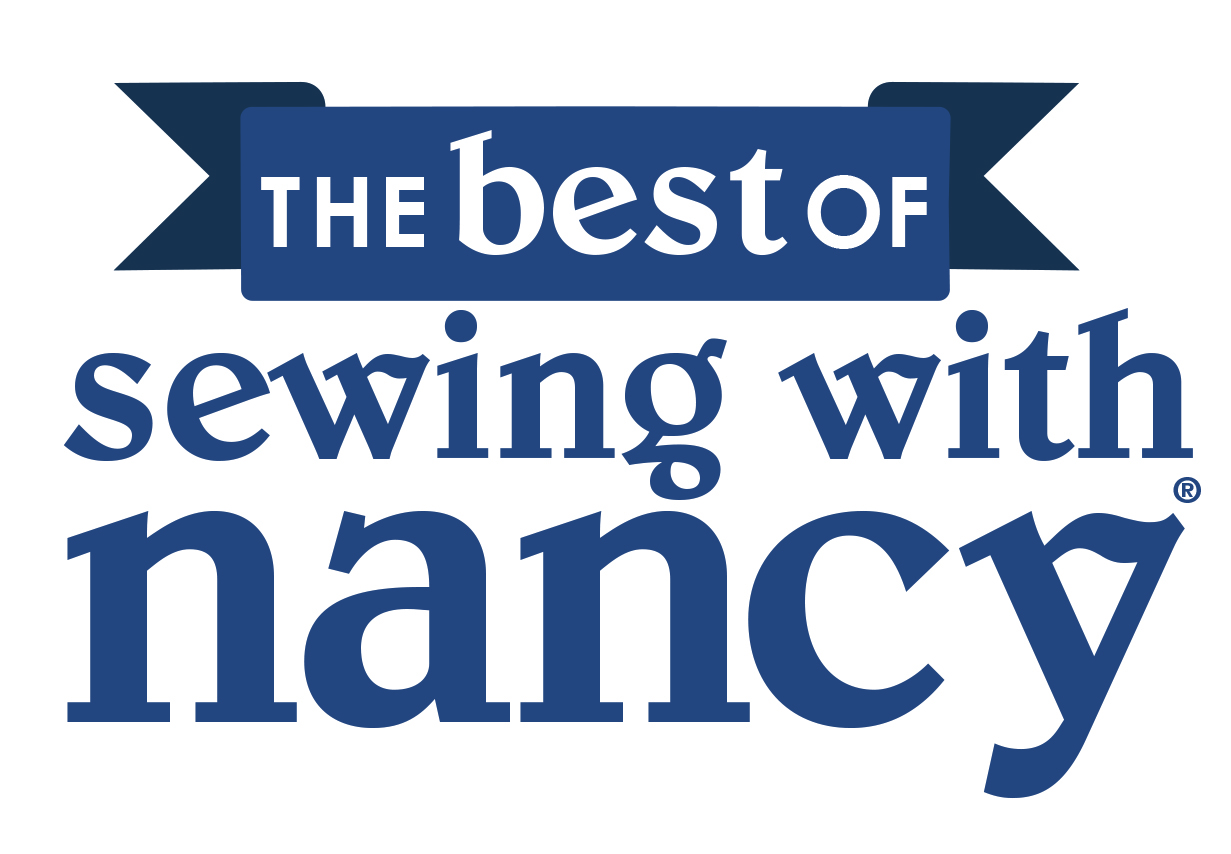 Are you ready for the  NEW! 2020 Nancy Zieman Productions Free! Block of the Month Mystery Quilt Series featuring Nancy's Carefree Curves Quilting Templates? There's still time to Gather Your Supplies and stitch your New! January Circle Block!
Join the 2020 NZP Free! Block of the Month Mystery Quilt Series!
Prepare for the NEW! 2020 Nancy Zieman Productions Free! Block of the Month Mystery Quilt Series by gathering and organizing your supplies. Visit our 2020 NZP Block of the Month Mystery Quilt Kick Off & Gather Your Supplies Blog Posting for details!

For a chance to win a set of the Carefree Curves Templates, from Clover, tell us which Carefree Curve Design from the show is your favorite. Now, we didn't show you all of them, there are more to see on the show!
Clover will give away one Carefree Curves Templates to one US resident in the 48 contiguous states.
Winner must reply within 30 days to the official giveaway announcement email message – sent from Nancy Zieman Productions.
The randomly selected winner of a copy of the book, Quilt with an Embroidery Machine in 8 Easy Lessons from dime, from the January 23 Quilt With an Embroidery Machine in 8 Easy Lessons Part One on The Best of Sewing With Nancy and January 30 Quilt With an Embroidery Machine in 8 Easy Lessons Part Two on The Best of Sewing With Nancy Blog posts is, Rosalie Knoll.
Her comment is: Quilting with an embroidery make would be so much fun and such a time saver. I would love to read Nancy's story about her life. She was truly a remarkable woman.
Sew to Give Spotlight! Today watch Nancy Zieman's 5 minute Nancy's Corner Interview on Sewing With Nancy with guest Catrina Sparkmen, of Black Threads. Six women artists and writers formed a modern day quilting bee. Together they learned a new art form—quilting—while sharing history and the love of family. As they found out, quilts not only keep us warm, but tell stories and also build friendships. These women made six very special quilts, and each quilt will be treasured for a lifetime.
Happy Quilting!
Team Nancy Zieman
Nancy Zieman Productions. LLC.
Stitch it! Sisters is a production of NZ Productions LLC. Content in this feed is © copyright 2020 by Nancy Zieman Productions, LLC and may not be republished without written permission. You're welcome to forward the email to a friend or colleague but it's not okay to add the RSS feed automatically as content on a blog or other website. The FTC requires us to tell you that Nancy Zieman Productions, LLC has provided products by other companies in the course of doing business. The FTC requires us to advise you to take this information into consideration when reading this posting.